Podcast: Play in new window | Download
Subscribe: Apple Podcasts | RSS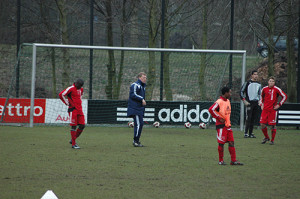 I like to end every training session with a shooting exercise of some kind. Sometimes it's related to the topic of the session and sometimes it's not. The important factors for me is that it's realistic and competitive.
Early in the season the exercises tend to be more on isolated shooting technique. As the season progresses and the players demonstrate an understanding of the key principles of shooting then I start to make the exercises more functional.
As we approach the end of the fall season I like to incorporate combination play into the exercises. This allows me to build on the concepts of shooting, passing and support.
In this episode I share four exercises that I use with my own teams that include combination play and finishing.
The goal of these exercises is to put finishing exercises into the context of situations the players will face in the game. The patterns will give your players some ideas for how they can combine to create goal scoring opportunities and hopefully inspire them to find their own patterns within the game.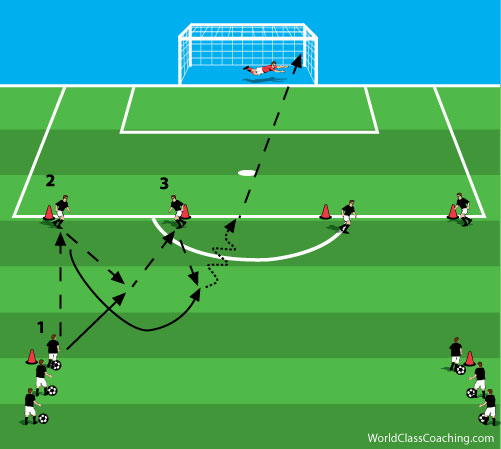 L – Shooting
Player 1 passes to Player 2 and moves inside to create an angle for the return pass. Player 2 passes and overlaps Player 1. The ball is passed to Player 3 who lays it back for Player 1 who takes a touch and shoots from around the top of the box.
The players rotate up one spot while the pattern is being completed on the other side. When Player 3 returns to the line he joins the opposite side.
Coaching Points
Player 1's angle of support
Player 2 must overlap quickly
Player 3 lays the ball BACK to Player 2 not FLAT
Take a touch before shooting
Progression
Player 2 passes diagonally through for Player 1
Player 1 lays ball back for Player 2 or 3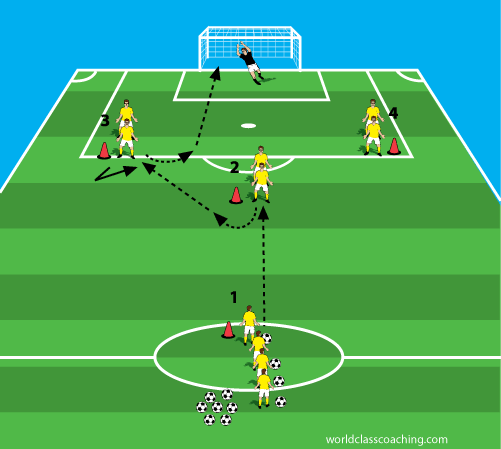 Y-Shooting (Dutch Wine Glass)
I took this exercise from Dutch Total Football by Terry Michler. The book includes more variations of this exercise and many others that I know you would find useful.
Player 1 passes to Player 2 who turns and passes to Player 3 who has checked away and then shown for the ball to then take and touch and shoot.
Each player moves up one station. The pattern is next completed to the right side.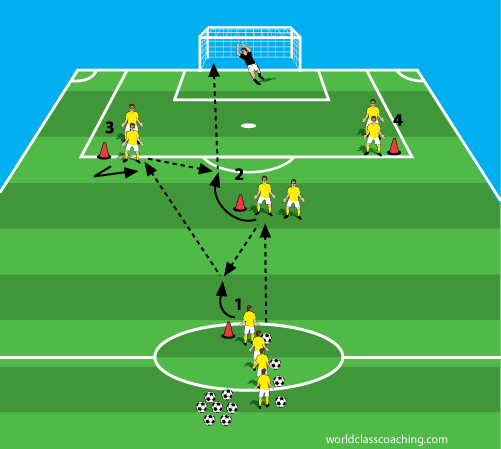 Y-Pattern 2
This time Player 2 lays the ball back to Player 1 for a pass to Player 3. Player 2 has turned to receive the ball back from Player 3 before touching and shooting.
The angle of the layoff is important here.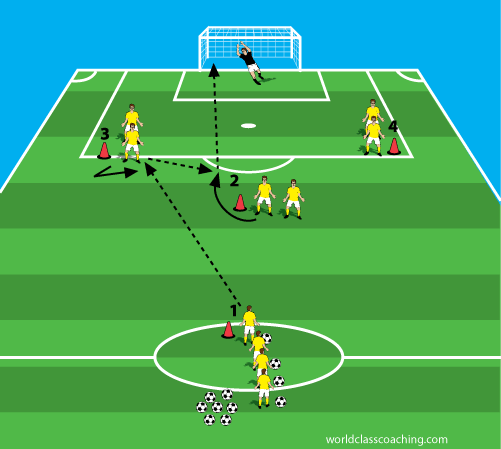 Y-Pattern 3 
Player 1 passes directly to Player 3 who lays the ball offer for Player 2 who has turned to receive it.
These are just a few variations that you can use. There are dozens of others that are possible.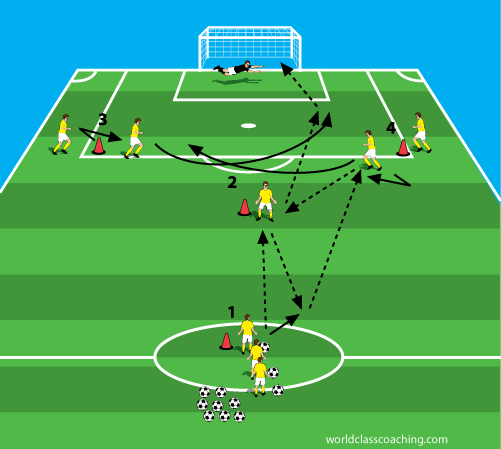 Y-Pattern 4
This is an example of a pattern that includes players from both sides of the formation.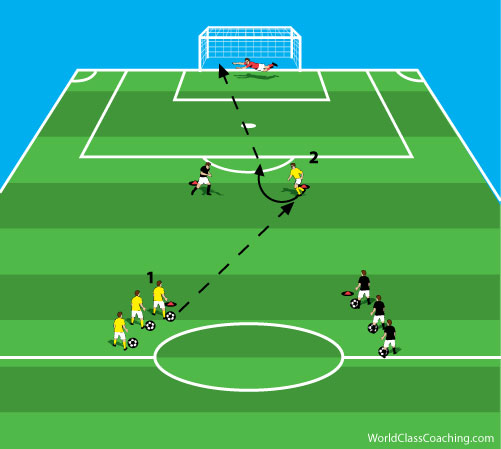 Ajax Finishing Competition
I was able to observe Robin Pronk present this exercise during a Ajax U17 Academy Training Session in 2008 during a tour of Dutch Academies.
Player 1 passes to Player 2 who turns and shoots. The players compete as part of a team. The team that scores 10 goals first wins.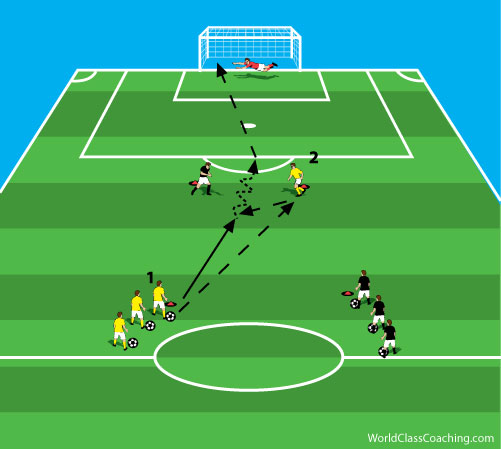 Progression 1
Player 2 now lays the ball off for Player 1 to follow and shoot.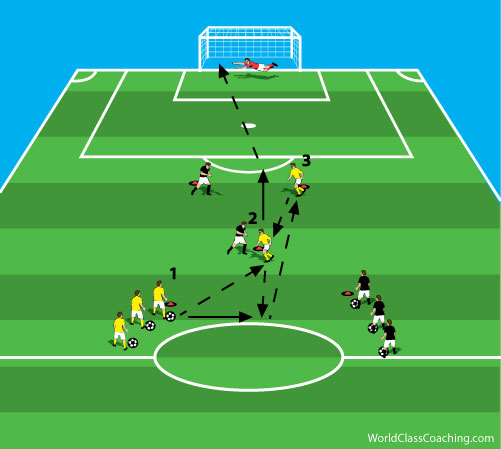 Progression 2
A central player is now added. This creates situation similar to one you would have in a 4-3-3 or a 4-2-3-1.
Coaching Points
Pass to proper foot
Angle and distance of support
Pass in front of target
Touch and shoot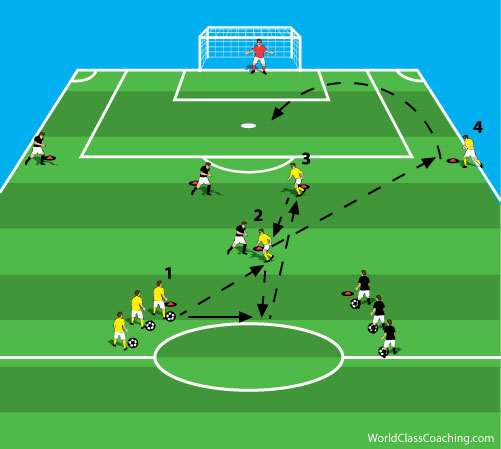 Progression 3
We now add a wide player to receive a diagonal pass and serve it into the box for the three players to attack and finish.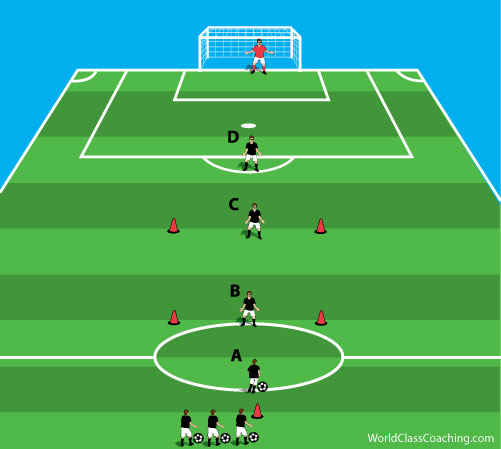 Barca Shooting Pattern
This is a pattern based on the one I described in episode 10.
The sizes and distances of the grid may be a little out of proportion here but I wanted to make sure you could see the pattern.
Player D is at the top of the 'D'. The 10-yard grid is 10 yards from the top of the 'D'. Player A and the other players with a ball are 10 yards closer from the grid.
My favorite part of this pattern is that it starts with a run by Player B. All of the other movements and passes are based on this movement.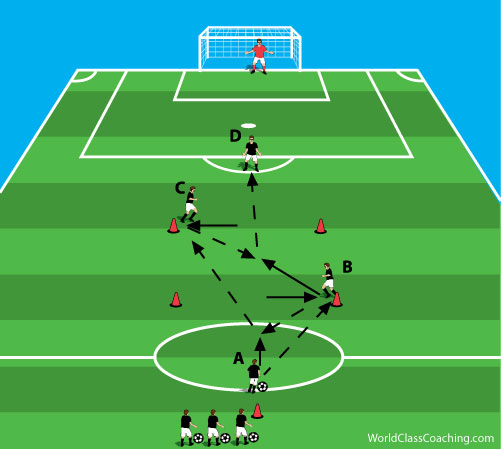 When Player B goes wide Player C moves to the opposite side. Player A then passes to B who lays it off to A. Player A then passes to Player C who lays off for Player B who has moved to support him. The ball is then passed into Player D who turns and shoots.
You could also have Player D lay the ball off to Player C or play a give-and-go with him.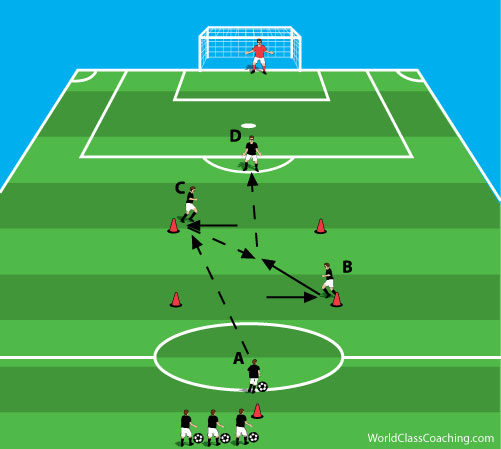 Progression
The pattern starts with the movement of Player B but now the ball is passed directly into Player C who lays off to Player B who has moved to support Player C. The pattern is completed with a shoot on goal.
There are many different patterns you could have your players complete here. Eventually you want to let the players make the choices so that the movement can flow as it would during a game.
You can put two of these areas side-by-side to have one team compete against the other. You could also add a defender to the center of the grid to influence the passing decisions.
These are four very useful patterns that you can add your own combinations to. Encourage your players to find patterns of their own and soon you'll be seeing these passes and movements showing up for your team on game days.
Printable Show Notes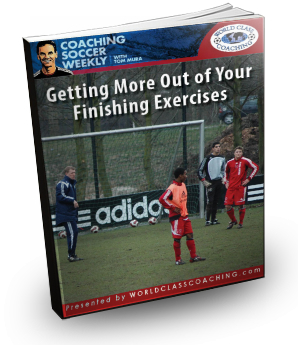 The show notes for each episode are accessed through the WCC Training Center.
They are FREE but you will need at least a Free Membership to the Training Center in order to view and print them.
Click on the image of the notes and if you're already logged in to the Training Center you'll be taken to the Podcast page. If you're not logged in your be taken to a login page where you'll also be able to login or register if you are not already a Member.
Remember!
Make sure you subscribe to Coaching Soccer Weekly through iTunes, or your podcast provider of choice, to be sure you never miss an episode.
We would appreciate it if you would leave us a 5 star rating and a written review on iTunes to help spread the word about the show and the information that we are sharing here.
In the Next Episode
I'll present some unique variations on diamond passing patterns that will help your player technically and tactically.