Podcast: Play in new window | Download
Subscribe: Apple Podcasts | RSS
Since I didn't put out a podcast last week I thought it would be a good time to do a survey that I've been considering for a while. I appreciate everyone who took the time to fill it out.
There were a number of things that I've learned from it already. Over 80% of coaches who responded want more training sessions. The recent episodes have included more commentary than actual training sessions but there's been a lot going on to talk about.
I asked what type of sessions or topics you wanted to hear more of and there was a wide range from more technical sessions to sessions that are focused on players U15 and up.
When I asked who you wanted to hear from. Just as many coaches want to hear from youth coaches as professional coaches. I have a number of interviews planned for the next few weeks with youth coaches that have a slightly different take the best way to develop players.
If you didn't have a chance to complete the survey here's the link. I'll leave it active through this week if you'd like help improve the podcast.
This week I want to review the tournament I attended with my teams over Memorial Day weekend. I discuss the benefits of traveling with your team, what you should look for when deciding which tournament to attend as well as the specific things I learned from this trip and how it will impact my coaching going forward.
Rather than retype everything I talked about on the show I'm having the episode transcribed. As soon as it's completed I'll post a link to the show notes below.
Show Notes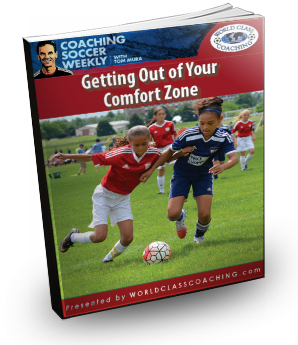 The show notes for each episode are accessed through the WCC Training Center.
They are FREE but you will need at least a Free Membership to the Training Center in order to view and print them.
Click on the image of the notes and if you're already logged in to the Training Center you'll be taken to the Podcast page. If you're not logged in your be taken to a login page where you'll also be able to login or register if you are not already a Member.
Remember!
Make sure you subscribe to Coaching Soccer Weekly through iTunes or Google Play Music, or your podcast provider of choice, to be sure you never miss an episode.
I would appreciate it if you would leave a 5 star rating and a written review on iTunes to help spread the word about the show and the information that we are sharing here.
Next Week
I'm going to talk with Sam Polak about the Champions League final. We'll discuss the major moments of the game and the overall tactics of each team as well as how you can apply some of those lessons with your own teams.