Podcast: Play in new window | Download
Subscribe: Apple Podcasts | RSS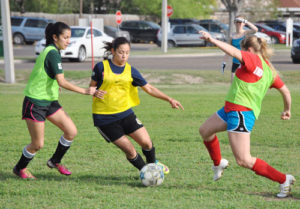 Last weekend completed the tryouts for our youth soccer club. This is a year occurrence here is the States. I'd be curious to hear what it's like in other countries. Do you have tryouts each year or more or less often?
Since our system is, 'Pay to Play' many parents view themselves as agents. They shop around and look for the best 'deal'. I don't have a problem with parents looking out for the best interest of their children but too often I think they're looking for the wrong things. For many there's a fixation with 'being on the top team'. What many parents don't understand is that the third team in one club could provide a better developmental environment than the first team in another. I wish some parents would spend more time focusing on the club structure, developmental philosophy, and the coach's approach to teaching rather than what division the team will play in.
Coaches don't always go into this process with the best of intentions either. There are many that think 'new players' are 'better players'. They're quick to discard a player because of their deviancies rather than working to improve them. So each year they trade a big chunk of their current player issues for new players with new issues.
So this week I want to vent a bit about tryouts. This is much cheaper than therapy would be 🙂 I'll talk about how we go through the process.  What I think we do well and what could be improved. And I'll look at it from the coach's, parent's and kid's perspective.
Hopefully this will give you some insight into how we get through this often trying time that will help you down the road.
I don't see a point in having show notes for this episode since it's just my description of tryouts and opinions on how it played out.
Please share how your tryouts work in the comments section below or email me at tommura@worldclasscoaching.com.
Make sure you subscribe to Coaching Soccer Weekly through iTunes or Google Play Music, or your podcast provider of choice, to be sure you never miss an episode.
I would appreciate it if you would leave a 5 star rating and a written review on iTunes to help spread the word about the show and the information that we are sharing here.
Next Week
I'm still working on a series of interviews with coaches and trainers discussing some interesting topics. The coaches I'm talking to have a unique take player development that you may not be familiar with. Look for those in the coming weeks.