Podcast: Play in new window | Download
Subscribe: Apple Podcasts | RSS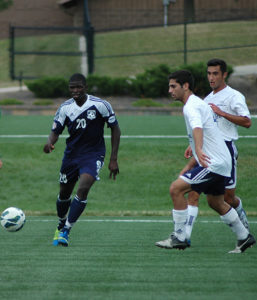 I'm recording this episode a couple of days before its released. I've been splitting my time fairly evenly between family time and some exciting updates to WorldClassCoaching.com. The new format will make it SO much easier for you to find what you need for your next training session. Our Training Center will be your one stop for drills, videos and everything you need to coach your team.
No more searching through thousands unrelated drills on Google or YouTube. The new Training Center will cut the amount of time you have to spend planning 75%. You'll have a quick search, with refined results, making it easy to pick the exercises you need so that you can go to practice.
The podcast show notes will also become part of a Free Membership to the Training Center.
As I'm recording this we're a couple of days away from flipping the switch on the new site. If you go to WWW.WCCTRAININGCENTER.COM before the launch you'll only be able to log in if you're already a member but once we launch you'll have the option to become a Free Member and enjoy access that you don't currently have.
Today I'm talking to Wayne Harrison about his ideas on player development. This includes: how positions in the 11v11 game can be taught with all of the small-sided formats, the importance of Rondos, how they can be progressed and used to relate directly to the game
Wayne describes how his training methods are developing a 'One-Touch Mentality' in his players. This is often misunderstood as limiting the players options. Once you listen to Wayne you'll realize that he's teaching his players HOW to think not WHAT to think.
Wayne's latest book, 'Tactical Thoughts on the Development of the New 4 v 4 , 7 v 7 and 9 v 9 Game Sizes', covers many of these areas and we talk how you can create a continuous line of development from 4 v 4 through to the 11 v 11 game.
We had some challenges with Wayne's audio during our talk and I really appreciate his patience during the process. I apologize in advance if any part of the interview is difficult to understand but there's so much great information that I felt it was important to bring it to you even if the sound is not up to my usual standards.
Printable Show Notes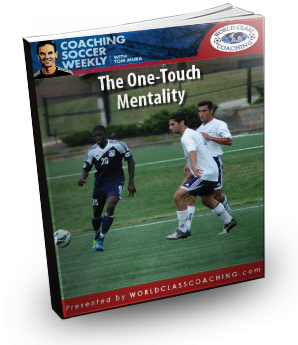 The show notes for each episode are accessed through the WCC Training Center.
They are FREE but you will need at least a Free Membership to the Training Center in order to view and print them.
Click on the image of the notes and if you're already logged in to the Training Center you'll be taken to the Podcast page. If you're not logged in your be taken to a login page where you'll also be able to login or register if you are not already a Member.
Remember!
Make sure you subscribe to Coaching Soccer Weekly through iTunes, or your podcast provider of choice, to be sure you never miss an episode.
We would appreciate it if you would leave us a 5 star rating and/or a written review on iTunes to help spread the word about the show and ensure that we can continue to bring you top notch guests in the future.
In the Next Episode
Next week I'm talking to a coach with a completely different perspective on the best way to develop players. Most of you will not have seen teams play like his teams do. Make sure that you catch that episode because it will give you a lot of food for thought.