Podcast: Play in new window | Download
Subscribe: Apple Podcasts | RSS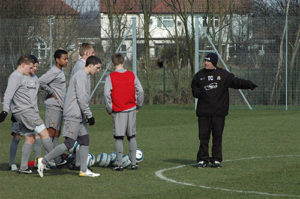 The weather was really unsettled last week. We ended up having to cancel a number of practices. Outdoor training sessions in the midwest each spring can often be interrupted by bad weather but it's not usually an issue in the fall. Luckily we didn't have a busy weekend of game scheduled so it didn't affect us too badly.
I've been seeing great progress in my teams recently. It's great to see things we've worked on it training sessions showing up in game situations. That transfer of training from practices to games is the most rewarding aspect of coaching and working with young players.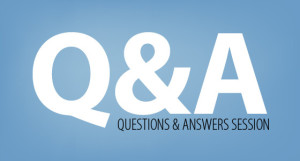 The week's question and answer is, "My team are u11s and during a lot of games they seem to lose focus at the later stages of each half of the match. Is it down to fitness?"
I don't think fitness has much to do with the performance of players this young. The best way to improve late game performance is to put the players in those situations during training.
My favorite way to work on this is to play '1 Up – 1 Down'. Before playing a regular scrimmage, the teams are told that they are up a goal or down a goal with five minutes to play. I then ask each team how they plan to adjust their play based on the fact that they are either losing or winning with only five minutes to play.
If the team that is up by a goal can score another one, they win automatically. If the team who is down by a goal scores, it counts as two so that would put them up by a goal with less than five minutes to play. If the game ends as it began we play another five minute game where the roles are reversed.
Today I follow up on one of our most popular episodes. I received a lot of great feedback and a number of questions.
Check out the complete printable show notes below for all of the diagrams and descriptions of how to breakdown and teach the key skills of the game.
Printable Show Notes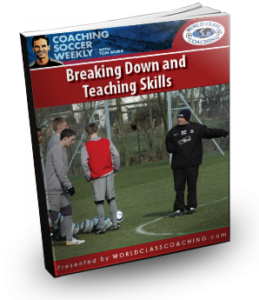 The show notes for each episode are accessed through the WCC Training Center.
They are FREE but you will need at least a Free Membership to the Training Center in order to view and print them.
Click on the image of the notes and if you're already logged in to the Training Center you'll be taken to the Podcast page. If you're not logged in your be taken to a login page where you'll also be able to login or register if you are not already a Member.
Remember!
Please share your thoughts on the podcast through social media to help us spread the word about the information we're sharing to your network of coaches. Please share www.CoachingSoccerWeekly.com and include #CSW THANKS!
Make sure you subscribe to Coaching Soccer Weekly through iTunes, or your podcast provider of choice, to be sure you never miss an episode.
We would appreciate it if you would leave us a 5 star rating and a written review on iTunes to help spread the word about the show and the information that we are sharing here.
In the Next Episode
Next week I'm going to talk with Mike Saif about his new book, 'Coaching a Team to a National Championship'. We'll talk about the specific things he did that help his team push through to the very top.