Podcast: Play in new window | Download
Subscribe: Apple Podcasts | RSS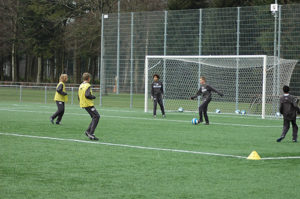 Last week I talked about the different options for playing soccer indoors during the winter. My teams played their first Futsal games last weekend. The beginning of the Futsal season is always a challenge because the players haven't adjusted to the speed of the game.
They usually try to play too fast and think too slowly. The games can turn into a frantic game of 'turnover soccer' where neither team can keep possession and there's no flow to the game. It can take two or three weeks for the players to make the transition to the faster indoor game and think quickly so that they can play quickly.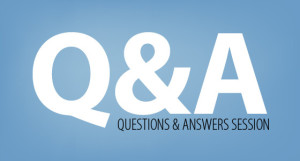 This week's question comes from Seth.
 "I have a question on scaling practice for varying player numbers. Mostly this is a simple matter of changing a grid or field size and presents no problem. Sometime though it's a challenge to decide whether an exercise should be scaled to accommodate more or less players or be split into two identical exercises.
As an example, I will be running the session you describe in episode 36 "decision making on the ball". In the show notes you describe and illustrate the session scaled for 10 players. I have a team of 14-16 boys. should i scale this to accommodate all boys on one field or create two separate exercises and divide them up? My preference is to scale it for 14-16 but I can also see where this might create more congestion and chaos and detract from the session"
I think this is an important factor to consider because we will often plan a session for a certain number of players but we'll end up with a greater or lesser number for many different reasons. We need to be able to make adjustments to accommodate the number of players we end up with.
In this episode I give my guidelines for when to scale a session up or down and the specific answer for how to adjust the session Seth is asking about.
This week I describe how I think we are often guilty of stealing our player's learning opportunities. We do this when we tell our players what to do and when to do it rather than giving them the chance see it for themselves. This can keep them from learning WHY they should do it.
I talk about how both parents and players can be guilty of this and why it happens. As well as how to strike a balance between teaching and tell your players.
---

 TeamSnap.com is again our sponsor of this week's episode. Last week I talked about how I use TeamSnap to setup my teams and get the season started. This week I describe my favorite feature of the app and website, Player Availability. It makes it so easy to keep track of who will and won't be at each practice or game.
Whether you coach or manage a single team or organize a whole club, league or organization. TeamSnap makes organizing every aspect of active sports life easier.
You can start your free 21-Day Trial today without entering any credit card information by going to teamsnap.com/csw
---
Thank you for listening to this episode! If you enjoyed this episode please feel free to share it with your team and other coaches on social media.
I'd also be VERY grateful if you could rate, review, and subscribe to Coaching Soccer Weekly on iTunes, Google Play Music or wherever you get your podcasts.
In the Next Episode
I'll share how I plan my training for the indoor season as well as some specific training sessions that I use during each phase.