Podcast: Play in new window | Download
Subscribe: Apple Podcasts | RSS
We've had a busy week here at WORLD CLASS COACHING. At the beginning of each month we release a new edition of our WORLD CLASS COACHING magazine. It includes training sessions, tactical analysis games professional games and condition activities that include a ball.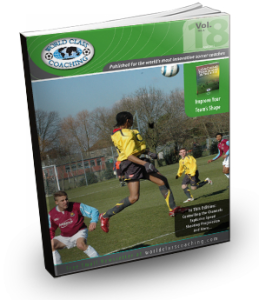 You can click here for more information on the WORLD CLASS COACHING MAGAZINE and Member Drills Database. We're also constantly adding to our Video Library.
This is in addition to working on new books every few of months. Our latest release, coming out next week is Smedley's Soccer Drills Volume 1 – 4. These books include more than 600 drills that cover every aspect of the game. They include every technical skill, pattern plays as well as small-sided and large-sided game. There's a lifetime of drills and exercise in these books.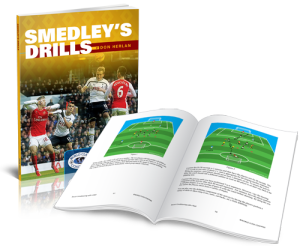 You can receive a free copy of an eBook that contains 70 drills not included in the four volume set. If you already receive our email updates you will receive this offer the week of April 6th. That update will include a link to give you access to the eBook with one click. You can use the link above if you don't receive our weekly email updates.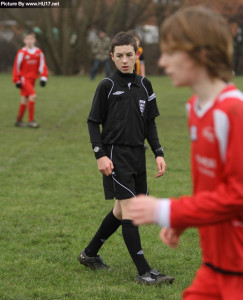 In this episode I want to talk about the coach's role in the process of developing young referees. I think we can all agree that we need as many good referees as possible. But how do we help make this happen? What do they need from us? How do we inhibit the development of young referee?  What role do parents play in the process and how can coaches make a direct impact on the quality of our referees in the future?
So what would you call in the situation mentioned at 18:33 into the episode. Describe what you would call and why in the comments section below and we can see gets it right. (Spoiler: I didn't).
I understand that it's hard not to appeal for decisions when you think the referee has missed something. I'm not going to sit here and say that you should never – ever voice your opinion.
What I am saying is that we should consider the age and experience level of the officials doing our games. An adult is capable of defending their decisions and continuing to be confident in their abilities. Young referees are much more likely to just call when you shout and bow to the pressure placed on them by parents.
This does not provide the type of learning environment we need to develop referees that will be confident and capable of handling increasingly difficult games. Without these referees our game can't progress the way that it should.
Remember!
Make sure you subscribe to Coaching Soccer Weekly through iTunes, or your podcast provider of choice, to be sure you never miss an episode.
We would appreciate it if you would leave us a 5 star rating and/or a written review on iTunes to help spread the word about the show and ensure that we can continue to bring you top notch guests in the future.
In the Next Episode
In next week's episode I have an interview I did with Bob Warming, Head Men's Coach of Penn State University. We discuss an area of soccer training that Bob feels is completely overlooked by many youth coaches. I really enjoyed talking with Bob and think you're going to be very interested in what he has to say.