Podcast: Play in new window | Download
Subscribe: Apple Podcasts | RSS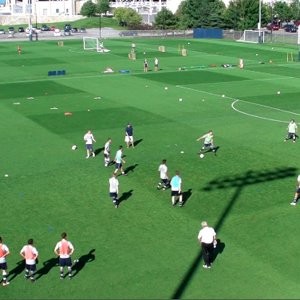 As I mentioned last week our latest set of books was released this week called, Smedley's Soccer Drills Volume 1 – 4. Many of you took advantage of the free eBook that was offered. If you did then you also received an email about release of the four volume set. If you didn't then you can find that link on the show notes of Episode 7. The books include more than 600 drills that cover every technical and tactical topic you can imagine. There's a lifetime of drills and exercise in these books. I'll include a link in the show notes if you want to get your hands these books.
In this Episode I talk with Bob Warming, Head Men's Coach at Penn State University about a method of training that many of us may not be familiar with.
We discuss what European Academies are doing that we aren't. How they use mannequins in training. Why we don't use them. Bob describes ways that we can get the same benefit without the cost and hassle of using mannequins. We close with the three things that Bob looks for in players he's recruiting.
Mannequin Training, Pep Guardiola, and The Triangle Training Method
Penn State Men's Soccer Coach Bob Warming has been using mannequin training to develop successful players and teams for years. "Substituting mannequins with The Training Triangles has solved the portability, storage, transportation and other issues we've experienced while using full sized mannequins to train pattern play for the last 8 years" remarks Warming. But the PSU Head Coach isn't the only one beginning to seek a solution to the numerous issues with mannequins, as the list of Men's and Women's College, Club, and High School teams now using The Training Triangle is rapidly growing. Coaches can now easily implement mannequin training with their teams, without needing to haul full sized mannequins from a storage facility to the field everyday.
The Triangle Training Method and Pep Guardiola
Warming has helped design a completely free website TheTriangleTrainingMethod.com aimed at sharing innovative training methodologies to develop players of all age groups and skill levels.  The site outlines some of his team's training practices in Fall 2014 using mannequin training like this one:
Notice Any Similarities?
As you probably know, this is Pep Guardiola's Bayern Munich 1st Team, an exemplary top European team, performing mannequin training. This is why Coach Warming believes it to be so important that US Soccer adopts this training methodology for player development throughout all age groups and tiers. Proper mannequin training is the most efficient way to give players functional repetitions of different patterns of play on the field.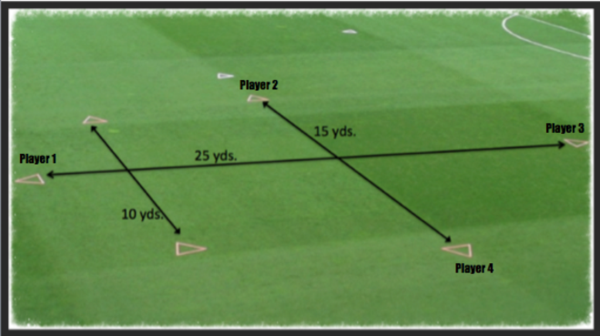 TheTriangleTrainingMethod.com will continue to update its completely free website with new content throughout the spring, introducing many new mannequin training exercises.  Subscribe to be on their mailing list here.
The Training Triangle provides a portable and affordable solution for coaches to implement mannequin training with their players, regardless of whether or not they are training in a world class facility, a gym floor, or their front yard.  We will also continue to make additions to our Team Training Guide, with diagrams breaking down exercises such as the ones being implemented in the above video by Pep Guardiola (along with additional variations of this diamond training exercise).
Enter WCC at checkout to receive 20% off of any purchase from
Remember!
Make sure you subscribe to Coaching Soccer Weekly through iTunes, or your podcast provider of choice, to be sure you never miss an episode.
We would appreciate it if you would leave us a 5 star rating and/or a written review on iTunes to help spread the word about the show and ensure that we can continue to bring you top notch guests in the future.
In the Next Episode
In next week's episode I present six different methods to train your players to be more effective in any 1 v 1 situation. 1v1's are such a key factor in games at every level that we owe it to our players to help them come up with solutions to any 1 v 1 confrontation they will face.