Podcast: Play in new window | Download
Subscribe: Apple Podcasts | RSS
This is a busy time for youth soccer clubs in the United States.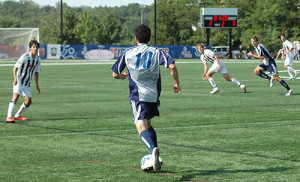 Memorial Day weekend tournaments around the country last weekend lead in to State Cup this week in many states. Then tryouts for next year's teams come right after that.
This three weeks is kind of 'The Storm before the Quiet'. The summer brings a much needed break but these few weeks are always crazy
In this week's episode I look at how to train your players to move without the ball. It's important that they learn when, how and WHY to move. Movement creates opportunity; without movement our team becomes predictable and easy to defend.
Of course the age and experience level of the players will determine how much detail you can teach. The youngest players can be taught the foundational concepts that will lead to more in depth understanding later. Older players can learn how their movements can be combined with their teammates to pull defenses apart.
No matter what level your coaching this session will help you train your players to create more opportunities by moving effectively without the ball.
Teaching Movement Without the Ball
Soccer players spend most of their time without the ball but moving without the ball is an abstract concept for many players. It's our job, as coaches, to train our players when, where and how to move without the ball.
What concepts I focus on depends largely on the age and experience level of the players.
Young Players
I avoid telling them where to move during games if I can. At the very youngest levels this is necessary from time to time. I prefer to ask them questions: Where is the open space? How can you help 'Bobby'? Can 'Joey' pass to you?
This gets them thinking rather than just following my directions. It will take longer to get a result using this method but they will learn versus just being told.
I focus less on positions and more about moving to space and away from pressure. I tell them that they need a clear path between them and the ball.
I also teach them that when the ball is inside they can find space outside and when the ball is outside they should looks for space in the middle.
All of this leads toward the introduction of Right / Left and Split.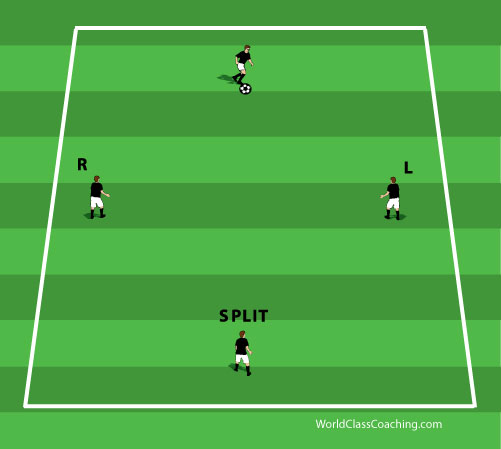 Once the players have an understanding of supporting using Right / Left and Split we work on three types of runs.
Check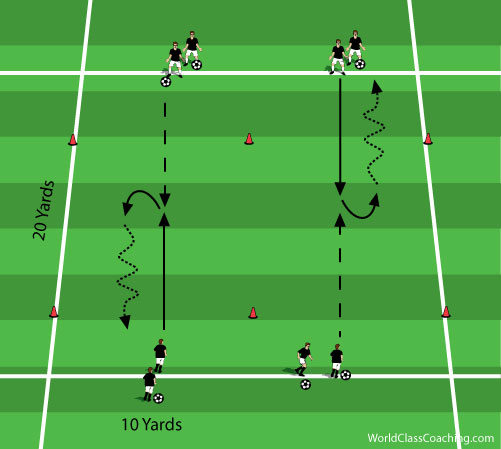 The player opposite of the ball runs toward the ball and calls for it. Receiving the ball, the player turns and dribble back to the line he came from. The player that passed the ball now checks into the middle and receives a pass to continue the pattern.
Drift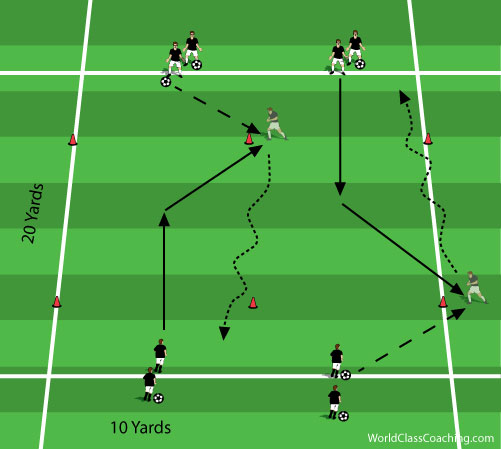 Next the player opposite of the ball checks toward it but doesn't receive a pass so they drift wide to provide a passing angle wide. They receive the ball with their farthest foot and dribble back to the line they came from.
Slash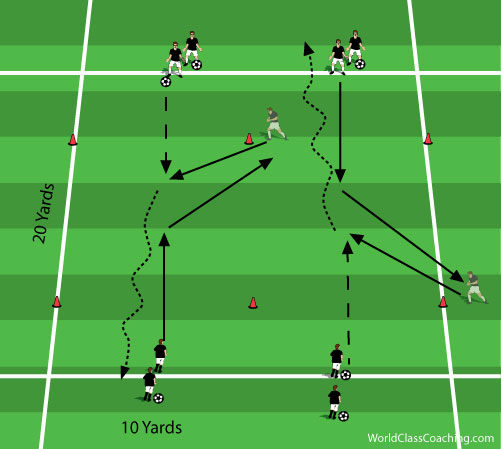 Finally, the player who has drifted wide does not receive the ball so he shows through the middle with a slashing diagonal run.
Add a Defender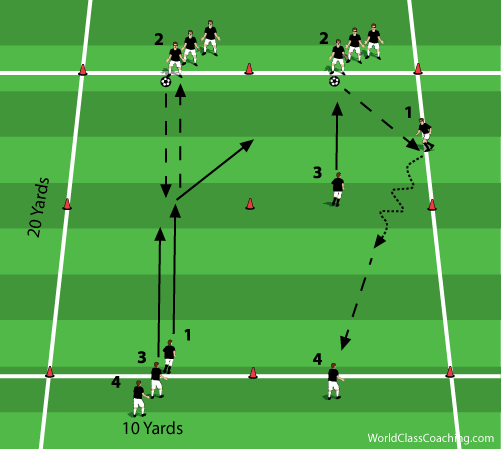 The defender follows the checking player out. The ball is passed to the checking player and then passed back. Player 1 then drifts wide to create a passing angle. The defender is instructed to follow the ball. This leaves Player 1 open to receive the ball and dribble back to the line he came from.
The pattern continues with Player 2 following Player 3 out to receive the ball from Player 4.
Progression
Have the defender follow the drifting player which leaves room in the middle for a slashing run to receive the ball
The defender can choose whether to follow the ball or the drifting player
Allow the defender to try to win the ball
Moving In Combination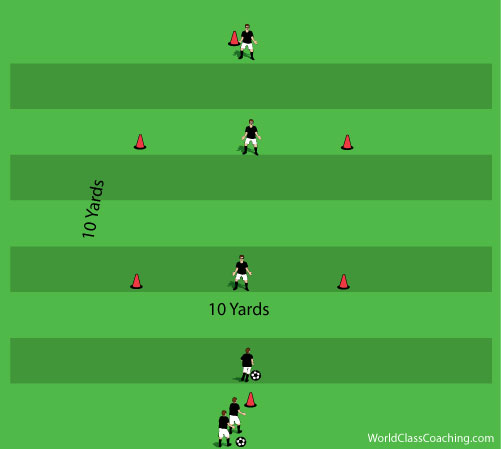 Once the players understand R/L/S and options for movement then I want them to see how their movement can create opportunities for their teammates.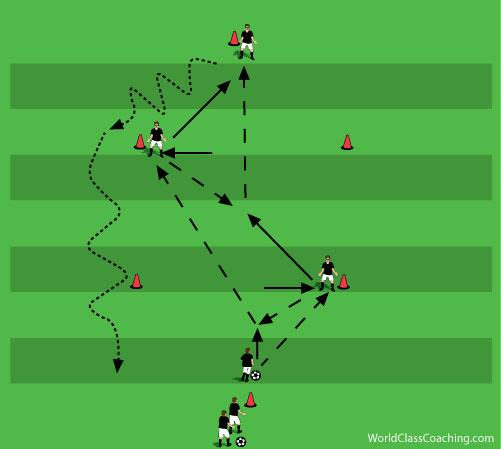 This exercise is from Episode 10 – Breaking Lines of Pressure
2 v 2 to Targets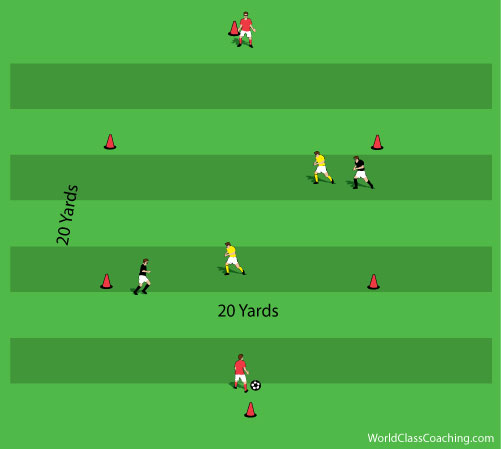 This two progression allows the players to see how their movements effect defenders, opening and closing spaces.
Small-Sided Games
3 v 3 + 1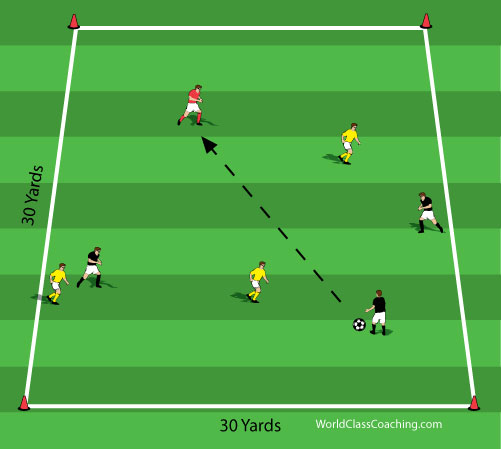 This game can be non directional at first but then progress to playing it with two endzones or pass-through goals.
7 v 7 + 2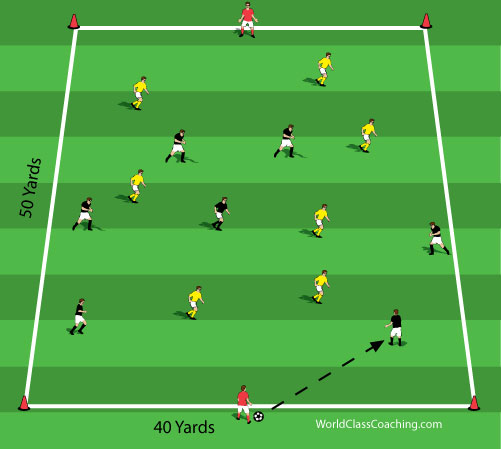 As with the 3 v 3 +1 game, this can begin as non directional and progress to play to targets and finally to goal.
Rule to Create Movement
A player who passes the ball must make a five-yard run after releasing the ball. This will create a lot of give-and-goes but it will also leave space empty for other players to check into.
If a player does not make a run after passing the ball is given to the other team.
We must first give our players a framework of play. I use the idea of R/L/S. Then we show them how their movements create opportunities for their teammates. Finally we put them into game situations so that they can begin to recognize these situations for themselves.
Your players will not learn to move effectively without the ball in a few sessions. It will take time but if you have a systematic approach that focuses on the key concepts, your players will LEARN how, when and where to move to create openings for themselves and their teammate.
Printable Show Notes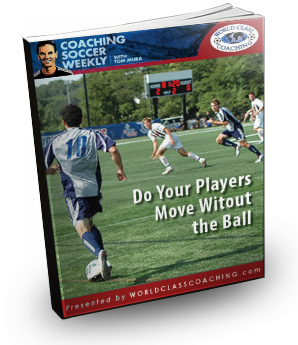 The show notes for each episode are accessed through the WCC Training Center.
They are FREE but you will need at least a Free Membership to the Training Center in order to view and print them.
Click on the image of the notes and if you're already logged in to the Training Center you'll be taken to the Podcast page. If you're not logged in your be taken to a login page where you'll also be able to login or register if you are not already a Member.
Remember!
Make sure you subscribe to Coaching Soccer Weekly through iTunes, or your podcast provider of choice, to be sure you never miss an episode.
We would appreciate it if you would leave us a 5 star rating and/or a written review on iTunes to help spread the word about the show and ensure that we can continue to bring you top notch guests in the future.
In the Next Episode
I'm excited about next week's episode because it was inspired by a listener request. John B. wanted to learn more about analyzing the game from the sideline so I arranged an interview with John Pascarella, an Assistant Coach with Sporting KC. We talked about what he looks for in the opponent and his own team when he's coaching. He also shares the resources he uses to improve his understanding of systems and tactics.