Podcast: Play in new window | Download
Subscribe: Apple Podcasts | RSS
We had a request from a coach wanting to learn more about how to breakdown the game from the sideline so I arranged to talk with John Pascarella, Assistant Coach for Sporting KC. John has coached at every level of the game and knows what to look for whether he's watching games at the highest level or younger youth teams playing in local leagues.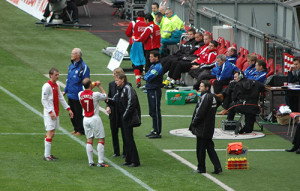 We discuss what to look for in your opponents as well as what to focus on with your own team. He shares his opinion on whether changing formations is a good idea and if he was going to do it, when is the best time.
John is a voracious reader and student of the game and he shares which books and resources he has found most helpful in improving his tactical knowledge and ability to read the game.
For the first time we have had this interview transcribed. I've included excerpts below but you can click here for a complete transcript of the interview from start to finish.
Game Analysis with John Pascarella – Sporting KC Assistant Coach
Tom: Our guest today is John Pascarella. John is the Assistant Coach with Sporting Kansas City of Major League Soccer here in the United States. He played professionally for 9 years before starting his coaching career as an assistant at the University of Maryland. John went on to work in Northern Virginia as a high school coach and in the Olympic Development Program before taking over as Head Coach and Technical Director at the Northern Virginia Royals in the USL's Premier Development League. John is also a veracious reader and student of the game. He has shared his knowledge previously with World Class Coaching members in blog posts, in magazine articles on coaching methodology. Thanks for joining us today John.
John: It's great to be here Tom. Thanks and the lead in there was very complimentary. I haven't had that many good things said about me at one time in one place in a long long time, so thank you.
Tom: No problem. I've asked John here today to discuss game analysis, what to look for in the game and how to help our players understand what to do about it. So when we're looking at game analysis we're talking about looking at both our team and the opponent, but what's the first thing that you look for when you look at the other team?
John: The first thing I generally look for is the shape of the team that we're playing against and how they're set up. Were they playing a back 3 or back 4? What are their numbers in midfield and what's that shape in midfield? How many lines are there to that team, is it a 4-3-3 but it's set up more like a 4-1-4-1 where there's four lines. Those types of things are the first thing that I look at and really the most obvious initially. The thing that comes next I think is what that shape looks like then in attack and in defense, so how open is it when they have the ball. Are they spread from sideline-to-sideline? Is there a lot of space from front to back or is it a more condensed team?
Same thing defensively, what is that shape look like? Does it change after they have attacked and they've lost the ball to their defensive shape. You notice it all of a sudden if there was 4-3-3 become a 4-5-1 and where's that line of confrontation for them. So those are some of the first things and most obvious things that you can see in the first few minutes of the game because generally those first few minutes are a little bit hectic and frantic especially at the MLS level and the ball turns over and enough times you can see the opposition in attack and in defense and kind of see what that shape looks like both ways.
Tom: Do you believe that you should change your formation or your style of play based on the opponent that you're playing?
John: Philosophically I believe that you need to do it at times. Sometimes you can prepare the team that way, sometimes there's tweaks you need to make it half time or during the course of the game. But generally speaking I think that you should have a way that you want to play, a formation you want to play, a style that you want to play and stick to that otherwise I think it becomes very very confusing for the players. But with that said, I can tell you even if you look at last weekend's game against D.C. United, we changed the way we played a little bit from what's the norm and if you watched our team and you've watched us over the last few years what the one thing you"ll notice is our formation doesn't change much. We play 4-3-3, usually with one holding guy, occasionally with two holding guys but usually one holding guy and two attacking central midfielders.
And we play that 4-3-3 very aggressively especially when we lose the ball. We're often pressing high, we're pressing immediately. We won't drop off and we'll look to win it back as early as we can and play as much of the game as we can in the opposition's half. And we do that whether we're at home or we're away. But there is times when we'll have to change that a little bit, and that D.C. United game at RFK Stadium last weekend was a perfect example and the reason is if you look at the strengths of D.C. they let teams come on to them. Even when they're at home they don't feel obligated to have the ball and to have the most possession in the game.
They don't feel the need to keep it, to dictate the pace of the game but they're set up in a way where they're in two blocks of four and they're very very compact defensively and they will often times leave either Espindola and Silva or Espindola and Rolfe or Silva and Rolfe or whoever their two front runners happen to be. They leave them pretty high up the field and cheating. And what I mean by cheating is that they're not honest in their defensive duties. They might do some passive defending and as the ball gets by them they go and look for soft spots so that they can get the ball as soon as their team has won it and they can start on the counter.
And if you look at a number of their goals that they've scored this year and last year, they've scored the majority of them that way. Compact and defense. They win the ball, they instantly play forward into Espindola or Rolfe's feet and then they flood numbers forward. And so they counter other teams to death. Well, ours normal style going against them would have put us in jeopardy I think, we think more than it would have been worth it. So we decided yes we're still going to go and play the same expansive type of attacking game that we normally play.
But when we win the ball instead of pressing immediately or anytime they had a goal kick or a deep free kick in their end, instead of stepping high and pressing, we drop off and reduce the space in behind us and force them to have to dictate the play and to force them to have to try to make the game, and they were very very uncomfortable in doing that. You could see it and anybody could see it in watching the game.
So to answer your question I know it was kind of long winded but I believe there are times when the stress and the importance of winning the game and getting points is there that you do have to or should change your style a little bit. With that said I think you've got to practice it as well. It's not just something that you say hey this is what we're going to do and now you go out and roll the ball out and expect your team to do it. It was something that we've obviously worked on, it's something that we've done a number of times not only this year but last year. But I would say probably 10% to 20% of the matches played that way, whereas the majority of the time we have our style and our way of dictating play and pressing high.
Tom: That makes sense. Now as coaches at every level that listen to the podcast and give us feedback we've got guys that are coaching U6 soccer all the way up through. We've had a couple of professional coaches that have given us feedback and I guess my question is to help those coaches that maybe are new to this and are just learning to become kind of tactically aware, are there good books or resources or methods that you would suggest that would help them kind of become more tactically aware and be able to see these things more easily?
John: I would suggest two things. I think reading is a great thing and then watching the games, any level games whether you're going to watch other youth games in your area or even high level games because sometimes in those high level games it's easier to see shape and style of play than it is in some of the youth games that you watch but when we talk about books and there's a number of really good ones out there but David Platt the former player and coach has put out a series of books. In fact, I think it may have been through you guys the World Class Coaching.
Tom: Yup.
John: And I know it's maybe a shameless little plug here but it's not one that we'd actually talked about or thought about till now but when I read his books on How to Play Against, the 4-4-2 How to Play Against the 3-5-2, the 4-3-3, it gave me a better understanding not only of how to play against those systems but also how to set those systems up in a way that was a little different than the way I envision those systems to be played. Beauty is in the eye of the beholder. So every coach is going to see a system a little bit differently that the next but that series of books that he puts out gives you a pretty good idea of the three major systems that are out there and some of the variations within those systems and then how you can not only attack within those systems but also how to transition and defend within those systems.
So I think that's a pretty good series of books. There's a number of them out there that are very very good. And the other thing I would say is regardless of whether you coach at a U6 level or a U16 level or a PDL team or a pro team, I think the coaches have to go through continue education. Whether they don't have a license at all and they're starting with their very first won or whether they have their "C" license and they're pushing to go get their "B" or their "B" license and they're going push and get their "A."
I think that every coach should have that mentality of constantly trying to learn more and get better. And that process is an ongoing one. It's not necessarily that you have to go get your "C" today, your "B" next year and your "A" right after that. But as long as you're applying those principles of what you've learned in those courses and then digesting it and using it and processing it and trying to get something from it and then eventually adding on to that going to get the next one or going to do some other continued stuff or we're going to watch a pro team train or a college team train and pick up little tidbits here and there.
All of that stuff I think is great and it begins with the coaches because those are the guys entrusted with getting that information out to the players. If the coaches don't have that information, how are the players ever going to get it?
This is just part of the interview with John. You can click this link or the complete transcript.
If you'd like more information on the How to Play Against and Beat books from David Platt that John mentioned you can click on the image below.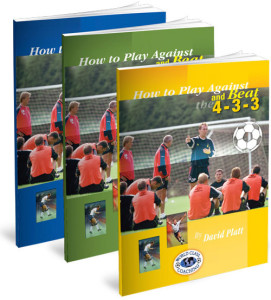 Remember!
Make sure you subscribe to Coaching Soccer Weekly through iTunes, or your podcast provider of choice, to be sure you never miss an episode.
We would appreciate it if you would leave us a 5 star rating and/or a written review on iTunes to help spread the word about the show and ensure that we can continue to bring you top notch guests in the future.
In the Next Episode
Next week I outline how our soccer club holds tryouts for more than 2,000 players in one weekend and gets them all placed on teams quickly and correctly (most of the time).