Podcast: Play in new window | Download
Subscribe: Apple Podcasts | RSS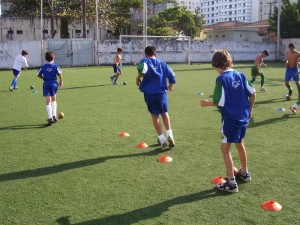 We've had a number of coaches ask if we could create printable show notes. Earlier this week I started working on doing that. I've put together a template using the first episode and posted that to the site. Now that I've worked out the technical side I'll start adding them to each episode. I'll also go back and add them to the previous episodes. So far I've completed five episodes going back to Episode 12 on the Transitional Possession Game. I'll get the others done during the rest of the summer.
Please let me know what you think of those and if there's anything you'd like to see done differently. I take your comments and requests seriously because they will give you more of what you're looking for which can only improve the podcast.
In the last couple of weeks I've been working on things to get ready for next season. In addition to coaching teams in the club. I'm also the Skills and Curriculum Director for the U8-U12.
I take this responsibility very seriously because what these young players learn now directly effects their future development. We do something that I think is fairly unique that I believe will make a huge difference in the technical ability of our players so I thought I would share our process with you in this episode.
Technical Training
I think most coaches and club directors would agree that proper technical training should be the primary focus of our teams in their early years of development. Unfortunately, coaches sometimes focus too much on elements that will help the team win today rather than help the players develop in the future. This loss of focus can happen because of pressure to win either from the coach themselves or from the parents and players.
As a club we decided to make one of our two training sessions each week strictly a Technical Training session.
The main purpose of our Technical Training curriculum is to provide foundation for our player's continued technical development. Gary Allan with Minnesota Youth Soccer said it very well in a article he wrote for their website on developing a coaching philosophy, "Just as it is necessary for builders to cut deep into the ground for a foundation of a tall building, so you are laying the groundwork for the future. No one looks in awe at the gaping hole that is dug, or ever sees the concrete laid for a building's foundation once it is built, but in order for a beautiful and majestic building to rise, the solid, but unseen, foundation is necessary."
We also implemented this program as a way to provide equal training opportunities for all levels of players within an age group.
By having a set curriculum we are also educating our coaches as we train our players. The coaches receive a manual that outlines each exercise for each training session in the Micro Cycle. The descriptions include the key coaching points that should be focused on.
Rather than writing out a complete description of the methods we use. I will have the podcast transcribed and added to the printable show notes next week. I'd do it sooner but transcription takes one week to complete unless you want to pay three times as much (and I don't).
I have included the study on small-sided soccer and the Manchester United 4 v 4 Scheme in the printable show notes below.
Printable Show Notes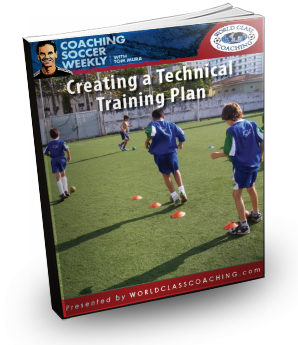 The show notes for each episode are accessed through the WCC Training Center.
They are FREE but you will need at least a Free Membership to the Training Center in order to view and print them.
Click on the image of the notes and if you're already logged in to the Training Center you'll be taken to the Podcast page. If you're not logged in your be taken to a login page where you'll also be able to login or register if you are not already a Member.
Remember!
Make sure you subscribe to Coaching Soccer Weekly through iTunes, or your podcast provider of choice, to be sure you never miss an episode.
We would appreciate it if you would leave us a 5 star rating and/or a written review on iTunes to help spread the word about the show and ensure that we can continue to bring you top notch guests in the future.
In the Next Episode
Next week I'll be spending some time away with my family so there won't be a full podcast but I will share a 1 v 1 exercise that I'm planning to use toward the end of our 12-week Technical Training Curriculum that I think you'll find interesting.