Podcast: Play in new window | Download
Subscribe: Apple Podcasts | RSS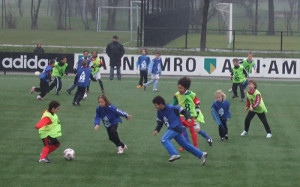 The questions and suggestions keep coming in each week and one that I received today gave me an idea. Michael K said, 'I am really enjoying your podcasts and am finding them very informative and educational. Would it be possible to include sessions that focus on set plays and restarts?
This is a topic that I have on my list but it's one that I've avoided because it's not one of my strengths. I have a couple of corners and free kicks that I use with my teams but I don't' have enough to focus a whole episode on this topic. I've planned to do some research and put an episode together but I haven't gotten around to it.
I thought this would be a good opportunity to ask you to share your favorite set play or restart. Everyone has a couple that they use with their teams. If we put those all together we could create a great resource for all of us. If you send me your one or two favorite ideas then I'll combine those into an episode and eBook. The easiest way to send these to me would be if you use our Session Designer through the Member Drills Database.
You can create the diagram and description there and just send me the URL from that page. You can also email them to me at tommura@worldclasscoaching.com. If you send those to me I'll put it all together for a future episode.
Formations for Small-Sided Soccer
There are a great many books and videos that discuss the different formations that can be played in the full-sided, 11 v 11 game but I haven't seen many that look at how coaches should organize their players when they are younger and playing 6 v 6, at U8, 9, 10 or 8 v 8 at U11 and U12.
There are some leagues and associations that use 7 v 7 for the U8's through U10's and 9 v 9 for their U11 and U12 small-sided soccer games. We will actually be making the change to those formats next year but I thought I would deal with how we are playing now in hopes that other coaches are trying to decide how they will play and maybe this will be helpful to them.
Some coaches may say that it's not important which formation you play with these age groups; it should just be about technical development. And I agree that technical development should be our primary focus of our work with young players but which formation you use can have a direct impact on player development.
The formation creates a framework for the choices the players have to make. Each formation present the players with different option during the course of the game. If we want to create lots of 1 v 1 situations then there are formations that will spread the players out and make that happen. If we want to focus on getting them to see angles of support and passing options then another formation might work better.
There are five different formations that I'll discuss today. I'll point out why they might be used along with their strengths and weakness.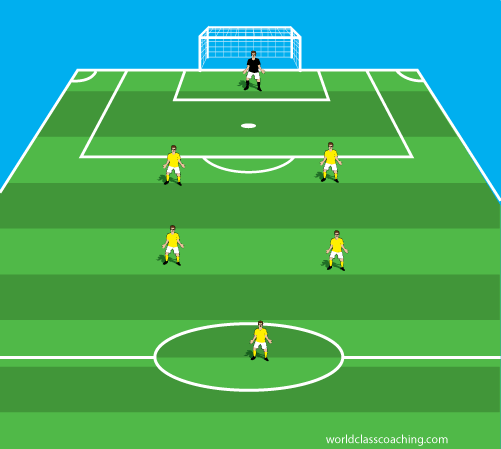 2-2-1
There was a time that this was the most common formation I saw used with 6v6. It provides three lines, Defenders, Midfielders, A Forward. This creates an easy transition to a 3-3-1 in 8 v 8. That leads into a 4-4-2 in the 11 v 11 game.
Strengths
Defensively solid
Easy to understand
Right and Left
Teach players to slide to the ball side and cover
Converts to a 2-3 in attack
Weakness
Easy to play through the middle if players get stretched
Lone forward can get isolated
Middle is empty when the goalkeeper wins the ball and defenders open up
As a club we want to play out of the back as often as possible
I don't like to use this anymore because it doesn't create triangles and diamonds that make decision making much easier.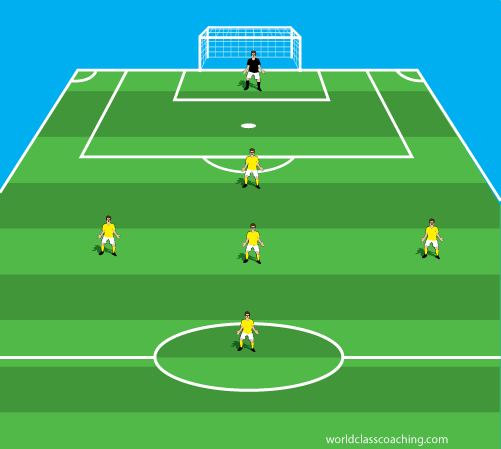 1-3-1
I don't see this very often. I observed PSV playing this formation in a 6 v 6 game during a tour we guided to Holland a number of years ago. The center midfielder got back to help cover the defender. Then it looked like a 2-2-1 until they won the ball. The wings would spread out and create a diamond going forward.
Strength
Stretch the defense with wingers
Create diamond shape
Penetration
Depth
Width
Lots of choices so lots of opportunities for improvisation
Numbers in attack
Weakness
LONE DEFENDER
This would create a lot of 2 v 1's if the CM got caught too high
Lone forward
Could become disconnected
Wide players not tucking in to cover middle with CM drops back
Hard to play out of the back without having lots of player change position when the keeper has the ball
This formation would definitely add more width to the game but playing with one true defender against at least one forward would put a lot of pressure on that player. I suppose it would be good for teaching 1 v 1 defending and the importance of recovery runs but it would give me a stomach ache.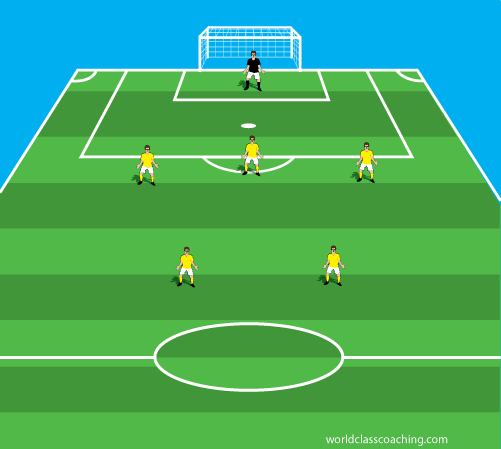 3-2
I've used this formation when I've coached weaker teams or when playing a superior opponent. It can also be a good way to introduce the 6 v 6 game to new players.
Strength
Solid defensively
Two forwards to work together
Easy for players to understand

"Where does a midfielder go?"

Easy to get the ball wide out of the back
Switching the ball across the back is easy
Lots of opportunities for wide defenders to get forward down the line
Playing give-and-goes with the forwards to join the attack
Easy to open up when the keeper has the ball
I'll talk more about that at the end
Weakness
Doesn't teach the concept of playing with three lines
Three lines of pressure are tougher to break down
Less attackers if the outside backs don't get involved
This is one of three formations I use with my own teams. They all morph easily from one to the other and are easy to understand.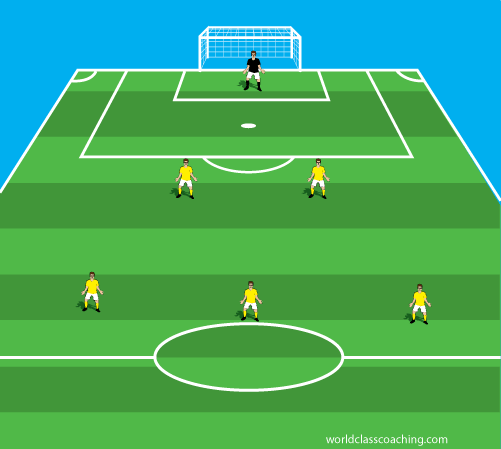 2-3
This formation works well when you have a strong team that attacks and defends well. Committing players forward creates lots of chances. Two solid defenders can work together to defend effectively. So this is not a risky fromation with good players.
Strengths
Width in attack
Create lots of 1v1's on the wings
Beat a player wide and someone will be open in the middle
Two defenders provide enough cover
Easy to open up and play out from the goalkeeper
Two defenders can easily open up and play out of the back
Weakness
Doesn't create three lines
Make sure there isn't a large gap between the two lines
Defenders can become, 'stuck' in the back
I don't use this as often as 3-2 and the next formation, the 2-1-2. I don't think that it encourages defenders to get forward enough. Sure, you can teach the players that they don't always stay back but it's hard to create chances for them to get forward in this arrangement.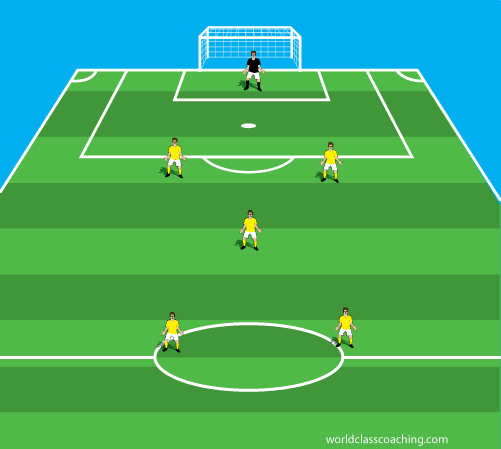 2-1-2
I love all of the angles and options that this formation presents. It's easy to put your strongest player in a position where they can impact every phase of the game.
Strengths
Two defender
Two forwards
Three lines
VERY simple to open up and play from the back
Triangles of support all over the field
Great for laying out easy decisions for the players
Spreads the field and creates lots of 1v1 opportunities
I want my players looking to beat players 1v1 so this is perfect
Easy to switch to 3-2 or 2-3 during the game
Not hard to explain to the players
Weakness
Can get outnumbered in the midfield
Who covers wide players in the midfield CM or Defender
I don't see a lot of negatives to this formation. I think it can work well for a team with only a couple of strong players. Put them in the middle and they can help everyone. It can also work for a strong team because it creates a lot of 1 v 1 situations to take advantage of.
I may start the season with 3-2 but my goal is to switch to a 2-1-2 as the season progresses.
Playing Out of the Back
I mentioned that as a club we want to focus on playing out of the back. The 3-2, 2-3 and 2-1-2 all provide an easy shape for us to open up from. We end up creating the same shape regardless of the formation
The Risk
Playing out of the back is risky. Even experienced players will make mistakes. You have to accept mistakes as a part of the process and use those times as opportunities to teach the players.
Choosing a formation for teams playing small-sided soccer should be more a matter of finding a framework to train your players how to play than a system to maximize your chances to win the game. I have no problem with winning! But winning while developing creates the Win-Win that will give your players the foundation for future development and success.
Printable Show Notes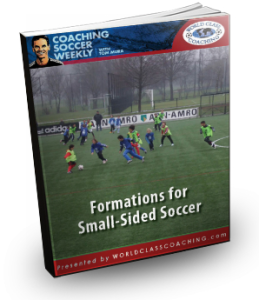 The show notes for each episode are accessed through the WCC Training Center.
They are FREE but you will need at least a Free Membership to the Training Center in order to view and print them.
Click on the image of the notes and if you're already logged in to the Training Center you'll be taken to the Podcast page. If you're not logged in your be taken to a login page where you'll also be able to login or register if you are not already a Member.
Remember!
Make sure you subscribe to Coaching Soccer Weekly through iTunes, or your podcast provider of choice, to be sure you never miss an episode.
We would appreciate it if you would leave us a 5 star rating and/or a written review on iTunes to help spread the word about the show and ensure that we can continue to bring you top notch guests in the future.
In the Next Episode
Next week I'll discuss the formations that I've seen work well for U11 and U12 players. These are important ages because they are getting ready to transition to play the full-sided game. The decisions we make at this stage can make that transition easier or more difficult.