Podcast: Play in new window | Download
Subscribe: Apple Podcasts | RSS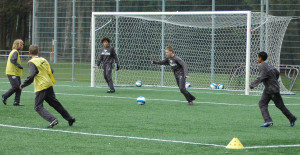 Last weekend was our first tournament weekend. There is always a lot of discussion about whether playing multiple games over a weekend is good for players. I think it depends on the age and level of the players. For high school age and above I think more harm than good comes from playing more than a game a day and no more than three days in a row. These are players that are playing close to if not full 90 minute games and often with limited substitutions.
For younger players who are subbing more often and playing shorter games playing three or four games over a weekend can be good for them.Playing multiple games over a short period of time allows the player to learn from the previous experience and apply that knowledge in the next game. I think tournaments can be a useful tool especially early in the season when you're trying to get a young team on the same page, very quickly.
This week I want to look at a key transitional period in development. The U11 and U12 years are crucial in the development of a player. You'll often hear coaches talk about this period as the, 'Dawn of Tactical Awareness'. The players become much more aware of how they can cooperate with their teammates to achieve mutual goals.
Until now their focus is usually more self-centered. I don't think this should be looked at negatively because self-centered learning is an important stage of development and helps to provide a great environment for acquiring new skills.
As players make take the next step from a focus on themselves to small group dynamics they start to become aware of the importance of working together. This awareness comes at different ages for each player but U11 and U12 are generally accepted as an appropriate time to focus a bit more on team dynamics.
In this episode I'll discuss the formations that I've seen used with these age groups  and how they can help players prepare for step up to full-sided soccer.
U11 and U12 Systems of Play
Twenty years ago or so, every age group played 11 v 11. So you would have eight year olds playing 11 v 11 on a large field. A short time later decision was made to play 4 v 4 for U8's, 6 v 6 for U10's and 8 v 8 for U12's. Then U13 would be the age when teams began to play 11 v 11.
Looking back, it's obvious that this change was a huge benefit to players enjoyment and development in the game.
Last week, in Episode 24, I discussed the possible formations that you could use for teams playing 6 v 6. This week I want to look at a key point in player development; the U11 and U12 years provide a vital link between small-sided soccer and the full-sided version. The way we organize the players in this stage can set them up for a smooth transition to the full-sided game.
What to Consider When Choosing a Formation
Do you want three lines?
Cover in the Back
Three defenders covering the wide of the field
Two defender working on covering each other with the help of the midfield
Width in the Midfield
Create wingers to attack the flanks
Lone Striker or Pair
We'd all like to play with two but in 8 v 8 we run out of players to do all of this
Systems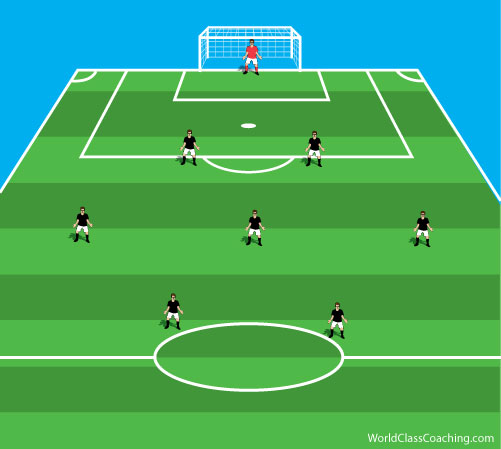 2-3-2
This creates a balanced shape and creates lots of diamonds of support. I focus on creating Right-Left-Split. It also creates an easy transition if you want to play 3-4-3 in 11 v 11 game. Not many do but it can be effective given the right players.
Strengths
Two forwards
Good width from outside midfielders
Lots of outlets defenders
Easy to open up and play the ball out from the keeper
Weakness
Only two at the back
Puts huge pressure on your defenders and goalkeepers
Doesn't encourage defenders to go forward
Not enough cover
Outside midfielders end up being responsible for going all the way up and down the line
This can be a useful formation if you a few solid defenders and a very good goalkeeper. If you know you're stronger this formation puts more players forward and allows you to take advantage of this but it does leave you open to counter attacks.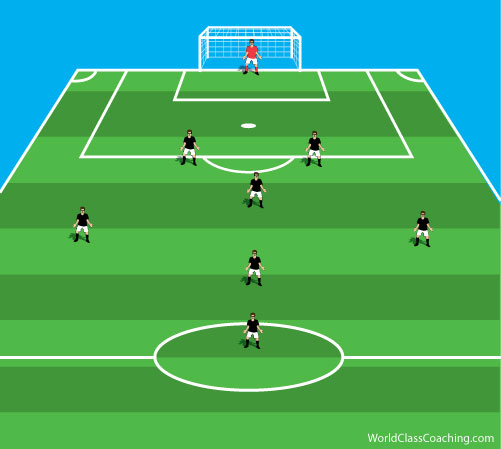 2-4-1
This formation allows you to train center midfielders. You can have one attacking and one defending or play them side-by-side. This transition easily to a 3-5-2 formation in 11 v 11.
Strengths
Wingers can really stay wide
Two center midfielders can cover without help
Defensive center midfielder to help back two
Weakness
Only one forward
Two at the back still have to cover the width of the field
Wingers have to go farther forward with only one forward
They still have to help defensively
I feel that this formation focuses too much on the midfield and not enough on the forwards or defense.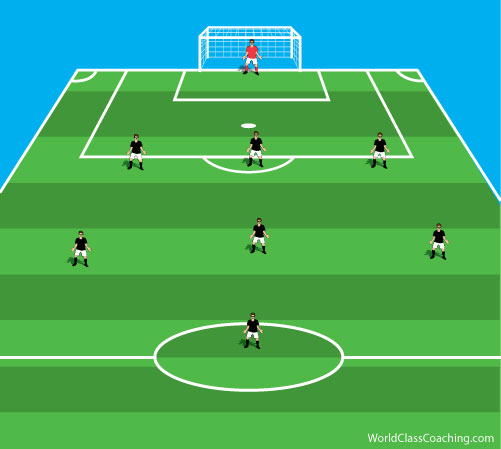 3-3-1
This provides and easy next step from the 2-2-1 formation in 6 v 6 and then to 4-4-2 in the 11 v 11 game.
Strengths
Cover the width of the field in the back
Still have width in midfield
Opportunity to teach overlapping
Weakness
This is by far the safest formation. It is  also simple for the players to understand.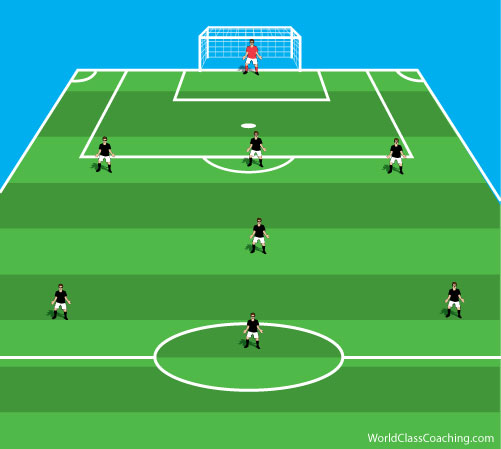 3-1-3
This might be better be described as a 2-1-2-1. It can quickly collapse into a 3-3-1 defensively or expand into a 1-3-3 in attack.
Strengths
Good cover across the back
Lots of attacking options
Teach outside players to get up and down the field
Weakness
Can create gaps in wide midfield areas
Players need to understand when to step up and drop back
Good learning opportunity
Lots opportunity for mistakes
I would use this formation as a transition once the players gain an understanding of 3-3-1. It also encourages outside defenders to get forward and outside midfielders to attack.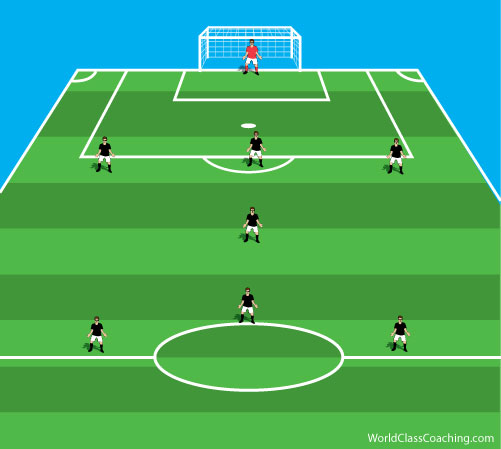 3-2-2
Two forwards that are positioned wide put pressure on the outside backs of the opposition to stay home. If you have two or three very strong and smart players that can play centrally this formation can take advantage of their strength. It also creates lanes for outside defenders to get forward. You can play with midfielders side-by-side or front and back.
Strengths
Two forwards playing in the gaps between backs
Other team has a hard time getting defenders forward
Maintain three in the back
Allows strong central players to get the ball a lot
Weakness
Wide midfield areas are tough to cover
Relies on the strength and intelligence of the midfielders
This is an advanced formation and requires a lot of understanding by the central players. I think you would spend more time coaching the formation than the skills of the game.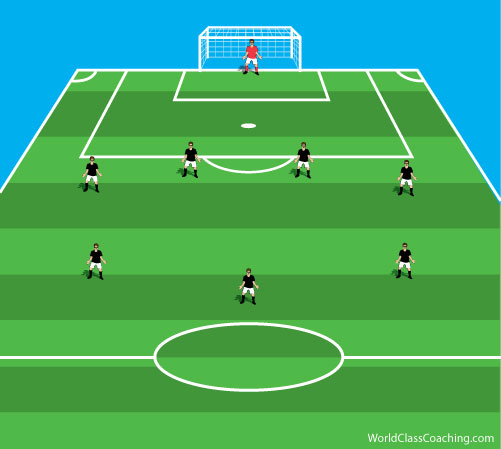 4-3
You could use this formation to train the roles and responsibilities of a back four. The midfield three can play with two attacking or two defending.
You might use this system if the other team is stronger and you want to defend and then counterattack.
Strengths
Very solid defensively
Tough to attack centrally
Outside backs can get forward and not sacrifice cover
Weakness
No attacking outlet
Allows other team to possess out of the back and keep possession
I feel that this system is far too defensive to be played with young players. It's too 'Tactical'. The game should be about learning the principles of attacking, defending and possessing at these age groups not just going for a result
There are probably other ways to organize a team to play 8 v 8 but these are the most common I've seen on the field or in my reading and research.
Whichever formation you choose to play you should focus first and foremost how playing that shape will benefit the players and guide them in their transition from small-sided to full-side soccer.
Printable Show Notes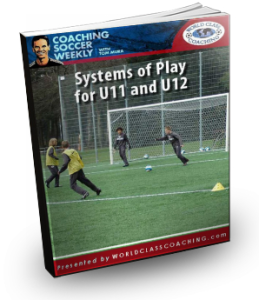 The show notes for each episode are accessed through the WCC Training Center.
They are FREE but you will need at least a Free Membership to the Training Center in order to view and print them.
Click on the image of the notes and if you're already logged in to the Training Center you'll be taken to the Podcast page. If you're not logged in your be taken to a login page where you'll also be able to login or register if you are not already a Member.
Remember!
Make sure you subscribe to Coaching Soccer Weekly through iTunes, or your podcast provider of choice, to be sure you never miss an episode.
We would appreciate it if you would leave us a 5 star rating and/or a written review on iTunes to help spread the word about the show and ensure that we can continue to bring you top notch guests in the future.
In the Next Episode
I'll look at the final step in this process and discuss the different systems of play for the 11 v 11 game and how they can help achieve developmental goals.