Podcast: Play in new window | Download
Subscribe: Apple Podcasts | RSS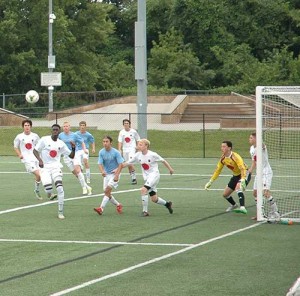 An email came out from US Youth Soccer on Monday, August 24. It was to announce changes that most people had heard something about already.
The first is that they are mandating small-sided soccer for players below the age of 12. They are also standardizing the formats for each age group. The U8's will play 4 v 4 without goalkeepers, U9-U10's will play 7 v 7 and U11 and U12 teams will play 9 v 9. This is a change from the 6 v 6 and 8 v 8 formats that many of the State Associations have been using for years.
The second announcement is a change to the age group cut-offs from August 1st to January 1st.  The rest of the world has been using the calendar year age groups for more than twenty years. The funny part of this for me is that the US used calendar year when I start coaching more than 25 years ago but changed to get in line with the rest of the world that was using August 1st to fall in line with school year ages. When we changed to August 1st the rest of the world then switched to calendar year shortly after. Hopefully US Soccer has done more research this time so that this is the final change.
I think that the format change is great. Playing 7 v 7 and 9 v 9 makes a lot more sense than 6 v 6 and 8 v 8 when you look at the way they relate to the full sided game.
I don't see how the age group changes matter one way or another for 90% of the youth players who will never complete for places on national teams.
The final question I have is when will this start. The changes are mandated for August 2017 but USYS has "encouraged adoption of best practices in August of 2016." So it looks like it will be on a state-by-state basis which will cause chaos for a year when neighboring states make different decisions. Hopefully each region will be able to agree on how to proceed but that seems unlikely.
This week I finish up my series of episodes on formations for young teams with a look at how the different formations can be used with teams making the transition to the 11 v 11 game.
I'll review each of the most common systems of play and look at how they can help or hinder developmental goals during this important transition.
11 v 11 Systems of Play for U13's
When teams begin playing full-sided game it can be a very difficult adjustment. At this age the ball usually changes from a size 4 to a size 5. Also, the fields more than doubles in size but we only add three more players on each team.
These factors totally change the game. In small-sided games one player can take over a game but in the 11 v 11 game the team has to work together to retain possession and create goal scoring opportunities.
This transition is a time when the coach can create a playing environment that encourages the players to see options and make decisions. As I've mentioned in the previous two episodes, formations are not the most important factor in your team's success but they are a framework you can use to train your players to play the game.
Today I'll discuss each of the most common formations and how they can be used to develop players.
When I'm looking at a formation I'm looking for one that is simple to understand, easy to adjust depending on our players and type of team you're playing and grants players the freedom and opportunity to make decisions.
I think using multiple formations is important for players because it helps them to understand different systems and ways of playing. The more experiences we give them the more well-rounded they will be.
All formations have strengths and weaknesses. They are just a tool to organize the players and like any tool they can be used to build or destroy.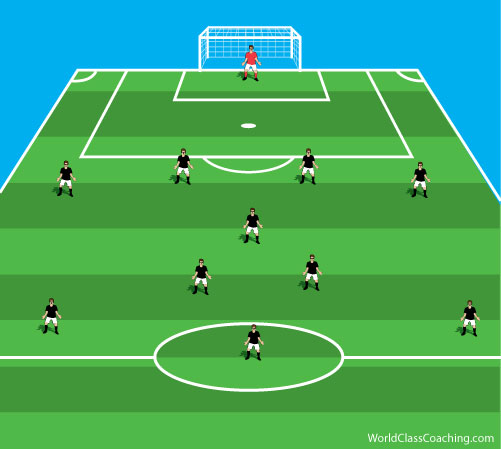 4-3-3
In my opinion this is the most flexible system. There is a lot of room for player rotation. This has become the most popular 'base' system. Your players will likely play in some variation of this system in the future so it is a good one to introduce.
Strengths
Solid back four
Three players in the center of midfield
Most modern formations have three in the middle
Three attackers
Covering the width of the field
Keep opponent's defenders pinned back
Space for defenders to get forward
Easy to open up and play out of the back
Midfield can be adjusted to suit players and the game
Weakness
Get outnumbered in wide areas
Center Striker can become isolated if wide attackers drop back to win the ball
Only one option in the box for crosses
Application for Young Players
This is the system the Dutch used in the 70's to create Total Football
Requires players to move to create options
Players changing positions
Gives defenders attacking opportunities
Space to create 1 v 1's on the wings
Easy to rotate wide defenders and wide forwards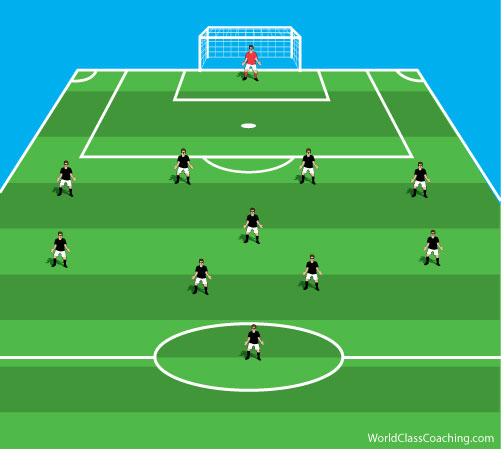 4-5-1
This is very similar to 4-3-3 formation. You are just pulling the wide forwards back into midfield.
Strengths
Very solid defensively
Wide area are now defended
Weakness
Isolated forward
Asks them to hold the ball and bring players into the game
Young players can become impatient and go on their own
Out run their support
Application for Young Players
In my opinion this is a fearful 4-3-3
It compacts the field
Makes it hard to get forward
Need a strong target to hold the ball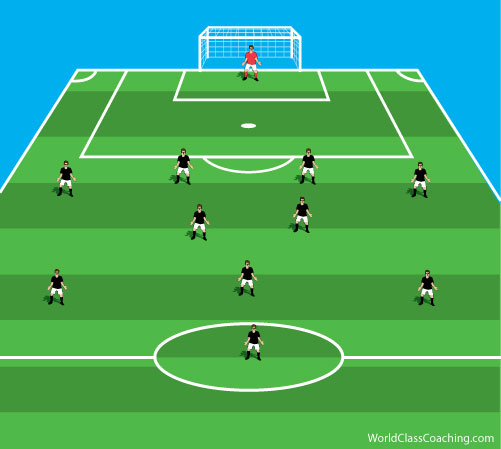 4-2-3-1
You might look at this as just another 4-5-1. The difference is the freedom given to the three attacking mids and forward by the presence of two holding midfielders.
Strengths
Clear distinction between back 6 and front four
Holding mids create screen for defenders
Frees up outside backs to attack with confidence
Closer support for forward
Creates wingers out of outside mids
Weakness
Getting holding Mids to hold
A bit more complicated
Still have isolated forward
Application for Young Players
This will take time for the players to understand
There are so many different roles and responsibilities
Rotating players asks them to drastically change how they are playing
Play a number of games in a row in the same position to learn what to do before rotating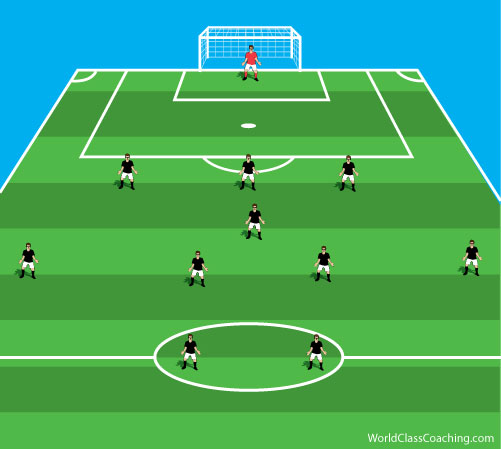 3-5-2
This is one of my favorite formations for young teams.
Strengths
Continue to work with three defenders as we did in 3-3-1
Lots of numbers in midfield
Two forwards to work together
Easy to open up and play out of the back
Weakness
Defenders need to slide from side to side to cover the back
Asks a lot of wide mids to get up and down to attack and help defend
Application for Young Players
The three defenders doesn't worry me a much at younger ages
The players lack the ability to switch the point of attack directly
We can slide as they switch it
I usually play with one holding midfielder who is always responsible for being between the ball and the goal.
This creates a great screen for the defenders
If you have strong defenders and wide players you can dominate possession with this formation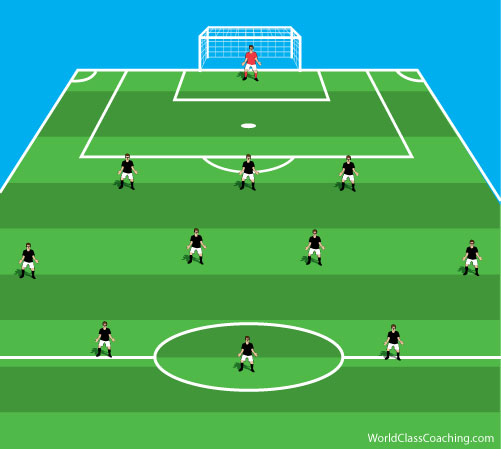 3-4-3
This is my second favorite formation for young players.
Strengths
VERY easy to understand
Lots of attacking pressure
I like to have all three forwards slide to the ball side of the field
Makes it tough for defenders to play out of the back
Our width comes from our wide mids
Weakness
Can get out numbered in the center of midfield
Three in the back is always riskier than four
Application for Young Players
This creates diamonds of support everywhere
Spreads the field and creates the most 1 v 1 opportunities of any formation.
It does leave the defenders in the back
They can't get forward without risking counter attack or asking other players to cover
I rotate defenders and midfielders (wide for wide and central for central) to solve this problem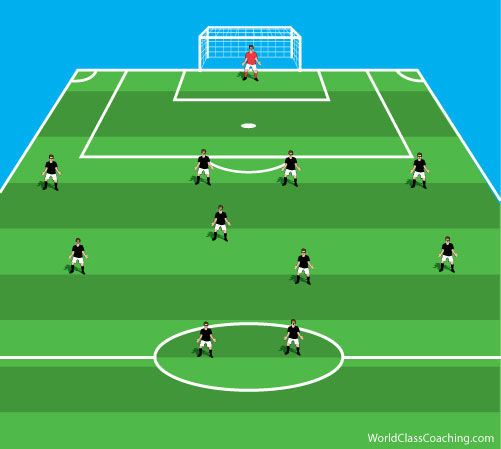 4-4-2
This is not a system I see used all that often anymore. Some coaches who grew up playing it may fall back to it but most have moved on to more modern and dynamic systems of play.
Strengths
The easiest transition for players to understand

2-2-1 turns into a 3-3-1
3-3-1 turns into a 4-4-2

Great cover in the back
Two strikers to play together up front
Wingers to spread the field
Weakness
Will get out numbered in the midfield
Application for Young Players
I think this system will force players to play more directly especially in the center of midfield because they are outnumbered by most other formations
I don't like it because morphing into different formations is not easy
I think it compacts the game and leads to more long balls to relieve pressure
Frankly it just doesn't suit my style of play
I accept that ANY formation could be used to train young players to play the game with possession, skill and creativity but I just think that some foster these qualities more easily than others.
Whichever formation you choose to play the most important thing is that you empower your young players to play the game with confidence and skill. If you focus on the process of development more than the results of the game then your players will follow your lead and you will be creating the foundation for the future of soccer in this country and around the world.
Printable Show Notes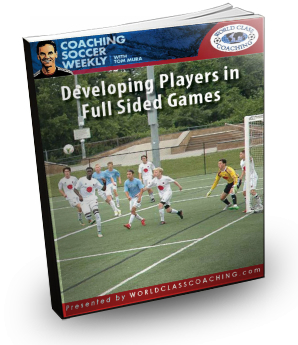 The show notes for each episode are accessed through the WCC Training Center.
They are FREE but you will need at least a Free Membership to the Training Center in order to view and print them.
Click on the image of the notes and if you're already logged in to the Training Center you'll be taken to the Podcast page. If you're not logged in your be taken to a login page where you'll also be able to login or register if you are not already a Member.
Remember!
Make sure you subscribe to Coaching Soccer Weekly through iTunes, or your podcast provider of choice, to be sure you never miss an episode.
We would appreciate it if you would leave us a 5 star rating and/or a written review on iTunes to help spread the word about the show and ensure that we can continue to bring you top notch guests in the future.
In the Next Episode
Next week I'll get back to sharing technical and tactical sessions I use with my own teams.  I think teaching players how to defend individually and in small groups is an underappreciated area by many coaches. In the next episode I'll show you a complete defensive training session that I've used successfully with a wide range of age groups.