Podcast: Play in new window | Download
Subscribe: Apple Podcasts | RSS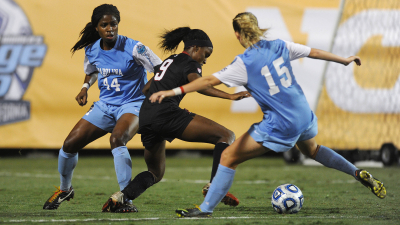 As we reach the midpoint of the fall season here in the Midwest my training sessions are becoming more focused on small-sided games. Early in the year I spend a lot of time on technical training and individual skill development. This provides a foundation of understanding for dribbling, fakes, passing, receiving and shooting. The players have heard the coaching points from me over and over so we have a kind of short-hand that makes it easy for me to help them make corrections.
With this foundation in place, the players need to repeat these skills over and over again in game situations. Small-sided games provide a fun and realist environment for this repetition. The players enjoy playing games so it's much easier to engage them. The sessions are fast paced and fun for me too.
Next week I'll give you some examples of adjustments that I make to small-sided games to focus on the aspects that I want to improve.
This week I want to discuss a situation that all coaches face from time to time – the lopsided matchup. These games are no fun for either team but they do present an opportunity that can make your team stronger going forward.
I'll talk about my own experience with these types of games and how you can get the most out of them no matter which side of the result that you're on.
The Challenge of the Mismatch
If you've coached for any length of time you will have been involved in a game where one teams was MUCH stronger than the other. This is not a good situation for either team; no one enjoys getting outplayed and outscored but even the team that is doing the scoring doesn't enjoy the game because it's not challenging for them and there's no fun in winning a game by a wide margin against an opponent that doesn't have the skills to compete.
This is different than winning a game by four or five goals against a team when you're just playing really well and they can't seem to find a way to stop you.
I'm talking about the games where the two teams don't belong on the same field. This can happen in a tournament where the teams are incorrectly seeded or in a league game where a newly promoted teams from division three plays a team that was just moved down from division one. They are both division 2 teams but the difference in talent and ability may HUGE.
I had a recent experience with mismatched games in a tournament that I talk about in detail on the podcast. I used some of the strategies I'll discuss to keep the score down and make it more competitive.
As with most situations we face, you can choose to be negative and resentful or you can try to get the most out of it you can.
What to do When You're MUCH Stronger Than the Other Team
Begin by having the team play as usual

Give your opponents the respect of playing your best
Sometimes they'll put up a great defense fight and make it hard to score
May play especially defensive

Don't assume anything at the start

Once the result is no longer in doubt
Your players know it and the other team knows it
This is when something needs to change
The First Adjustment I Make
Rotate players into different positions

Benefits your players
They enjoy it
Probably makes it harder to score
Rules for Your Players
Depends on what you want to train
A move or fake each time they get the ball

Works well if the other team pressures the ball but you've been able to move it around them with passes

A certain number of passes before you score

If you are just running through them each time

Everyone touches the ball before you score
Switch the ball two or three times before you can score

Requires the players to read the space and pressure
Make them switch it in the attacking half

Start with the goalkeeper for every attack

Build from the back
Difficult when you win the ball back near the opponents goal
Very obvious

Only score in a certain way

Headers
Volleys
One touch
After a combination play
Weak foot
No Pressing
Like in basketball
Drop back when the goalie has it
Possession Only
The Problem with Altering Your Play
Some coaches take it as an insult
I've had coaches say, 'Just play, it's our job to stop you.'
I understand this and respect that perspective
I'm not trying to belittle the other team
I'm just trying to train mine
What to do When You're the MUCH Weaker Team
If I know going in

Prepare the players
Sometimes

Point to reasons
No excuse for poor effort
Give them things to focus on

Number of moves each player uses
Number of passes each player makes
Consecutive passes
Number of times in the other team's half

Change the formation

Help to keep it close
Make it as hard for them as possible
Teach the players a different way to play

Leave the formation the same

Challenge them to play the best they can
Encourage them to measure their improvement not the result
Build confidence for future games
Change Style of Play
A BIT more direct

Tough balance to strike
No kick ball
Don't panic
BUT
Look for longer options
Play balls behind their defense
Attitude is everything
Remain classy no matter what

This is the best lesson your players can learn from you
I've seen and heard some ridiculous things from coaches and parents
Your kids see this and will model it in the future

This is true whether you're up by a lot or down by a lot

The losing team aren't the only ones that can act poorly
The winning team can be graceful or rude
Respectful or offensive
Running up the score is obvious but being rude while not scoring can be worse

I tell teams that there is always someone better than you

You may be in their position one day so let's respect them as we would want to be respected
Remember that regardless of the level we're coaching we're training kids to become good people not JUST good soccer players.
If you use some of these strategies when your next game gets out of hand you could be teaching your team something it would have taken much longer to do in any other way.
Printable Show Notes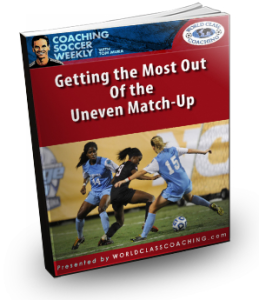 The show notes for each episode are accessed through the WCC Training Center.
They are FREE but you will need at least a Free Membership to the Training Center in order to view and print them.
Click on the image of the notes and if you're already logged in to the Training Center you'll be taken to the Podcast page. If you're not logged in your be taken to a login page where you'll also be able to login or register if you are not already a Member.
Remember!
Make sure you subscribe to Coaching Soccer Weekly through iTunes, or your podcast provider of choice, to be sure you never miss an episode.
Please take a moment while you're on iTunes and give us a ranking and a review. This will help bring our podcast to the attention of more coaches and spread the word about the ideas and training sessions that we're sharing.
In the Next Episode
Next week I'll share how I use rules and restrictions to focus on certain skills or tactics when my teams are playing small-sided games during training.