Podcast: Play in new window | Download
Subscribe: Apple Podcasts | RSS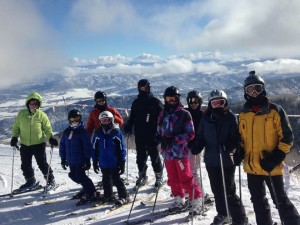 Happy New Year!
Our club took a two week break for the holidays. This is just as important for the players as it is for the coaches. It allows for everyone to spend time with family and friends and enjoy the holiday season.
For the last 30 years my family has taken a trip to Glenwood Springs, CO between Christmas and New Years. If you're looking for a great place to teach your family to ski you won't find a better place than Ski Sunlight.
I really enjoyed the break but I'm also excited to get back and start the second half of the soccer year.
Training Session
The session I share today is set indoors but it's not specifically a Futsal session. The goal of the season is to teach the key aspects of possession that apply both indoors and out. These exercises will help us be successful now but more importantly they'll provide a foundation for deeper understanding when we move outdoor in the spring.
Training indoors usually means being confined to a much smaller area than we often enjoy during the outdoor season. This means that any work on possession training must be done with smaller numbers in tighter spaces.
I actually view this as an advantage. It forces me to spend more time on the foundations of possession training: quality passing, width, penetration, and angles of support. All of these things transfer perfectly into the outdoor game so the work we do indoors will make the team much more fundamentally sound when the spring comes around.
Once I've taught my teams the key attacking and defending principles of Futsal we spend most of the rest of the season alternating between work on individual ball skills and team possession.
This session focused on possession is one that I return to, or some variation of it, a number of times during the winter.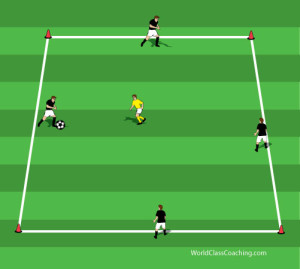 4 v 1 or 4 v 2
I have the players start playing this as soon as they arrive. We vary the size of the area based on the number of players. Sometimes we start with 3 v 1 and progress to 4 v 1 and 4 v 2 as more players arrive. This gets the players moving right away.
Coaching Points
Right /Left / Split support
Sharpening angles
Movement to support

Move toward the ball NOT away from it
Off the shoulder of defenders

Break lines of pressure

First touch
Quality of passes
When to dribble
Variations
One touch after five passes
Stay extra for 10 passes or a split
Must receive with sole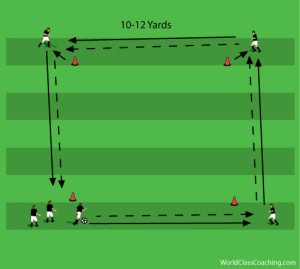 Square Passing
I use a square instead of a diamond to maximize the space we have. My teams train on basketball courts so we only have a space that is about 15 yards wide and 25 yards long.
Passing Progressions
Pass and Follow

Open up
Receive on back foot

Variation One

Receive with sole of front foot
Pull across the body

Pass with the other foot

Variation Two

Receive with sole of front foot
Turn with the inside of other foot with back to pressure
Pass with same foot

Variation Three

Check toward ball
Layoff to supporting player
Run around corner cone
Receive pass on the other side
---


This episode of Coaching Soccer Weekly is supported by ZoomReports.com. If you're a coach looking to give your players valuable feedback or a director of coaching searching for a way to manage the evaluations for your whole club you should try a free trial of ZoomReports by going to ZoomReports.com and entering the promo code CSW when registering for the free trial.
---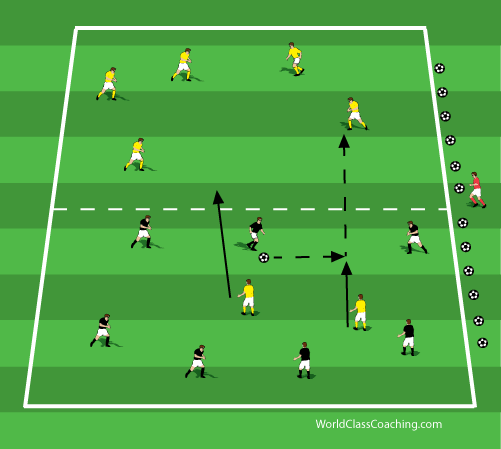 Transitional Possession
Organization
Two Teams
One on each side of the court
Team in possession completes five passes
Defending team can sends one defender over to pressure
They add a defender each time the attacking team completes five passes
If defenders win the ball they pass it to their side
If the ball goes out it's put back in play immediately
The first team to 10 points wins
The players must count out loud
Coaching Points
Move the ball away from pressure
Quality of touches and passes
Techniques repeated in Square Passing
R/L/S
Angles of support
'Sharpening angles'
Face the Field – Open body position
Variations
Start with NO defenders
Start with more than one
Number off and have players sprint for ball a new ball when one goes out of play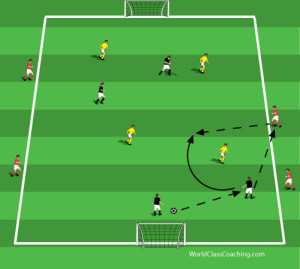 4 v 4 with Bumpers
Organization
Two teams on the court
One spread out on the sides of the field as neutrals
No Goalkeepers
Play five minute game and rotate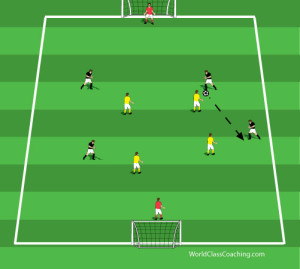 Futsal Game
We finish most training sessions playing the same format we'll play on the weekend so this time of year we finish with a 5 v 5 Futsal game.
I look for coachable moments where there is a breakdown that results in the loss of possession. We talk about the different choices or techniques and then restart with the correct action.
I like to leave the last five to ten minutes for free, uninterrupted play.
This session would take about an hour and a half to complete. We usually only have an hour in the gym during the winter so I would do the Transitional Possession Game one week and then the following week cover the same warm-up and technical drills followed by the 4 v 4 Bumpers Game but always ending with a regular Futsal Game.
The third week I would plan an Whole / Part / Whole session like I describe in episode 28 on Organizing Your Training Sessions. That would start with the 4 v 4 Bumpers game and then the Square Passing or 4 v 1 Game depending on which area needed more attention; the technical work or shape and decision making work.
This three week micro cycle covers everything that the players need to learn in order to be able to maintain possession effectively. The concepts apply equally to the 5 v 5 Futsal game as they do the larger formatted outdoor game. This makes us more effective in the short term as well as providing a foundation for the work we will do in the spring.
Printable Show Notes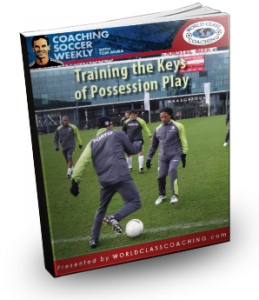 The show notes for each episode are accessed through the WCC Training Center.
They are FREE but you will need at least a Free Membership to the Training Center in order to view and print them.
Click on the image of the notes and if you're already logged in to the Training Center you'll be taken to the Podcast page. If you're not logged in your be taken to a login page where you'll also be able to login or register if you are not already a Member.
Remember!
Make sure you subscribe to Coaching Soccer Weekly through iTunes, or your podcast provider of choice, to be sure you never miss an episode.
We would appreciate it if you would leave us a 5 star rating and a written review on iTunes to help spread the word about the show and the information that we are sharing here.
Please share your thoughts on the podcast through social media to help us spread the word about the information we're sharing to your network of coaches. Please share www.CoachingSoccerWeekly.com and include #CSW THANKS!
In the Next Episode
Next week I'll share a shooting and finishing session that I do regularly with my teams during the indoor season. It includes the tight passing and support play that is needed for in the indoor game.