Podcast: Play in new window | Download
Subscribe: Apple Podcasts | RSS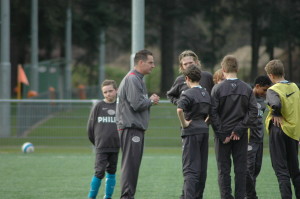 I'm sorry that last week's podcast wasn't released until Sunday. Our internet was out from Thursday afternoon until Sunday afternoon. I've prided myself on releasing a new podcast every Friday so this was extremely frustrating.
If you missed the episode I'd encourage you to go back and listen because there's some great information there on shooting activities you can do with your team during the winter months.
This week I want to focus on what I feel is the key to being an effective coach. It's not a certain drill, exercise or game. It's the coaching points and corrections you make as your players are performing a drill or playing a small-sided game.
Coaching Points
The drills, exercises and small-sided games we do with our teams don't teach our players the technical skills necessary to compete successfully in the game. They only provide an environment to repeat what we have taught them or a game to put the skills into the context of the real match. The coaching points and corrections we make are the keys to the development of our players.
Today I want to share the coaching points that I use with my own teams. They create the expectations that the players have for their performance. They also focus me during drills and games to make sure that the players are doing these things correctly.
Over the years I've collected a long list of 'things to watch for' when training each of the technical skills. During that time I've narrowed them down to the ones I'll discuss today because they are the most effective cues that I've found. They help paint the picture for the player so that they understand exactly what I'm looking for from them.
I want to focus on five skills today; moves to beat a player, Change of Direction, Shooting, Receiving, Passing.
Moves to Beat a Player
Setup

Small touches
One with every step

Controlled speed

 Fake

Fake something
Not just a move

Sell it
Fake one way, go the other

Play away

Out of your feet
Big enough to have to sprint to get it
Favorite Drill – Two Lines Facing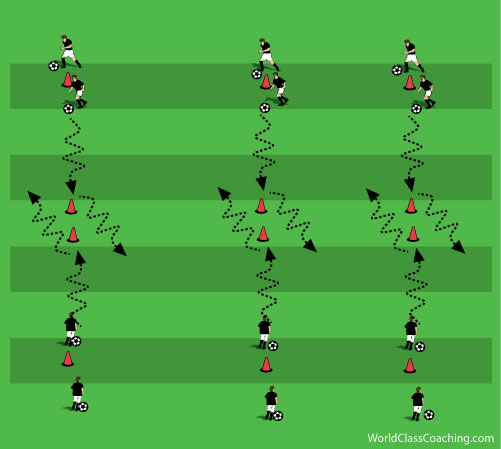 Changing Direction
Drive

Fake to drive in one direction
Drive defender in that direction
Make it believable

 COD

Start with a fake shot

Lean in the direction of the play awayPlay away

Out of your feet
Favorite Drill – Up Two Back One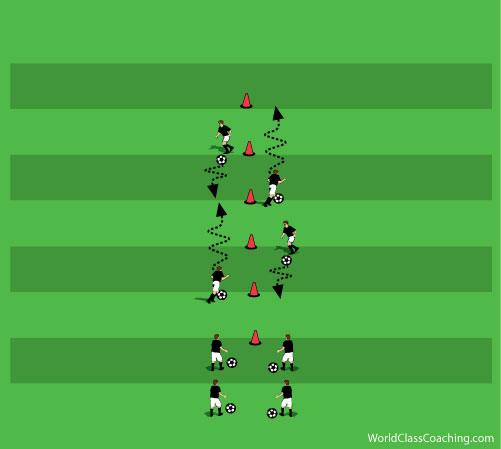 Shooting
Balance

Foot alongside the ball

Plant heel first for power

Leaning forward

Contact

Lock ankle

Foot like a brick not a noodle
Foot like a fist
Toes down and out (diagonal)

Center of the ball

What happens when you spin a penny?
What happens if I strike the bottom half of the ball?

Follow Through

Understand – your leg swings in an arc not a line
Land low on the shooting foot
Swing through the ball not just at it
Favorite Drill – Shooting on the Wall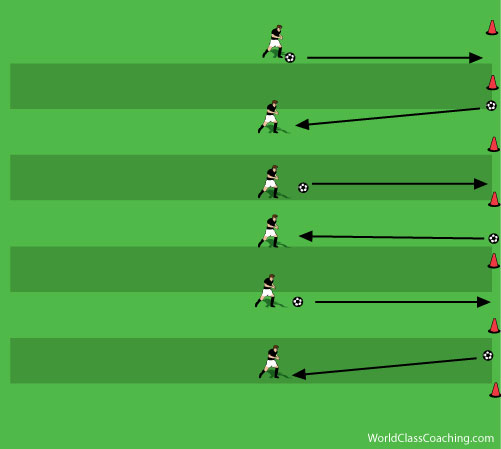 ---


This episode of Coaching Soccer Weekly is supported by ZoomReports.com. If you're a coach looking to give your players valuable feedback or a director of coaching searching for a way to manage the evaluations for your whole club you should try a free trial of ZoomReports by going to ZoomReports.com and entering the promo code CSW when registering for the free trial.
---
Receiving
Body Position

In line with the ball

Shouldn't have to reach if you have time
Select largest surface

Inside
Sole – Futsal

Open body

Face the largest space
Or intended target

'Magic Hop'

Bob Warming
Saw it in my better players
Important when ball is in the air

 Contact

Middle of the ball
Top half if it's bouncing at all
Develop a feel for the ball
Out of your feet

Two feet from your feet
Away from pressure
Into space
Toward your target
Favorite Drill – 'The Cage'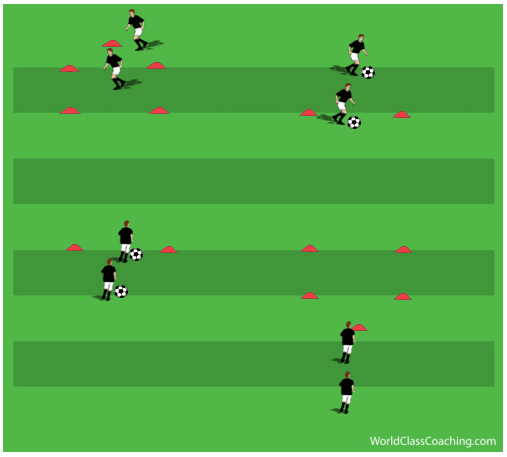 Passing
First touch

Out of your feet
Diagonal to prepare

Balance

Foot alongside the ball
Leaning forward

Contact

Lock ankle

Foot like a brick not a noodle
Foot like a fist
Toes up and out (hockey stick)

Center of the ball

What happens when you spin a penny?
What happens if I strike the bottom half of the ball?

Follow Through

Like you're putting a golf ball
Favorite Drill – Diamond or Triangle Passing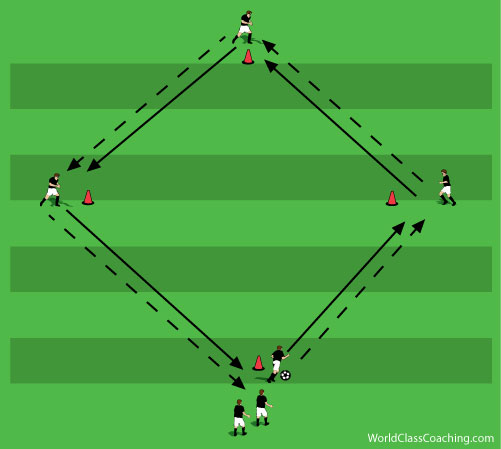 Now your coaching points may be different than these. That's fine. The important thing is that you choose coaching points that resonate with your players and stick in their minds. If they're able to internalize the key points that you give them they will be able to correct themselves when they have a bad touch or take a poor shot.
Printable Show Notes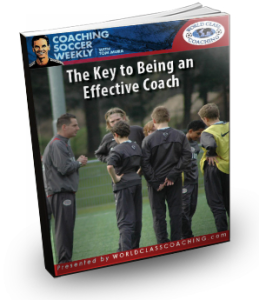 The show notes for each episode are accessed through the WCC Training Center.
They are FREE but you will need at least a Free Membership to the Training Center in order to view and print them.
Click on the image of the notes and if you're already logged in to the Training Center you'll be taken to the Podcast page. If you're not logged in your be taken to a login page where you'll also be able to login or register if you are not already a Member.
Remember!
Please share your thoughts on the podcast through social media to help us spread the word about the information we're sharing to your network of coaches. Please share www.CoachingSoccerWeekly.com and include #CSW THANKS!
Make sure you subscribe to Coaching Soccer Weekly through iTunes, or your podcast provider of choice, to be sure you never miss an episode.
We would appreciate it if you would leave us a 5 star rating and a written review on iTunes to help spread the word about the show and the information that we are sharing here.
In the Next Episode
Next week I want look at how different scoring methods change the focus of small-sided games. I'll share ways to structure your games to get the most out of the specific topic you want to cover.