Podcast: Play in new window | Download
Subscribe: Apple Podcasts | RSS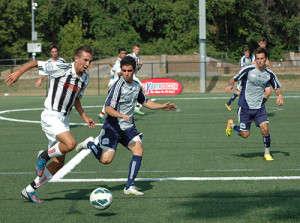 I want to share a training session that is intended to build confidence and encourage creativity. I've always spent a lot of time training 1 v 1 skills with young team so this is not a new concept for me but I was surprised at the impact this session had on my players.
This training session works on the tool necessary to be creative and skillful but more than that it develops the mentality of the players to go for it and be confident when facing these situations. It's a session that my players really enjoy and get a lot out of.  I'd encourage you to try it with your own team and see if you players aren't more confident and creative afterward.
I've had many conversations with coaches and parents about whether or not creative players can be developed. It's the same nature vs nurture argument that you can have about just about any aspect of human performance.
I believe that creativity is not so much taught as it is encouraged. We need to teach our players to control the ball and how to use fakes and moves to unbalance defenders but probably more important than that, we need to create an environment that encourages the use of these skills.
Too many players are taught HOW to be creative with the ball but then they're criticized, made to feel guilty and even punished when it doesn't work and they lose the ball. If you're going to create skillful creative players you're going to have to accept a period of time where they lose the ball more often than you'd like. But if you encourage them to take risks and go for it you'll develop a player than can create something out of nothing.
This is a session that was inspired by a conversation I had with a fellow coach about a game that he played with his teams.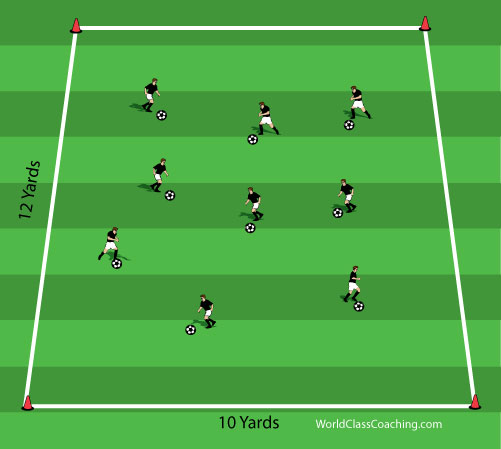 Free Dibbling
Both Feet
Favorite Foot
Other Foot
Two Footed 'V'
Footability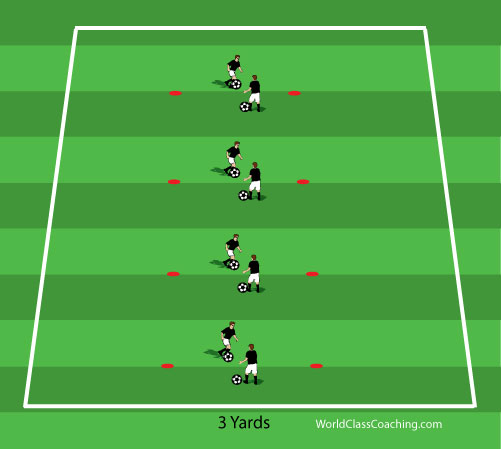 Pairs Between Cones
A Ball Each

Staying on their side
Each at their own speed
Two Footed 'V'
Footability
Foundations
First easy
To the 'Edge of Out of Control'
Freestyle – Be creative and quick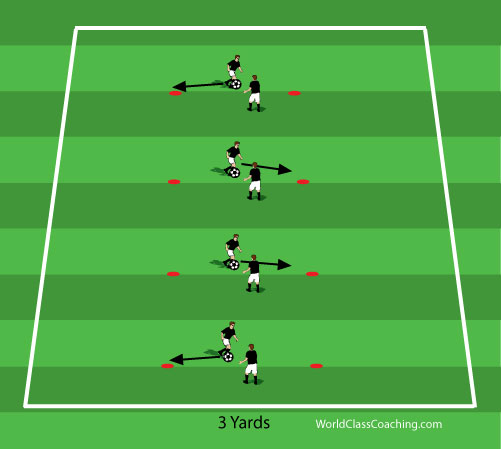 1 v 1
Each player gets 30 seconds with the ball
Defender shadows the Attacker from their own side
If the Attacker reaches the cone he receives a point
Ladder progression

1. Winner Moves Up
2. Loser Moves Back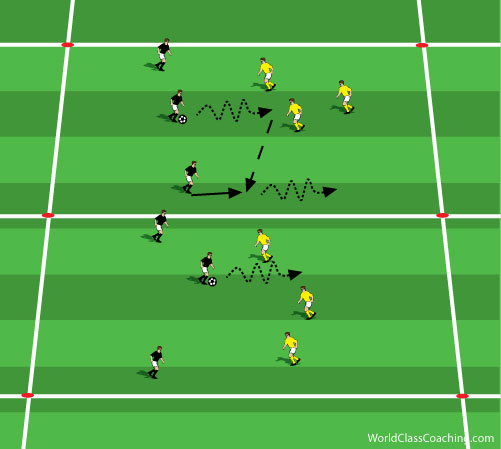 Ball Hog – 3 v 3 or 2 v 2
Organization

Half of a court
One game on each half
Four teams of three

Rules

Score in an end zone
Can only pass backward
Must dribble forward

Observations

Players keep passing back at first
Fear of losing the ball
We tell them 1v1 is good but pass if it's 1v3
Here we want them to go for it

Coaching Points

Attack the spaces between defenders
Use Fakes
Quick Changes of Direction
Or Both
Support behind but to the side
In the open space
Attack the space quickly if you receive a pass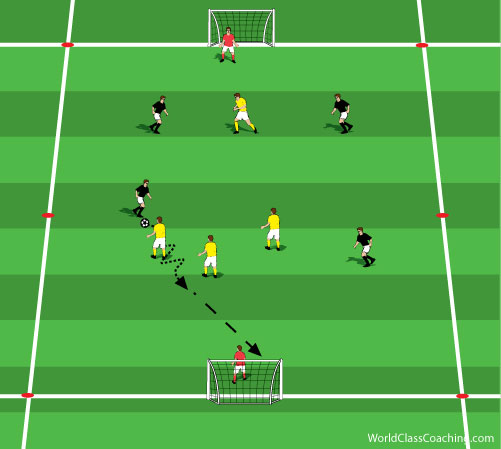 Scrimmage
Talk about how the practice relates to the game
Look for situations to be a 'Ball Hog'
When and Where
In this game I want them to go for it
This session gives players permission to take players on and be creative. We all say we want to develop creative, skillful players but then we do one possession activity after the next where the emphasis is on keeping the ball and not losing possession. This sends our players the message that risk taking should be avoided because they might lose the ball.
It's important to create a balance between the possession work that is necessary for the team to play together with work that puts the players in positions to take players on and make things happen. This will give them the skills to take advantage of both situations when they encounter them in the game.
Printable Show Notes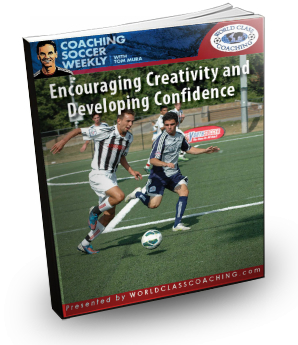 The show notes for each episode are accessed through the WCC Training Center.
They are FREE but you will need at least a Free Membership to the Training Center in order to view and print them.
Click on the image of the notes and if you're already logged in to the Training Center you'll be taken to the Podcast page. If you're not logged in your be taken to a login page where you'll also be able to login or register if you are not already a Member.
Remember!
Please share your thoughts on the podcast through social media to help us spread the word about the information we're sharing to your network of coaches. Please share www.CoachingSoccerWeekly.com and include #CSW THANKS!
Make sure you subscribe to Coaching Soccer Weekly through iTunes, or your podcast provider of choice, to be sure you never miss an episode.
We would appreciate it if you would leave us a 5 star rating and a written review on iTunes to help spread the word about the show and the information that we are sharing here.
In the Next Episode
Next week I'll share a session that you might think is the exact opposite of the one I just talked about but I found that the two complimented each other perfectly when done back-to-back in the same week.