Podcast: Play in new window | Download
Subscribe: Apple Podcasts | RSS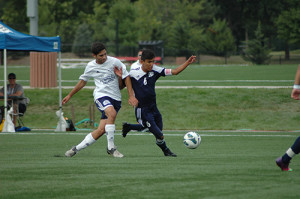 I received an email from US Soccer Referees Department this week that included a link to US Soccer's Concussion Initiative. That link with allow you to download a PDF of the document.
The US Youth National Teams and Development Academies will be implementing these new initiatives but it appears that each State Association and League will be able to make its own decisions about how to use this information.
It covers new education guidelines for referees, coaches and parents. There is also a suggestion that players receive 'Base Line Testing' to help determine when they're ready to return to play. A change to the substitution rule will allow a player to be replaced while being evaluated and return to the game if a Health Care Professional clears them to return to play.
While all of that is important, the most interesting aspect to me was the prohibition against heading the ball for U11 and below. Once players are U12 and U13 they can head the ball in games but have very little practice in training.
They say that, "All coaches should be instructed to teach and emphasize the importance of proper techniques for heading the ball." My question is how will we do this when players aren't allow to do ANY heading until they reach U12. I think there are methods that could be used to train players to head the ball properly that would have them ready to head the ball in games at U12.
Recently I've been focused on improving my player's ability to keep the ball, individually and creatively but also as a team, with an emphasis on the importance of the individual.
This week's session is intended to train players to understand the techniques necessary to protect the ball but also to put them under pressure so that they have to learn to be strong with the ball. If your players ever turn into pressure, lose the ball while shielding or are not strong enough to keep the ball under pressure this is a session I would suggest you try.
Protecting the Ball
Keeping possession of the ball under pressure is often the difference between a successful team and an unsuccessful one.
There are certain technical components to keeping possession but there are also physical and psychological elements as well.
This training session is designed to teach the techniques and test mentality of the player by putting them under progressively greater pressure.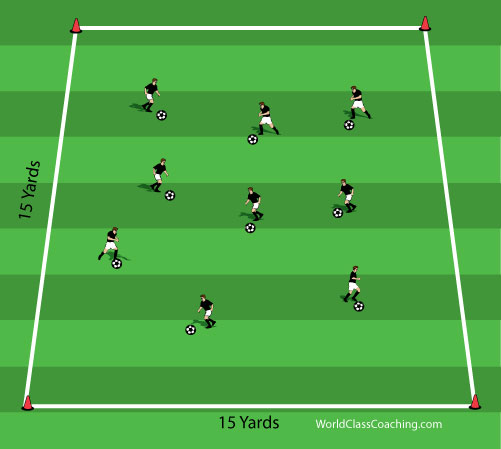 Dribble Warm-up
Free

See what they're doing (same approach as with passing last week)
Point out what certain players are doing well

More effective than correcting the mistakes

Decide what needs to be emphasized

Dribbling with ball on the 'Safe Side' of their body

Being aware of where the pressure is
Shifting the ball away from pressure

 Shielding

Static (with partner)

Ball on the safe side
Wide stance
Drop hips (not bend over)
Arm up to get the defender off your body (shock absorber)
Move the ball (inside, outside, sole)

Dynamic (moving from one player to the next)

Shield for three seconds and move
Don't get stuck shielding
Use it to protect the ball and then escape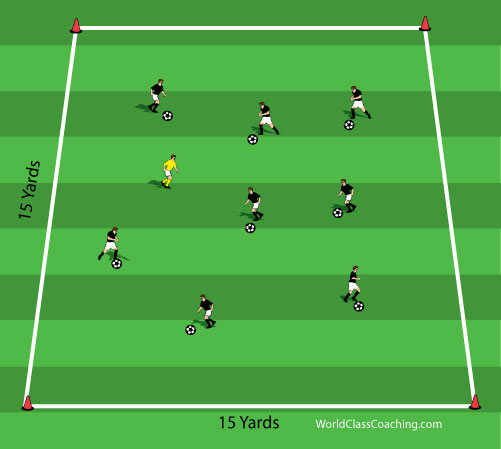 Stuck in the Mud
Organization

15 x 15
One player 'It'
Everyone else has a ball

Rules

If the 'It' player touch your ball with his foot your are, 'Stuck in the Mud'
The player hold the ball over his head and stands with his feet wide apart
To get loose another player must pass the ball through the stuck player's legs

You can have older players juggle, perform fitness exercises to run two laps around the area instead of being 'stuck'

Coaching Points

Turn away from pressure
Escape as soon as possible
Turn and face to escape when possible
Stay balanced
Defenders – Tough but Fair
Train the technique that was just taught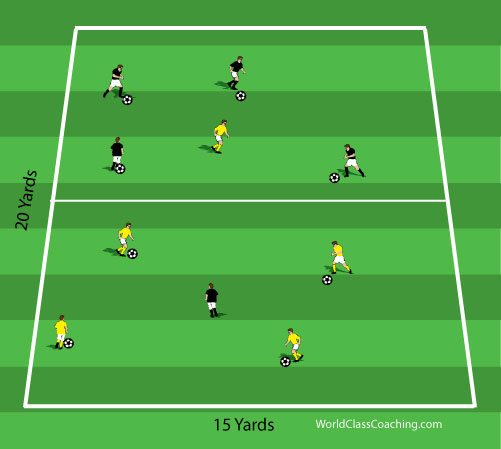 American Gladiators
I thought we had already included this as an Animated Drill on our YouTube Channel but it will come out next week.
Two or more areas (10 to 15 yard Grids)
Five players on a team in each area
One player from each team is designated as the 'Gladiator'

On the coach's signal the 'Gladiators' enter the other team's area and try to knock all of the player's balls out of the area
The team who lasts the longest wins that round
Play until one team has won X number of rounds
COACHING POINTS

Protect the ball as described before

VARIATION

When a player loses their ball they stay in the area
Support their teammates who are under pressure
Receive passes and move the ball away from pressure
This takes the game from individual to team possession

When to pass and when to keep the ball
Spread out and make the area the defenders have to cover large
Small-Sided Game
What to watch for

Going into pressure resulting in losing the ball and conceding a goal or chance
Freeze, correct, rehearse, restart
Be careful not to freeze too often

Only freeze when there is a negative result

Find teachable moments

Finish by letting them play
I used this session with my U10, U12 and U16 teams. I had different levels of expectation for each group but the sessions went well and the players were much more successful in keeping the ball by the end of the practice.
Try this session with your team and I'm sure your players will be much better at keeping the ball under pressure until they can shoot or pass.
Printable Show Notes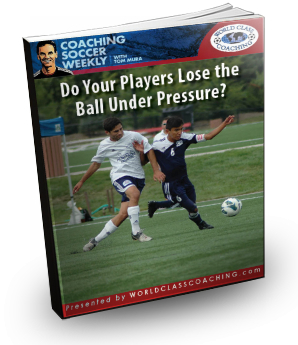 The show notes for each episode are accessed through the WCC Training Center.
They are FREE but you will need at least a Free Membership to the Training Center in order to view and print them.
Click on the image of the notes and if you're already logged in to the Training Center you'll be taken to the Podcast page. If you're not logged in your be taken to a login page where you'll also be able to login or register if you are not already a Member.
Remember!
Make sure you subscribe to Coaching Soccer Weekly through iTunes, or your podcast provider of choice, to be sure you never miss an episode.
We would appreciate it if you would leave us a 5 star rating and a written review on iTunes to help spread the word about the show and the information that we are sharing here.
In Future Episodes
I'm working on a number of topics for upcoming episodes. I'm putting together a round table to discuss the upcoming changes to age groups and small-sided games. I have had a request to share ideas on training and game suggestions for U8 teams and I want to bring you some suggestions that will help you train your goalkeepers in a team environment. So look for all of these in future episodes.