Podcast: Play in new window | Download
Subscribe: Apple Podcasts | RSS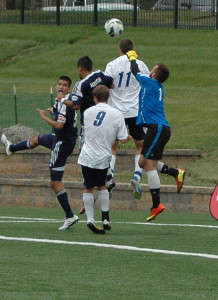 The focus of this week's episode is on the upcoming US Soccer rule changes that are affecting youth soccer teams throughout the country. As I mentioned at the end of last week's, I wanted to put together a group of Club Directors, Coach, League Administrators and State Association Officials to talk about the changes that have been either mandated or suggested by US Soccer and how to transition to these rules as smoothly as possible.
I was fortunate to be able to assemble an extremely knowledgeable and experienced group to address these issue:
Nick Garcia – Executive Director of Brookside Soccer Club
Chris Duke – Executive Director of Kansas State Youth Soccer
Shane Hackett – Executive Director of Heartland Soccer Association
Jon Parry – Director of Coaching – Boys of Sporting Blue Valley & Sporting Kansas City Academy Director
US Soccer has mandated a number of changes that will be occurring over the next two years.
First is a change from organizing teams based on birth dates from August through July to calendar year age groups.
Second, US Soccer will be requiring all U12 teams and below to play small-sided soccer. While many States have been doing this for years, there has been no set standard for roster sizes and playing formats.
Lastly, US Soccer has created Concussion Initiative Guidelines. Chief among them is a recommendation that heading be eliminated for players U11 and below with limited heading in practice for U12 to U13 players. This change took effect January 1, 2016 for the US Development Academies but as I understand it is up to each league and club to decide when and if the change will be implemented.
The discussion covered each of these areas and how the different entities are dealing with the challenges of making such important changes with as little disruption as possible.
Everyone agreed that clear communication to parents, players, coaches and administrators is vital to a successful transition.
A complete transcript of the discussion will be available in the printable show notes by Monday, February 29 so check back then if you'd like to download a copy.
I sincerely thank everyone involved for making this an interesting and helpful conversation.
Printable Show Notes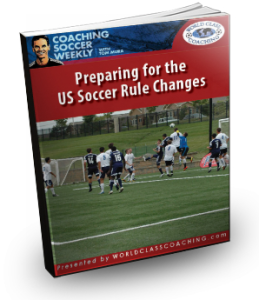 The show notes for each episode are accessed through the WCC Training Center.
They are FREE but you will need at least a Free Membership to the Training Center in order to view and print them.
Click on the image of the notes and if you're already logged in to the Training Center you'll be taken to the Podcast page. If you're not logged in your be taken to a login page where you'll also be able to login or register if you are not already a Member.
Remember!
Make sure you subscribe to Coaching Soccer Weekly through iTunes, or your podcast provider of choice, to be sure you never miss an episode.
We would appreciate it if you would leave us a 5 star rating and a written review on iTunes to help spread the word about the show and the information that we are sharing here.
In Future Episodes
On next week's podcast I'll have a discussion with Sporting Kansas City Assistant Coaching and Goalkeeper Coach John Pascarella about how we can do a better job of training our goalkeepers in a team environment.