Podcast: Play in new window | Download
Subscribe: Apple Podcasts | RSS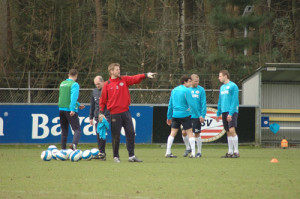 The roundtable discussion in last week's episode created a lot of feedback. Most appreciated the 'behind the scenes' look how clubs and administrators are preparing for the changes. Some were upset that everyone seemed to be in favor of the changes. We really didn't get into debating the ideas behind the changes. We came at the discussion from, 'Well, this is happening. How do we prepare'.
If US Soccer would have opened up the discussion before deciding it would have been an interesting debate but since they've already put the rules in place the leaders of clubs and leagues are trying to make the transition as smooth as possible.
The show notes that include a complete transcript of the discussion are now available at CoachingSoccerWeekly.com under episode 49.
I would be interested in putting together a discussion of the rule changes between coaches who are for and against them. If you'd like to participate please send me an email. We'll see if we can organize something.
This week I talk to Sporting Kansas City Goalkeeper Coach, John Pascarella. We discuss the challenges of training goalkeepers in a team environment.
Most of us don't have dedicated goalkeeper coaches for our teams so the keeper training needs to be integrated with the rest of the team training. John talks about the common mistakes he sees coaches make with their goalkeepers. He also gives his suggestions for how to get the most out of sessions for both field players and goalkeepers. John has provided number of exercises that incorporate both field players and goalkeepers that you can use with your own teams.
I'll add the transcript of my discussion with John to the show notes as soon as I can.
Printable Show Notes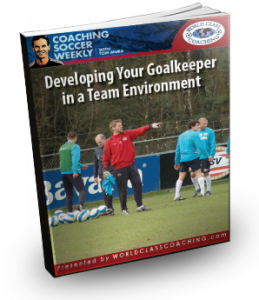 The show notes for each episode are accessed through the WCC Training Center.
They are FREE but you will need at least a Free Membership to the Training Center in order to view and print them.
Click on the image of the notes and if you're already logged in to the Training Center you'll be taken to the Podcast page. If you're not logged in your be taken to a login page where you'll also be able to login or register if you are not already a Member.
Remember!
Make sure you subscribe to Coaching Soccer Weekly through iTunes, or your podcast provider of choice, to be sure you never miss an episode.
We would appreciate it if you would leave us a 5 star rating and a written review on iTunes to help spread the word about the show and the information that we are sharing here.
In Future Episodes
I'm working on a number of topics for upcoming episodes including a passing and support session, a commentary on Planning vs Reacting and a complete overview of Training and Techniques for coaching U8's.