Podcast: Play in new window | Download
Subscribe: Apple Podcasts | RSS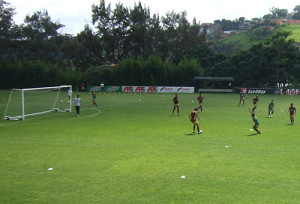 I've had some interest from a couple of coaches that are willing to be part of a coach's roundtable discussion on the upcoming rule changes. I'd like to have four or five coaches involved to get a wider range of opinions.
It won't be difficult or complicated to be involved. You just need a free account on Skype and 30 to 45 minutes to talk. Email me at tommura@worldclasscoaching.com if you'd like to join the discussion
We had our first weekend of the new heading guidelines for our U10 and younger teams. It's going to take some time to getting used to for everyone. Coaches need to work with their players to get them more comfortable bringing the ball down with their body. Referee's need to get used to seeing heading as an infraction for the U10's and below.
Some were applying Advantage to situations where the header went to an opponent. Referees received an email on Monday informing them that the infraction should be called even if there is an advantage for the opponent because it considered a safety issue.
I'd be interested in hearing if the new guidelines are being applied in your area and how the transition is going. You can email me or put a comment in the below.
This week I have a training session that I've used to teach my players how to play within the formation we are using. I first did a version of the session while working with a couple of the Kansas ODP teams. But I've also used a similar progression with teams playing 11v11 or 6v6 or 8v8. The aim is to show them some of the options that will be available to them within a certain formation.
We play in a 4-3-3 formation so the shape I've used has that in mind but you can adjust this to fit whatever system of play you use with your team.
Training Session
I think it's important to train teams how to function within the formations that we have them play. I don't think it's enough to teach our players the skills of the game and then put them in a 4-3-3 and tell them to 'Find their next pass.' Having said that I also do think we can afford to use valuable training time to do lengthy walkthroughs where we explain their options.
I like to find ways to combine technical work with patterns that the players will recognize in the game and point out the similarities while we progress through the session. If I've connected the dots successfully the players will go from a technical exercise through a small-sided game then into an expanded small-sided game and see how it relates to the full match by the end training.
This is a session that I've used with teams playing full sided soccer but I'll show you how to adapt it to the smaller sided game as I talk through it.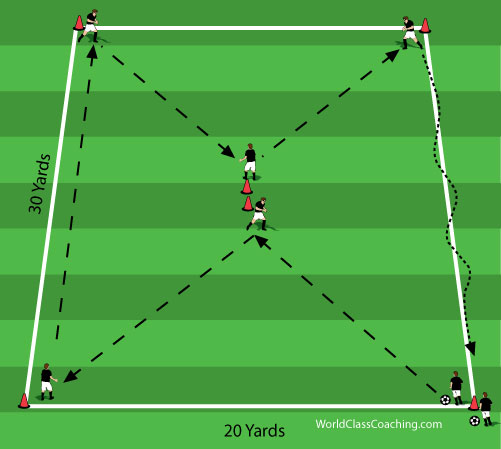 Six Cone Pattern
Coaching Points
Quality of pass
Checking to ball
Pass in front of the player so they can continue to play quickly
Receive with one foot (farthest foot) and pass with the other
Communication
Game Speed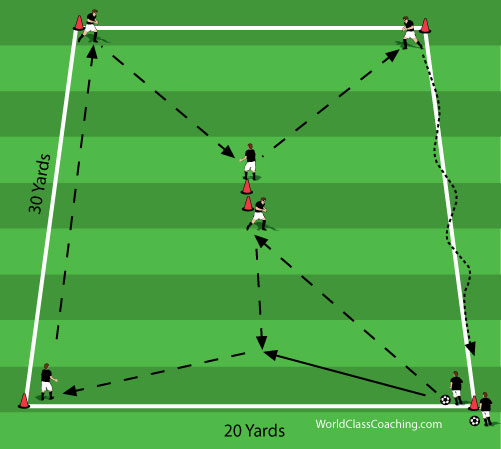 Layoff by Second Player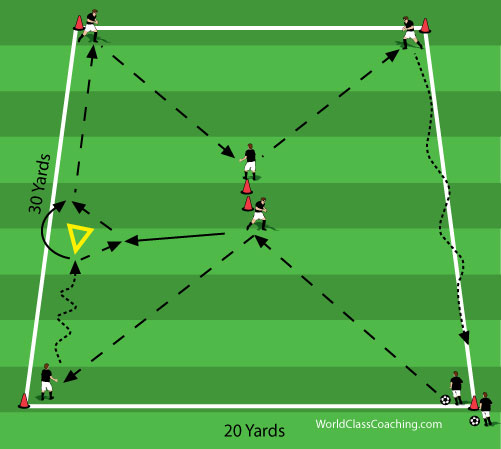 Add Give-and-Go with Wide Player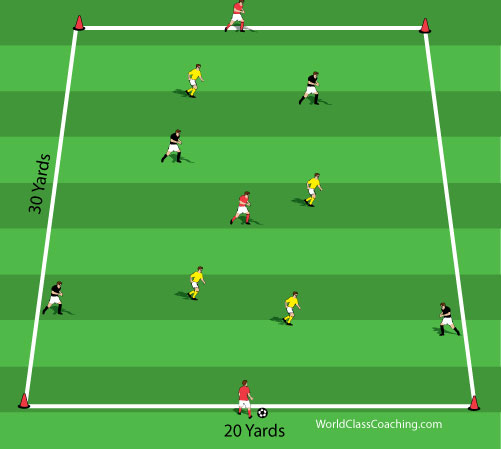 4 v 4 + 3
I previously described this in Episode 31 on position specific possession.
A goal is scored by passing the ball from a neutral player on one end to the neutral player on the other.
The other four players on the team play 3 v 1 in 10 x 1o yard grid. The players rotate after a given period of time.
With young teams that are playing 6 v 6 or 8 v 8 you can use the same organization but play 2 v 2 + 3. With fewer players it's easier for them to see the available options and makes the decisions more clear.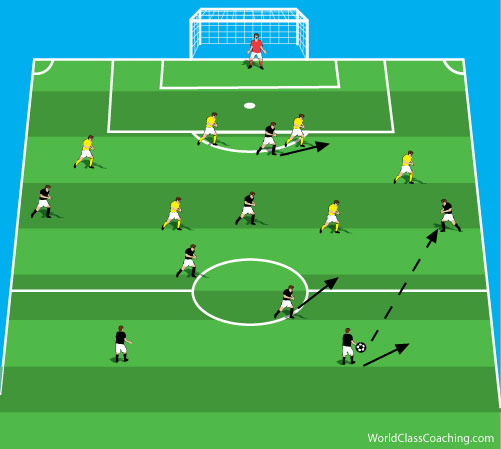 Attack v Defense
The Black team combines to attack the goal while the Yellow Team defends and moves the ball across the halfline if they win the ball.
I you're working with a younger team you can use the formation they play. For example a U10 team may play a 1-2-1-2 formation. Have the ball start with the goalkeeper and the players combine to score on a goal at the other end of the field. Start by adding one player to pressure the attacking team's defenders. Then add a player to pressure the attacking team's forwards. Continue to add players one-by-one if the players are able to be successful despite the pressure.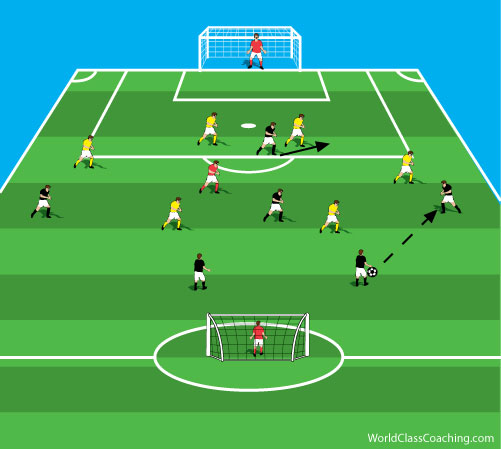 7 v 7 + 1 
If you have enough players you could expand the game to 9 v 9 or 11 v 11. Since I only had 15 players we just played 7 v 7 + 1 to give the players a chance play a game to two goals.
We focus on the same principles from the Attack v Defense expanded small-sided games.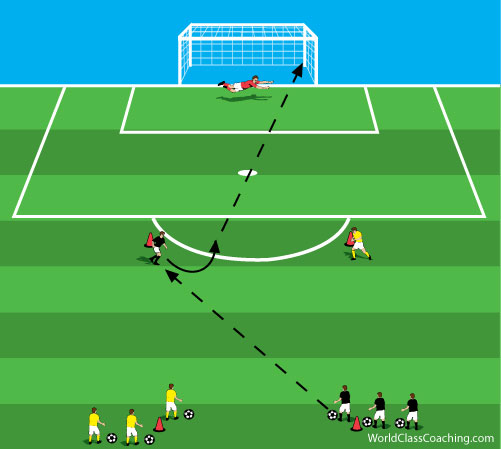 Diagonal Pass and Shoot
I like to end each session with a shooting activity that is related to the topic we've been focused on.
We divide into two teams and keep score to make the exercise competitive.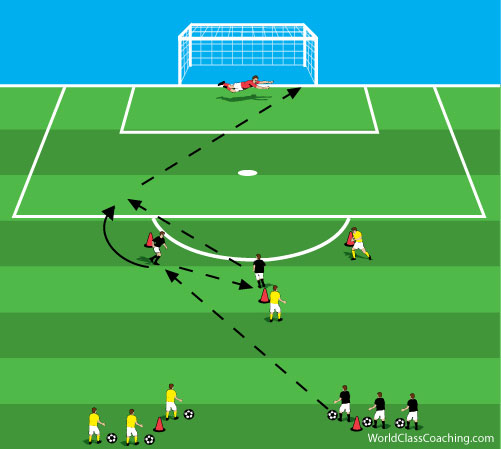 Progression
We add a central player from each team for the ball to be set back to. The player who laid the ball back opens up outside of the cone to receive a through ball and finish. It's important that the player who opens up stays on-side until the pass is made.
I've used some variation of this session with teams playing 11v11, 8v8 and 6v6. It's helped the players develop technically while gaining an understanding of what their options are in the game.
Printable Show Notes
The show notes for each episode are accessed through the WCC Training Center.
They are FREE but you will need at least a Free Membership to the Training Center in order to view and print them.
Click on the image of the notes and if you're already logged in to the Training Center you'll be taken to the Podcast page. If you're not logged in your be taken to a login page where you'll also be able to login or register if you are not already a Member.
Remember!
Make sure you subscribe to Coaching Soccer Weekly through iTunes, or your podcast provider of choice, to be sure you never miss an episode.
We would appreciate it if you would leave us a 5 star rating and a written review on iTunes to help spread the word about the show and the information that we are sharing here.
In Future Episodes
I have a number of topics I'm working for upcoming episodes including a commentary on Planning vs Reacting and a complete overview of Training and Techniques for coaching U8's. If there's a topic that you'd like me to focus on or a question you have, now is the time to send me an email or put a comment on this episode below.