Podcast: Play in new window | Download
Subscribe: Apple Podcasts | RSS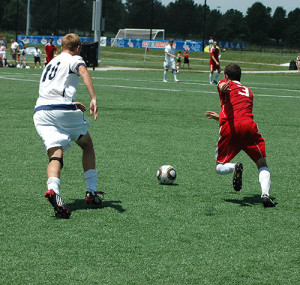 Our Instagram Account now has more than 900 followers. We've posted more than 100 images including exercises, drills and small-sided games. The posts from each week are from a section of one of our books. Sometimes they are a complete training session other times they're a number of activities from one section.
If you haven't checked it out already I would suggest you take a look because there are more diagrams of exercises ,along with detail descriptions, posted there than there are in many books that you can find.
We're now in the middle of Inter-Club evaluations for all of our teams. It's important that we pull all of the player together that have been playing in two different age groups but will be trying out together in a few months.
We want to be sure that we're placing all of our players on teams that will continue to help them continue to improve develop. The best way to do that is to make sure we look at all of our players side-by-side so we know how they fit together before we start looking at that many players that will be attending tryouts from other clubs.
I also start to review the progress of my teams at this time of year since we only have about four weeks left in the spring season. It's important for me to understand what has worked and what can be improved in the process I've used to develop the players on my teams.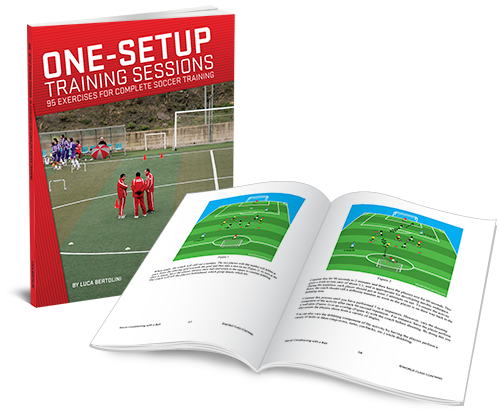 I've been implementing many of the ideas from one of our most recent books, One-Setup Soccer Training. The book includes 95 training sessions that are all structured around one simple field setup. This means that there isn't any time wasted moving cones and goals for each drill or game. But more importantly using one setup allows the players to see how each activity builds on the previous one and connects to actual game situations that the player will have to deal with.
In addition to using sessions from the book I've also started to structure my own sessions around one field setup and I think it's really helped my players understand not only what we're doing but why we're doing it.
There are certain topic that I don't think are covered often enough. I've mentioned some others in previous episodes including, turning, arial receiving and others.
This week I want to highlight another area that you might think you're training when you work on dribbling but you're not. The key components are different and you need to teach them specifically for the player to be able to apply them to game situations.
This is a complete training session from warm-up through small-sided game that provides so many opportunities for repletion that it will have your players more comfortable and confident in this area after only one session.
Training Session
I see a lot of training sessions focused on dribbling but hardly any on running with the ball. There are a number of differences between dribbling a ball and running with a ball: the ball is touched farther away from the feet, the surfaces of the foot that are used are different and the goal is speed rather than close control.
Teaching players how to run with the ball will make them more effective in important game situations. Players in wide areas will often find themselves with room to run down the line. Defenders who have just won possession will sometimes have space to run into in order to start a counter attack. Forwards will get in behind the defense and have the opportunity to run with the ball to goal.
I'm sure your players have found themselves in these situations only to move too slowly and be caught from behind or go so fast that they lose control and give the ball away.
This session will help your players know what it's like to be in these situations and give them the ability to of having success when they have the chance to run with the in your next game.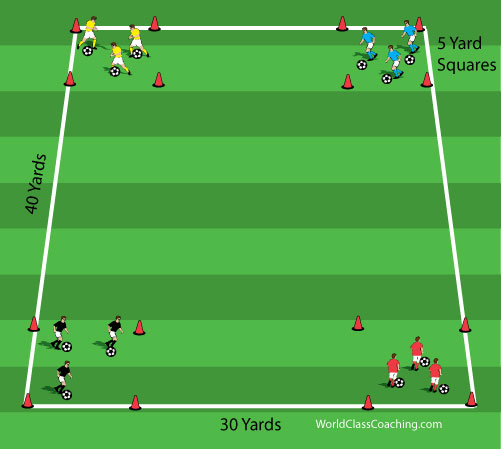 Four Squares
Organization
30 x 40
5 yard squares in each corner
Three to four players in each square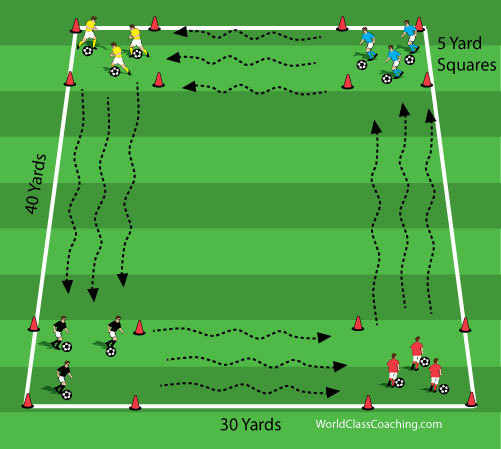 Description
Players dribble within their square until the coach calls 'Go'
The players dribble to the next square in a counter clockwise pattern
First team will all their players in gets a point
Talk about the difference between controlled dribbling and running with the ball
Coaching Points
Get the ball out of your feet
Use the three small toes for touches
Don't break your stride
Control into the square

Just like gaining control for shot or pass
Progressions
Teams on the ends go exchange squares

Fast, control, fast, control

Teams change diagonally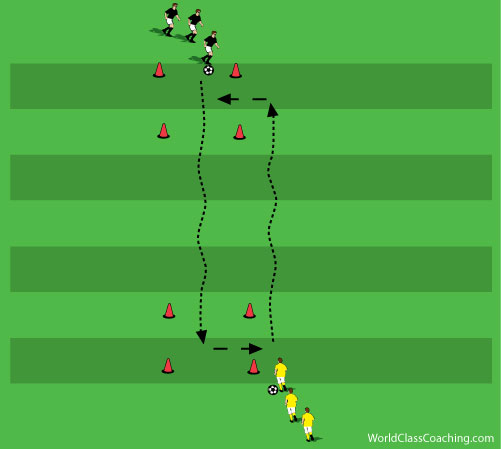 Dribble and Pass
Organization
Use squares on one end of the field
Line of player on opposite sides of the front cones
One ball at the front of each line
Six players in each line allows time for recovery
Description
The first player in each line runs with the ball toward the right side of the 'gate' in front of the other line
The ball is passed through the gate to the next player in line
Two balls are being run simultaneously
Coaching Points
Get the ball out of your feet
Use the three small toes for touches
Don't break your stride
Control the ball before passing through

Inside of far foot or outside of near foot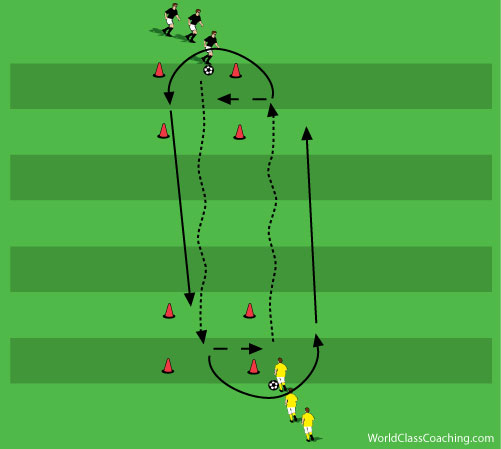 Progression
After passing the ball the player chases the player now running with the ball

Tries to run in front of him
Or Tries to tag him
Don't stop the pattern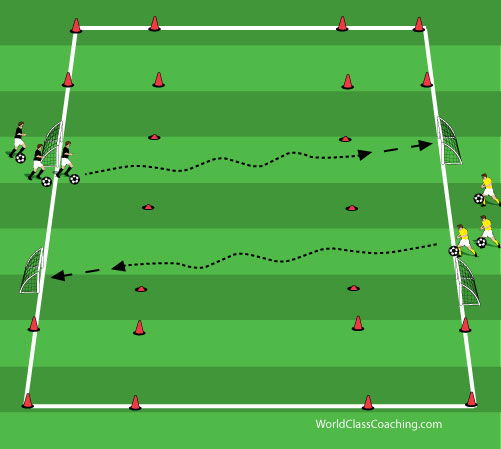 1 v 1 Flying Changes
Organization
Two small goals are place 10 yards apart on each side of the field
Divide into two teams
The teams are next to goals that are diagonal from each other
Each player has a ball
Description
The game starts with one player from each team dribbling toward the goal across from them
They must shoot within five yards of the goal
After the shot the next player in each line attacks the goal while the player that just scored chases the attacker
The team that scores the most goals wins
Coaching Points
All previous points
Protect the ball with your body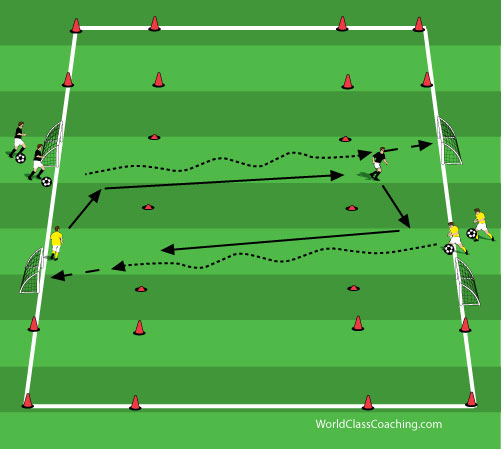 Progression
Move the goals closer together to make it more of a challenge for the attacker
Make the scoring zone 10 yards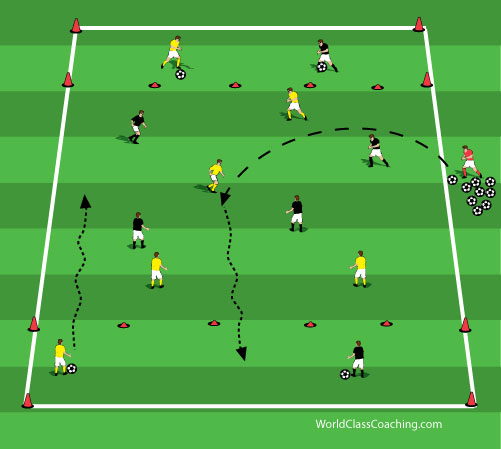 End to End Possession
Organization
Use the same teams as with 1 v 1 Flying Changes
One player from each team with a ball in each end zone created by connecting the squares at each end of the field
The remaining players are on the inside of the area
Description
The coach plays one ball into the middle of the area
The team that wins possession can dribble into either end zone for one point
The player from that team that was waiting in the end zone then dribbles into the field and combines with teammates to try and dribble into the other end zone releasing the player waiting there
The first team to score 10 points wins
Coaching Points
The waiting player should move to the open space away from the player dribbling into the end zone
Attack the space and be ready to switch the ball away from pressure to release a teammate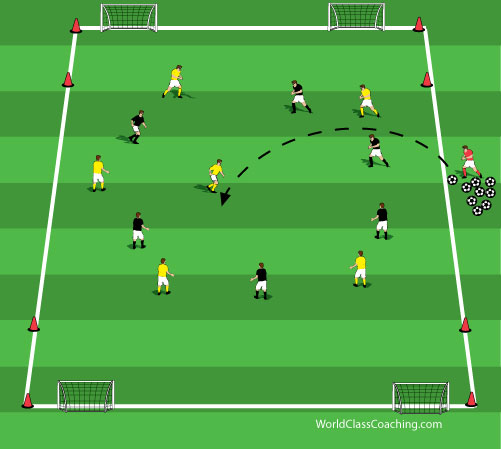 Four Goal Game
Organization
Move the small goals inside of the squares on each end of the field
Description
Play a regular game with four goals
Encourage players to dribble into available space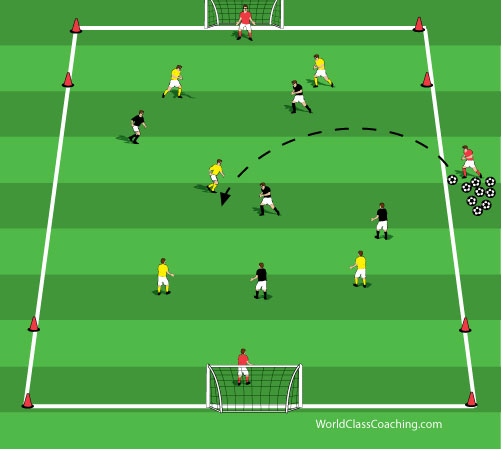 Scrimmage
Play a two goal game on a large field
Creating more opportunities to run with the ball
This session will provide your players with lots of opportunities to run with the ball and understand the key factors that will increase their effectiveness when they face these situations in the game.
Printable Show Notes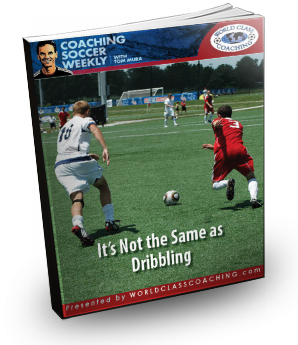 The show notes for each episode are accessed through the WCC Training Center.
They are FREE but you will need at least a Free Membership to the Training Center in order to view and print them.
Click on the image of the notes and if you're already logged in to the Training Center you'll be taken to the Podcast page. If you're not logged in your be taken to a login page where you'll also be able to login or register if you are not already a Member.
Remember!
Make sure you subscribe to Coaching Soccer Weekly through iTunes, or your podcast provider of choice, to be sure you never miss an episode.
I would appreciate it if you would leave a 5 star rating and a written review on iTunes to help spread the word about the show and the information that we are sharing here.
You can now subscribe through Google Play Music to listen to the podcast on your Android device.
In the Next Episode
Next week I'm going to look at formations you can use for teams playing 7 v 7 and how you can train your team to use them. With the new formats coming for next year I've had a number of coaches email me about this topic so I thought it was a good time to go over it.