Podcast: Play in new window | Download
Subscribe: Apple Podcasts | RSS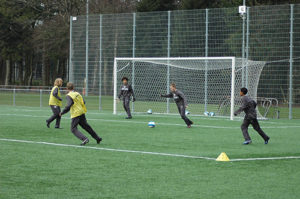 We started league play here last weekend. With only a few practices to prepare I just pick a couple of key points that I want to focus on because obviously there's a lot to improve at this point in the year.
One of the most important things to do early is to help the players develop confidence and to understand that I believe in them and trust them. One of my favorite quotes is, "They don't care how much you know until they know how much you care."
Developing a trust with my players early in the year will help them understand that I'm here for them. I care more about making them better players than I do about anything else.
I was a bit shocked by the size of 7 v 7 fields. They're a bit bigger than the suggested 30 x 47 and still felt really tight. This week I focused most of our sessions on protecting the ball. "American Gladiators" is a favorite game of mine for working on keeping possession. It's great for working on both individual and team possession. I described it in detail on episode 48 Do Your Players Lose the Ball Under Pressure. There's also an animated drill video of it on our YouTube channel.
One of my biggest take-aways from the CogiTraining Course I did in Florida two weeks ago was that the players don't see what we see. We need to train them to preserve what seems obvious to us.
A frustration many youth coaches have is that they struggle to get their players to spread out and use the space on the field so this week I'm going to look at how this can be accomplished with a variety of age groups.
If you patiently apply these concepts you'll be surprised how quickly your players will start to see more of what you see.
Here are the links to the books on team shape that I mentioned in this episode:
Printable Show Notes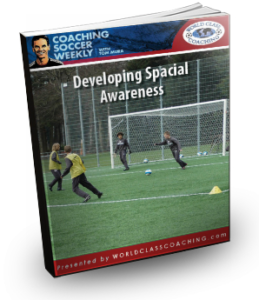 The show notes for each episode are accessed through the WCC Training Center.
They are FREE but you will need at least a Free Membership to the Training Center in order to view and print them.
Click on the image of the notes and if you're already logged in to the Training Center you'll be taken to the Podcast page. If you're not logged in your be taken to a login page where you'll also be able to login or register if you are not already a Member.
Remember!
Make sure you subscribe to Coaching Soccer Weekly through iTunes, or your podcast provider of choice, to be sure you never miss an episode.
We would appreciate it if you would leave us a 5 star rating and/or a written review on iTunes to help spread the word about the show and ensure that we can continue to bring you top notch guests in the future.
In Future Episodes
With the high school soccer season starting up I thought this would be a good time to talk with Terry Michler of CBC High School in St. Louis. Terry has been coaching high school soccer for 45 years and has been very successful with more than 900 wins, nearly 300 players who have continued to play in college and 33 professional players. I'm sure you'll enjoy his insights.