Podcast: Play in new window | Download
Subscribe: Apple Podcasts | RSS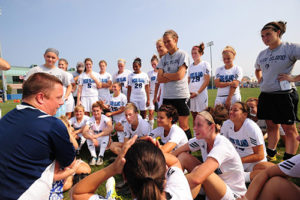 This week I go on a bit of about punting. What's the point of having a podcast if you don't get to vent every once in awhile. You can have equal time if you think I'm off base. Just leave a comment below or leave a voicemail message on the number I give at the end of the episode.
My main topic for the week is focused on developing a line-up for your team.
Putting your players into positions within a system of play not only helps them be successful but provides a framework for teaching players how they combine and work together as a unit. There's a lot to consider when putting together a line up for a team. I look at the key factors that I consider when organizing my team line up. It's very different depending on the age and competitive level of the team you're dealing with. I share my approach with teams from U6 through the highest level. I haven't coached professionally but I've been around enough coaches at that level, heard their interviews and read their books to see the challenges they have and how they balance the opposing forces at that level of the game.
No matter what level you're dealing with, it will be easier for you and better for your players if you have a general philosophy and specific plan going into each game. Hopefully, the ideas I'll share with you today will help you as you develop your team's game day line-up.
In Future Episodes
Next week I'll look at how to structure your team's recovery sessions: why they're important, when to do them, what should be included to get the most out of them.