Podcast: Play in new window | Download
Subscribe: Apple Podcasts | RSS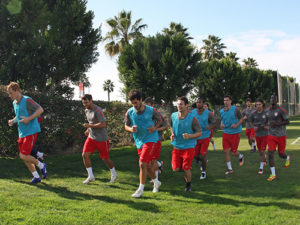 Now that we've been playing for more than a month of the season I have an update on Episode 58 where I talked about formations for 9 v 9 soccer.
I had originally thought I'd go with the 3-1-3-1 or 3-2-3 I ended up taking the advice of our club's technical staff and have been using the 4-3-1 formation.
At the start of the episode I talk about why I've done this and why I think it was the right choice.
I had a question recently about recovery sessions. The question was specifically about high school age teams but it got me thinking because my teams have a tournament coming up this weekend and also because of my discussion with Terry about their crazy high school schedule and their need to incorporate recovery into their training plan.
I'll share my ideas on:
Who needs recovery sessions?
Why do players need them?
Are they different for younger and older players?
When to do a recovery session?
What should be included in training session focused on recover?
Since most youth coaches only have their players for two or three sessions a week you might have never considered recovery sessions to be important. You have to remember that mental recovery from the stress of training and playing is just as important as physical recovery. Giving your players a break from the normal training routine can revitalize them and make them more receptive to what you have to teach them in the coming weeks.
Printable Show Notes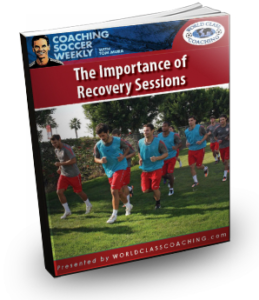 The show notes for each episode are accessed through the WCC Training Center.
They are FREE but you will need at least a Free Membership to the Training Center in order to view and print them. They'll be available there for eight weeks before they're placed in our archive which can be accessed at any time by Pro and Elite Members.
Click on the image of the notes and if you're already logged in to the Training Center you'll be taken to the Podcast page. If you're not logged in your be taken to a login page where you'll also be able to login or register if you are not already a Member.
Remember!
Make sure you subscribe to Coaching Soccer Weekly through iTunes, or your podcast provider of choice, to be sure you never miss an episode.
We would appreciate it if you would leave us a 5 star rating and/or a written review on iTunes to help spread the word about the show and ensure that we can continue to bring you top notch guests in the future.
In Future Episodes
Next week I'll discuss the importance of motivation in player development. I'll talk about the difference between intrinsic and extrinsic motivation, the importance of engaging your players in the process and how you can help to bring out the best in all of your players even though they each may have a different approach to learning.