Podcast: Play in new window | Download
Subscribe: Apple Podcasts | RSS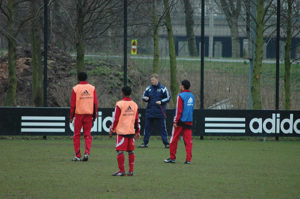 Thanks to the coaches that took the time to give the podcast a ranking and review on iTunes. I really appreciate your support of the show!
One stood out because the coach commented that they would like the show to be longer because I sometimes gloss over important points. This got my attention because if there's something you want to know more about then I want to bring it to you.
Please let me know if there's ever something on that show that you'd like to hear more about. You can put a question in the comments section at the bottom of the episode or email me at tommura@worldclasscoaching.com.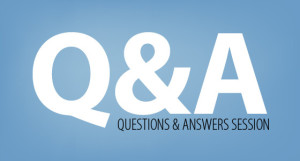 I get a number of questions each week from coaches about their teams. I thought other coaches might be interested in some of these questions so I've decided to bring you one or two of them each week.
Here's this week's questions from Anthony:
Hi Tom, I've got a very talented team of individuals at u11s, most of which have been noticed by scouts and had trials (just to make you aware of the kind of level they're at), problem is I struggle to get them to play as a team/unit, whether it be defending, attacking or simply movement on the pitch, I have a lot to learn as a coach and by no means do I think I'm brilliant at it. I feel my strong points are teaching them the techniques as individuals, but I lack experience on teaching them how to defend or attack as a unit. Any help would be greatly appreciated.
I talk about the answer I sent him in this episode.
What to do When the Session is Just not Working
Today I talk about a situation we all find ourselves in. It's when your practice is just not working. This happened to me recently and I describe the session I was running, how I knew it wasn't going well and the six questions that I ask myself in these situations. I share what I decided to change and how these changes affected the session
So what should you do when this happens to you? What are the solutions for the six different possible causes? What are the risks of just pushing through.
These situations can be frustrating to the coach and the players but if you recognize that it's going to happen eventually you can be prepared to find the solutions and make the adjustments.
The complete show notes can be downloaded from the link below and include the diagrams and descriptions of each exercise in the session.
Printable Show Notes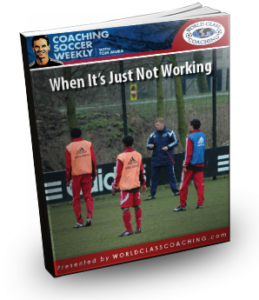 The show notes for each episode are accessed through the WCC Training Center.
They are FREE but you will need at least a Free Membership to the Training Center in order to view and print them. They'll be available there for eight weeks before they're placed in our archive which can be accessed at any time by Pro and Elite Members.
Click on the image of the notes and if you're already logged in to the Training Center you'll be taken to the Podcast page. If you're not logged in your be taken to a login page where you'll also be able to login or register if you are not already a Member.
Remember!
Make sure you subscribe to Coaching Soccer Weekly through iTunes, or your podcast provider of choice, to be sure you never miss an episode.
We would appreciate it if you would leave us a 5 star rating and/or a written review on iTunes to help spread the word about the show and ensure that we can continue to bring you top notch guests in the future.
Next Week
In Episode 44 – Keys to Being an Effective Coach, I looked at the key coaching points for five technical skills. Next week I'll talk about five different skills. What coaching points to focus on, activities to improve the skills and how to integrate those skills into the game.