Podcast: Play in new window | Download
Subscribe: Apple Podcasts | RSS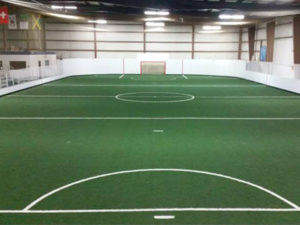 It was great to have a week off from coaching for the Thanksgiving Holiday here in the U.S. It's always fun to catch-up with family and friends, eat WAY too much foot and watch WAY too much (American) football.
But as always, I looked forward to getting back on the field and preparing my players for the winter leagues that are just about to start.
I decided to make this week's Q & A the subject of the entire episode because it's timely and I've received a number of emails asking for my opinion on the subject.
Adam says,
"Like Kansas, we have prolonged cold winters here in Salt Lake. We typically have three types of indoor facilities to choose from for matches for my U12 team. 
Indoor Soccer facilities (indoor hockey rink style where you can play the ball off the walls)
Futsal courts with out-of-bounds lines
Full indoor turf fields (far fewer of these) 
A lot of coaches I know frown on indoor soccer (hockey style) and prefer futsal. They insist indoor brings about bad habits, but I never hear more than that simple dismissal, although using the walls is generally referenced.  There are very few full indoor facilities to choose from, so it is the least likely option for us. 
I'm curious on your thoughts for indoor vs Futsal vs full field."
So today I'll talk about the key aspects of these formats. The pros and cons of each as they relate to development. My opinion on how useful each one is in improving your players technically and tactically as well as my pick for the best format for over all development.
---

We have a new sponsor this week, TeamSnap.com. I have only ever accepted sponsorship support from products or services that I actually use. All of my team use TeamSnap's simple but powerful website and mobile application to manage all of their team organization and communication.
Whether you coach or manage a single team or organize a whole club, league or organization. TeamSnap makes organizing every aspect of active sports life easier.
You can start your free 21-Day Trial today without entering any credit card information by going to teamsnap.com/csw
---
Thank you for listening to this episode! If you enjoyed it, please feel free to share it using the social media buttons on this page.
I'd also be VERY grateful if you could rate, review, and subscribe to Coaching Soccer Weekly on iTunes, Google Play Music or wherever you get your podcasts.
In the Next Episode
I'll describe how I think we are stealing our player's learning opportunities. I think this may be the most important topic for coaches and parents to discuss as we reach the midpoint of the soccer year here in the States.