Podcast: Play in new window | Download
Subscribe: Apple Podcasts | RSS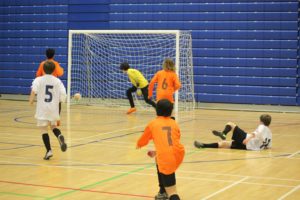 With the indoor season in full swing it was a very busy week. I coach five different teams that are divided into eight Futsal teams. The smaller teams give the players a lot of playing time but it makes for a lot of games to coach.
They've made great progress since the start of the season and some of them are incorporating great combination play along with excellent individual skills. It's fun to see them pick up the concepts of the game that we've been working on so quickly and apply them in actual games.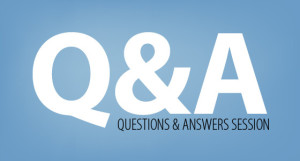 This week's question comes from Jeremy. He says:
"I'm trying to utilize the positional numbering system more. What I don't understand, though, is how it accounts for all formations. It seems to be based on the 4-3-3"
Here's the answer I sent him:
"The numbering system can be used for any formation with some adjustment. There are some standards that you can use to decide how to adjust them based on your formation.
The center backs are always 5 and 4 (left and right) but if you were playing three in the back you would call them 5, 6 and 4 because the #6 is considered the most defensive of the midfield three and plays the farthest back.
The number 3 and 2 are generally the farthest back on the outside.
The players farthest forward on the outside are your number 11 and 7. If you're playing a 4-4-2 they would be outside mids rather than forwards. Number 10 and 9 would be the forwards with 6 and 8 playing in the middle."
I talk about it in more detail on the show but that's the basic idea of how the numbering system works.
---

 TeamSnap.com is again our sponsor of this week's episode. Last week I talked about how I use TeamSnap keep track of who will and won't be at a game or training session. This week I describe a new feature called, 'Assignment'. You can use it to track who has turned in paperwork, who is responsible for pre game activities like putting up nets or lining the field. You can also use it to organize car pools or team parties.
Whether you coach or manage a single team or organize a whole club, league TeamSnap makes organizing every aspect of active sports life easier.
You can start your free 21-Day Trial today without entering any credit card information by going to teamsnap.com/csw
---
This week I layout how I plan my training for the indoor season. The concepts can be applied to the start of any season, indoor or outdoor.
With so much to cover before the start of games it's important to give your players enough information to get started and then build from there throughout the rest of the season.
We're all limited in the time we have with our teams. Hopefully this information will help you plan your upcoming season so that your players can hit the ground running.
Printable Show Notes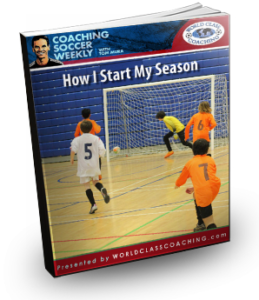 The show notes for each episode are accessed through the WCC Training Center.
They are FREE but you will need at least a Free Membership to the Training Center in order to view and print them.
Click on the image of the notes and if you're already logged in to the Training Center you'll be taken to the Podcast page. If you're not logged in your be taken to a login page where you'll also be able to login or register if you are not already a Member.
Remember!
Please share your thoughts on the podcast through social media to help us spread the word about the information we're sharing to your network of coaches. Please share www.CoachingSoccerWeekly.com and include #CSW THANKS!
I'd like to thank you for taking the time listen to this show. Putting it out every week helps me to look at what I'm doing more critically and look for new methods that I can share with you. I hope you find value in the information each week and it helps make your coaching life a little easier and more enjoyable.
In the Next Episode
I'll be taking the next two weeks off for the holidays but I have some topics for the new year that I'm really excited about. They include how to develop your own style of play, getting players to 'play for each other', scaling training sessions to fit the number of players you have and a lot more.
I hope you and your family have a Happy and Healthy Holiday Season!