Podcast: Play in new window | Download
Subscribe: Apple Podcasts | RSS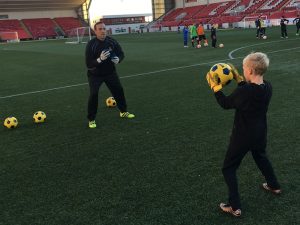 I only had a couple of games last weekend. One of them was with a team that is playing up an age group. Not only that but they're playing in the top division against teams a year older.
It's been a great way to expose some weaknesses that we need to work on but it's also been a real challenge to continue to play our way against players that are bigger, faster, stronger AND good soccer players.
On the podcast I talk about the difficult balance of trying to find the competition that will help us develop without overwhelming the players to the point that they can't play the kind of soccer I know they can.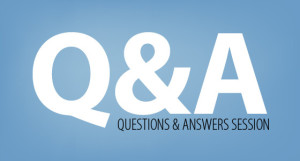 This week's question comes from Ryan
He's asking about rotating goalkeepers.
Ryan says,
"I am running into a situation where goalie rotations are becoming pretty cumbersome and we really don't spend enough time on goalkeeping as a team to give us a chance in games.
Our team is developing well, but we try and play everyone in goal equally and that is usually letting us down in tight games. It seems that some teams in the area have set goalies, and some have a few girls that rotate. At U10 do you still suggest having everyone play, or what is the model you use? We have only a couple that like to play, most that don't and some that are an absolute liability in goal.
Would you suggest keeping the all team rotation, selecting a rotation of 4 better players who are ok with it, or trying to identify some goalie specific players to utilize more frequently?
Being a smaller community club our depth is what makes it hard to compete against the Premier teams.
Development is our focus hence the rotations in positions and time, however the rotation in goal is causing some frustration for the girls and definitely not helping us to put away games we should."
Thanks for the question Ryan!
I rotate all of the players through goalkeeper with my U9 and U10 teams. I try to do it intelligently and have my better keepers play against the stronger opponents but I have the same situation you describe where I'd be better off with a three foot wooden post driven into the ground than I am with some players in goal. We just do our best in those situations and I remind the players that the ball had to get past six other people before it reached the goalie.
Now, if I had four boys that all loved to play in goal and the parents were on board with rotating them, I might go that route. I just think it's too early to designate one or two players to be goalkeepers.
Keep development as your focus and rotate those goalkeepers.
In This Episode
This question and a of couple others I've received recently made me realize that I haven't talked about how I go about developing goalkeepers at different ages. Today I'll discuss the progression that I suggest that will help you introduce the position to young players, develop the skills necessary to for them to be able to play keeper and how to identify and cultivate the players with the potential and desire to become good goalkeepers.
Remember!
Make sure you subscribe to Coaching Soccer Weekly through iTunes, or your podcast provider of choice, to be sure you never miss an episode.
We would appreciate it if you would leave us a 5 star rating and/or a written review on iTunes to help spread the word about the show and ensure that we can continue to bring you top notch guests in the future.
Future Episodes
Next week I'm going to give you an update on how my use of the Play – Practice – Play training method is working for me this spring. I'll talk about how I've used it along with what has worked well and what hasn't.