Podcast: Play in new window | Download
Subscribe: Apple Podcasts | RSS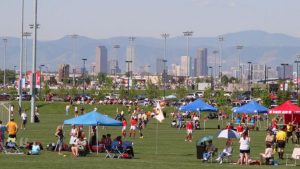 Last weekend I traveled with three teams to a Memorial Day Soccer tournament in Chicago so I didn't release a podcast. I talk about the tournament and out of town tournaments in general later in the show.
Tonight I had my last practice of the year with the team I have playing Jr. State Cup this weekend. We had two training sessions this week. Yesterday we focused on shooting and finishing. Today we worked on building possession with a purpose and finishing on goal.
This was one of my favorite training sessions of the year because it combined so much of what we've been working on all year. I'll talk about this in detail in the next few weeks.
This week's question comes from Bobby. He describes a situation where a certain player keeps making the same mistake
Bobby says,
"I coach 04 and 05 girls on the academy side. On my 05s I have a 4/5 who loves to take a touch no matter the amount of pressure she is under, she also tends to receive in the back and dribble inside the box towards the 2/3 and then waits as long as possible before trying to play a safety ball out by just sending it for a speculative pass.
We talked at length about this and I have seen an effort to connect the first pass after winning the ball but no success so far. I remind her of all the hard work they do to win the ball, only to play a 50/50 ball back into pressure which often leads to putting us under pressure again. I am encouraging her and helping her find that first pass but it's a struggle. Any suggestions on that?
Also, with both teams when trying to play a thru ball or a ball over the top, we have a tendency to want to hit it as hard as we can which typically ends up in the hands of the keeper. We like to try and keep possession and build as this is part of our philosophy but we want them to be free to pick the best option, if playing long it is, I want to help them develop that killer ball instinct. Any thoughts here as well?"
Thanks for the questions!
One of my favorite axioms in education is that, "Telling is not Teaching" or "Telling's not Selling" in sales. My suggestion would be to set up your defensive and midfield lines and then play a ball into your 4/5 and have four players press them and see if your defensive group and build out of the back to dribble across the half line. As they get better at this then add more pressuring players.
This is an opportunity to work on your team shape and decision making while coming out of the back with the ball. The goal is to have the players learn how to beat the pressure in practice so that when they see the same situation in the game they know how to deal with it.
For teaching players how to find the correct weight of their pass I like to have three players make quick passes from the half line toward the goal. I have three defensive players simply stand in a line spread across the top of the field like a back three. The final pass should be a diagonal through ball that splits two defenders and is played into the path of an attacker to then finish on goal or cross for another player to finish. The standing defenders return to the half line while the players that were attackers become the standing defenders for a new group of three attackers. You can script the passes you want the players to make or you can allow them to pass freely.
These two solutions are related because they involve putting the players into positions like they find themselves in the game so that they can EXPERIENCE the solution not just talking about it.
In This Episode
Today I want to talk about my tournament experience this last weekend and my general suggestions for planning out of town tournaments with your teams.
Please Subscribe
Be sure to subscribe to the podcast through Apple Podcasts, the Google Play Store or wherever you're listening now. That's the best way to make sure that you receive each new episode just as soon as it's released.
Next Week
I'm in the process of setting up an interview with the designer of a new soccer conditioning app, putting together my thoughts for an episode on how I go about identifying players during tryouts and I'm planning to talk about the session I did tonight on building possession with a purpose. I'm not sure which one will come out first but I'll have those three topics coming out in the next three weeks.