Podcast: Play in new window | Download
Subscribe: Apple Podcasts | RSS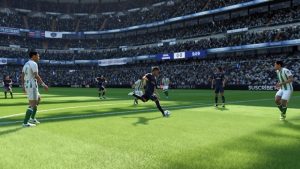 I had to take last week off from the podcast because it was our week for tryouts. I've described our tryout process in detail in a number of previous podcasts so you can do a search for, "Tryouts" and listen to those episodes if you're interested in more information on those.
At the same time as tryouts are occuring we're also coming up on the deadline for the recreational soccer registration. That's a new role for me on top of everything else. I now have a new appreciation for everything that goes into organizing and running a recreational program that I could only see from the inside.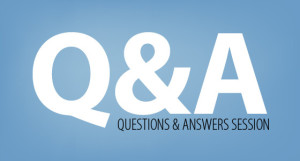 This week's question comes from Chris. He's asking about how to make the transitional possession game I've described more directional.
Chris says,
"I'm currently working on possession and building from the back with my U13 Boys team, and I've been researching new ideas for various small-sided possession games. In the past, I've used variations of the game in which one team tries to possess the ball in their half of an area while the other team tries to win the ball back through a defender or two and play it back to their side. You've described your own variation with increasing pressure in episode #12, which I hadn't come across, before, and really like. It was with that game in mind that I was trying to think of some ways to make it more directional. You may already have your own variations for that, but I'll describe what I was considering, and I'd really appreciate your feedback.
The same setup with an appropriate sized area divided down the middle, but with the addition of a goal on each end. For this example, let's say 6v6 (5v5+GKs), a Green team and an Orange team. At any point in this game, the team in possession in their own half may attack the other team's goal. At the beginning, the game would play the same as what you've described in episode #12, with the Green team possessing the ball on their side and one Orange player coming over to try to win the ball and play it back to his side. Like your game, after a set amount of passes(3 in this example) the Orange team must send over another player. In this variation, there is a limit to how many Orange players will move to the Green side and pressure the ball. In this case I'm thinking 1 more than half of the players on a side, maybe more or less. So, no matter how many passes Green makes, no more than 3 from Orange can come over, leaving 2+GK in their half. Obviously, the longer Green possesses the ball in their half, the more the pressure builds. One important piece to this directional variation is that once a player from the Orange team crosses the line to pressure Green, that player may not cross back to their own half. So, as Green possesses the ball and draws pressure, they should be looking for opportunities to play forward and attack in a numbers up situation. A variation may be that Green does not have to wait until all 3 Orange players are in the Green half to attack. They can do so whenever they feel they have an opportunity to move forward and create a chance. A further variation is once Green does attack and the ball crosses the line into Orange's half, one(or more) of the Orange players "stuck" in Green's half may cross back over should Green connect a set number of passes in the Orange half. I thought it may be a good idea that instead of just one, all of the Orange players should be able to return to their side and defend after Green completes the set amount of passes in the Orange half, so as to increase the urgency for Green to try to quickly create a scoring opportunity. Of course, that can be just another variation.
One important aspect I haven't found a solution for, though, is how Orange would gain possession once Green moves into the Orange half to attack. In the early game, just like in yours, if an Orange player wins the ball in the Green half, they just play it back to their own half and reset. I've considered a few things, but I'm not sure I like any of them. I've thought about a time limit once the ball crosses the line to the attacking half. I've considered anything that goes out of bounds goes to the Orange team, but I don't want the players just stabbing at and knocking the ball out constantly. I think it may be too difficult for the orange team to regain possession naturally, being numbers down. Obviously, out of touch on the Green team, or the GK taking possession would make for a more natural transition, but I don't think that I can depend on either of those."
Thanks for the question Chris!
This is my favorite kind of question because it gets me thinking about how I can improve the activities that I use all the time with my teams.
Here's my idea for how to have the defending team transition:
To solve the issue of what to do when the defending team regains possession I would suggest that you ask them to play the ball back to the goalkeeper, dribbling it out of bounds in a wide area or pass to a teammate who has moved out of bounds in a wide area. All of these would replicate the choices a defender makes when they win the ball.
In This Episode
My final training session of the year went very well and it connected many of the skills and concepts that we had been talking about all year. I wanted to talk about tryouts last week because it was so timely but I didn't want to let too much time go by before sharing this rondo session with direction.
Printable Show Notes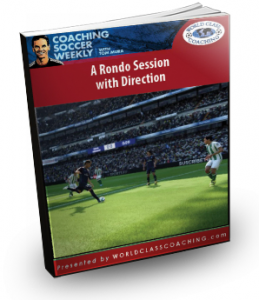 The show notes for each episode are accessed through the WCC Training Center.
They are FREE but you will need at least a Free Membership to the Training Center in order to view and print them. They'll be available there for eight weeks before they're placed in our archive which can be accessed at any time by Elite Members.
Click on the image of the notes and if you're already logged in to the Training Center you'll be taken to the Podcast page. If you're not logged in your be taken to a login page where you'll also be able to login or register if you are not already a Member.
Please Help Spread the Word
I really appreciate everyone who subscribes to the podcast, has written a review on iTunes, sent me a question by email or posted our links on social media. If you enjoy this podcast would like to contribute to its continued growth; I'd ask you to do one or all of these things this week. You'd be helping me spread the word about the show.
Future Episodes
I'm planning an interview for next week's show. If everything goes to plan I'll be able to review a new soccer fitness app and interview the creator. If it doesn't then I'll have something else for you.