Podcast: Play in new window | Download
Subscribe: Apple Podcasts | RSS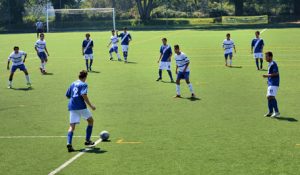 If you're anything like me you when through some serious World Cup withdrawal. I'd been spoiled by being able to watch so much good soccer over the last month that I didn't know what to do with myself now that it was over.
I discovered the Rugby World Cup Sevens last weekend. I would describe it as all of the best parts of the game compressed into a format that's great for those of us who are not normally rugby fans.
My favorite aspect of rugby is the fact that NO dissent toward an official is tolerated. Any amount of arguing with the referee resulted in a yellow card and two minutes in the sin-bin. In a game with only seven minute halves having to play shorthanded for two minutes is big disadvantage.
Can you imagine what would happen to our game if FIFA implemented the same zero tolerance attitude toward dissent and punished the team by having to play short for five or 10 minutes? I'd love to see this but it's the kind of sweeping change that we're not likely to see unfortunately.
Instead of a question this week I shared some information that was shared with me about the US Soccer Roadmaps. I can't share any documents here but I talk about some of the key principle in the episode.
In This Episode
My friends descriptions of the US Soccer Roadmap reminded me of episode #85 Developing Your Style of play. With 155 episodes out there I realize the many people may not have heard some of the older ones. This one is timely as we get ready to start a new season I share it again today.
If you haven't heard this episode I think it's worth listening to. If you've heard it before then now is a great time for a reminder.
Future Episodes
I don't have a specific plan for next week's show at the moment. We're starting our fall training sessions next week so I'll see what inspires me.