Podcast: Play in new window | Download
Subscribe: Apple Podcasts | RSS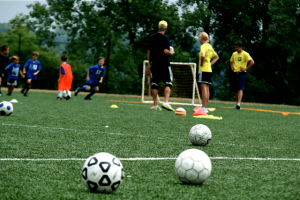 This week has just been insane. Create cards and rosters for our older team and getting the uniforms and coaches meeting organized for the younger teams has been a bigger job than I could ever have imagined. his weekend I have to get the schedule done and then hopefully I can get my life back into balance again.
On top of all of that, we also started training our teams this week. With all of my responsibilities to the rec program over the summer I really didn't feel like I had much of a break. I think from now on my busiest times will always be June and July. That's been a big adjustment for me.
My plan for starting practice was to start with structure and then add skill over the course of the season, much like I talked about doing for the Futsal season. But those plans were blown up once I looked at the numbers I was going to have for my first week of training sessions.
On the podcast I talk about how this affected my plans and what I found that may have actually worked better.
In This Episode
Since I just didn't have time to work on a new topic for today I'm going to reach way back to Episode 21 that describes a four session pre-season camp that I did. I'll also put a link to the PDF below so that you can see the descriptions and diagrams of each of the activities. I hope you find this useful as you get ready to start you season.
Printable Show Notes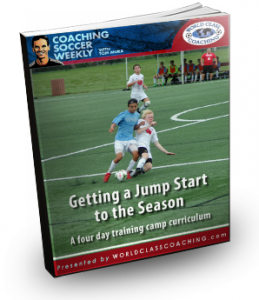 The show notes for each episode are accessed through the WCC Training Center.
They are FREE but you will need at least a Free Membership to the Training Center in order to view and print them. They'll be available there for eight weeks before they're placed in our archive which can be accessed at any time by Elite Members.
Click on the image of the notes and if you're already logged in to the Training Center you'll be taken to the Podcast page. If you're not logged in your be taken to a login page where you'll also be able to login or register if you are not already a Member.
Please Help Spread the Word
I really appreciate everyone who subscribes to the podcast, has written a review on iTunes, sent me a question by email or posted our links on social media. If you enjoy this podcast would like to contribute to its continued growth; I'd ask you to do one or all of these things this week. You'd be helping me spread the word about the show.
Future Episodes
I'm not sure what form the podcast will take for next week since things are really going to slow down until the rec league actually starts playing games in the middle of the month. But I'll do my best to have something that I think will be helpful.