Podcast: Play in new window | Download
Subscribe: Apple Podcasts | RSS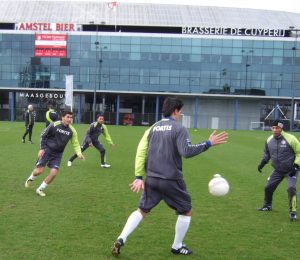 One of my teams had two interesting and very different challenges this week. During their first game of the weekend they played a team that they were clearly better than but were just coasting their way through the game. There was on urgency or intensity in their play. They knew they could get by on 50% effort so that's how they played.
In the beginning I let them play and watched to see if they would pick it up. When they didn't I started to encourage them to 'Go For It' and 'Play Quicker'. We talked about the issue at halftime and we picked it up a bit but we were never firing on all cylinders.  We ended up winning the game 2-1 but could have easily given up a goal or two due to sloppy, unfocused play.
Our second game was played in cold and raining conditions. I'm talking COLD. It was about 45 degrees (F) and raining. I was miserable and I was wearing waterproof clothes!
Before the game I told the girls that they could play however they wanted in this game; the goalie could punt the ball, they could take goal kicks long, they could play long balls into the other team's half and then play soccer there….whatever they wanted. I said, "The handcuffs are off, just go play, do your best and enjoy it as much as you can."
There was a bit of 'kickball' in the game but most of the time they were looking to connect even if they were playing longer balls than we normally would. They were also really creative in and around the other team's box. We ended up winning 3-1 and scored a couple of very nice goals.
Today's question comes from Cesar. His question is about the difference between coaching boys and girls.
Cesar says, "My name is Cesar and I am a soccer coach for a girls 2006 team this year. I've coached for about 7 years now. Last year I had the opportunity to coach a 2006 boys club team, that was my first experience as a high competition coach and it was a great experience. Prior to that I have been coaching in recreation league around my area. This year I had the the great opportunity to coach girls. My question is, is coaching boys different than coaching girls?
I have been part of many teams but the majority have been just boys and this year I've giving myself the chance to coach all girls. I have found that coaching girls has been easier for me.
I've heard a saying from a great baseball coach not long ago. He said, "Girls need to feel great to play good and boys need to play great to feel good".
I want to know your opinion in this topic. I found that theory to work for me when coaching. There are many sides to coaching but I found this theory interesting.
Thanks for the question Cesar!
I definitely think that there's a difference. I also agree that coaching a good group of girls is easier than coaching a good group of boys. That's not just my opinion but I've spoken with many coaches who feel the same way.
The quote I like about coaching boys and girls is from Anson Dorrance. He says, "You drive men and you lead women." If you try to drive women you lose them because they don't think you care about them.
I'm only coaching girls teams this year after coaching both boys and girls teams during the same season for many years. I'm enjoying it and the girls are developing from one week to the next. It sounds like your team is also doing well.
In This Episode
This is the second of three episodes focused on the 5 v 2 to Score game that I discussed last week. This is a game focused on decision making. I introduced it to the players last week but I didn't feel like they completely grasped the concepts so I'll let you know how it went this week along with the things that I changed and how they effected the session.
Future Episodes
Next week I'll finish up the three part MicroCycle on 5 v 2 to score. I'll describe how I'll change the session to challenge the players and see how they adapt.