Podcast: Play in new window | Download
Subscribe: Apple Podcasts | RSS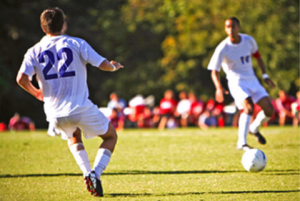 My teams didn't have any games this weekend fortunately because the weather in KC was more like winter than fall.
I took the extra time I had to start my player evaluations. I spread them out over two weekends so that I can take the time to focus on each player.
The way I plan the transition between the fall outdoor season and winter Futsal season indoor is to make sure that my teams don't play for the first week so that we have time to prepare for the differences in the games.
I'll talk more about how we're approaching the Futsal season in the coming weeks.
Today's question comes from a long time listener, Cory. His question is about playing against a kick and run style.
Cory says, "The U12 boys team I coach has improved quite a bit over last year. We have been working on possession style soccer with emphasis on speed of play. I am most proud of the "way" we are playing and don't get too focused on the score. More and more, the kids are playing soccer as a beautiful game!
This being said, I notice that our team struggles against teams that play a "kick and run" style of play. Often these teams have bigger, athletic kids. The key characteristic of this style of play is for the team to boot the ball down the field and hope to get it to their teammate for a shot on net. Every goal kick is a lob down the field vs. an attempt to possess the ball by building out of the back. I'm not a fan of this style of play because it doesn't do very much to help the players to develop but, regardless, it is effective sometimes in scoring goals and winning games
From your perspective, we are the key elements that we need to prepare our teams for when playing against a "kick and run" style of play? Are there specific exercises you suggest that help to counter this style of play?."
Thanks for the question Cory!
Playing against a team that plays very direct is often difficult for teams that play a possession style. We are asking our players to have 5 or 10 good passes to work the ball up the field to create a chance to score while the team playing direct doesn't really even have to connect a pass: they just need kick the ball forward and have our players make one mistake and they can win it back near our goal. If they don't connect the ball far from their goal so there's much less danger. If we don't connect passes we often lose it in our defending third of the field.
My suggestion for preparing to play a team with a direct style is to work on bringing balls down out of the air. Start by working on the technique with out pressure then add pressuring players.
I like to play an attack vs defense game where the attacking team plays a long ball in behind out defense and then we try to gain possession build up to try and dribble across the half line or score in small goals just the other side of the half line. Since this is similar to the challenges created by a, "Kick and Run" team I think you'll see a good transfer of training.
I also think that you prepare your players for the mental and physical challenge. Acknowledge the difficulty that the opponent presents but encourage the players to take it as a challenge. Have a parent count the number of passes your team is able to connect.
Good luck and realize that no matter what the score is that in the long term your players are much better off because of how you're helping them develop into skillful, smart, confident soccer players.
In This Episode
Today I describe a change I've made to the movement pattern that I use for all of my technical training activities. I believe that it is going to make these activities more realistic, more engaging, more fun and create a better transfer from training to games.
Here's a video that shows the way I've changed the movement patterns in my technical training activities.
Future Episodes
I'll be taking next week off from the podcast while I celebrate Thanksgiving with my family. I'll be back in two weeks with a new episode that will most likely focus on the work I've been doing with my team to prepare for the winter Futsal season.