Podcast: Play in new window | Download
Subscribe: Apple Podcasts | RSS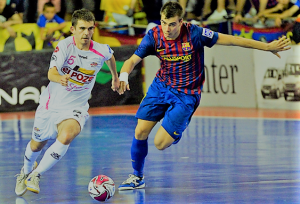 Last weekend I had just one game with each of my teams. Really not much to tell. The kids played well and are continuing to make steady progress in the areas we've focused on.
Looking through my session plans I realized that I haven't done a shooting session in a while. Striking a Futsal ball is very unforgiving. If your technique is flawed in any way it's hard to generate any power. I decided this week was a good time to do a session that revolved around ball striking.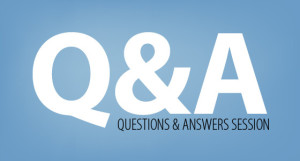 Today's question comes from Kieran. His question is about training players to transition.
Kieran says, "I coach a couple of soccer and futsal teams in New Zealand. The team I'm most excited about though is a team I have of U13 Girls. In an effort to bring more girls into the sport we prepared took a team to a major national futsal tournament. Out of a team of 9 I have 2 that have played every kind of "foot ball" before, 1 of whom is very good. The other 7 are brand new to the sport.
They all had a great time, winning a game, narrowly loosing a couple of very exciting games and even managing a draw against one of the top teams. They're now hooked and excited for the futsal season that starts in a week.
We have trouble with individual ball skills but that will come in time. My biggest issue is getting the girls to switch on to the concept of transitions, both defensive and attacking. The bigger concern being defensive. When we loose possession we often have 3 players up the court watching the ball head the other way. I think this might be because most of them have netball backgrounds. They can press and mark fairly well but are very use to playing in set positions.
I'd love to hear some thoughts on how to improve on transition play for U13 girls completely new to the sport."
Thanks for the question Kieran!
The best way to train your players to transition is to include a transitional element in every activity that you do. As an example, if you're playing 2 v 1 to goal then make sure that if the defender wins the ball they have a goal they can score into or a line that they can dribble across to score a goal.
You can even include transition into a shooting activity. Look at the podcast episode on Creative Goalscoring. Those activities include a transition to defense.
The other very effective tool is to use a rule in your small-sided games and scrimmages that encourages transition. My favorite is that if a team loses the ball they have to get all of their players back into the defending half (or third) of the field before the other team scores. If they don't make it back then the goal counts double.
You can also give them a time limit to get back. You could say that all defending players have five second to get back or the attacking team gets a point.
In This Episode
This week's training sessions were focus on ball striking and finishing since this is such a challenging futsal skill and we haven't specifically worked on the technique in a while. The patterns I use are specifically chosen because of how they relate to Futsal but they could also be used in an outdoor training session because the combination play involved still applies.
Printable Show Notes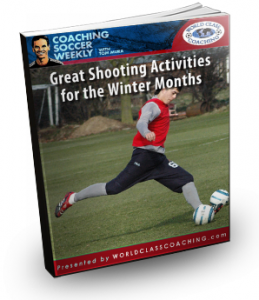 The show notes for each episode are accessed through the WCC Training Center.
They are FREE but you will need at least a Free Membership to the Training Center in order to view and print them. They'll be available there for eight weeks before they're placed in our archive which can be accessed at any time by Elite Members.
Click on the image of the notes and if you're already logged in to the Training Center you'll be taken to the Podcast page. If you're not logged in your be taken to a login page where you'll also be able to login or register if you are not already a Member.
Thank You!
I received some great feedback and questions by email this week. I really appreciate everyone who takes the time to reach out with a suggestion or a question. The suggestions help me to improve the show and the questions allow me to share things that have worked well for me in the past. Many of which I borrowed from other coaches so it's a chance for me to pay it forward.
Future Episodes
I'm going to be taking the next two weeks off from the podcast as a break for the Christmas and New Years holidays. I'll be back in 2019 with more training sessions, interviews and commentary on youth soccer coaching.