Podcast: Play in new window | Download
Subscribe: Apple Podcasts | RSS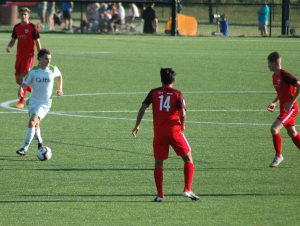 It was great to get back to training with my kids this week. I've missed being on the field with them. Everyday this week I've enjoyed taking a break from preparing for the rec season and running training sessions.
The first session of the week for all of my teams used the Play – Practice – Play methodology. The second session involved some technical training mixed in with the game related activities.
The kids really seemed to enjoy the sessions and it's set a great tone for the beginning of the year.
In this Episode
Today were going to do something a little different. I hope your enjoy it and find it interesting.
I really appreciate Ricardo reaching out and suggesting that we talk. I always enjoy talking with other coaches. He had some great questions and I think we had a great exchange of ideas. Let me know if this is something you'd like to hear more of in the future. I've considered doing a roundtable with a number of coaches so that's something I might try as well.
Future Episodes
I don't have a particular topic in mind for next week. If you have something that you'd like to hear about feel free to let me know and it might end up being next week's show.