Podcast: Play in new window | Download
Subscribe: Apple Podcasts | RSS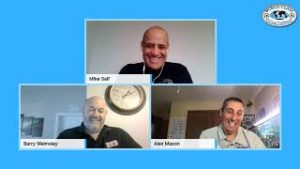 We have a pretty long conversation that I want to share with you about VAR today so I'll just give you a short recap of my week and skip our usually Q & A.
My team meetings followed the same format we've been using. We reviewed the players progress on the Techne App and our Flipgrid videos. The challenge we gave the players was to juggle as many times as they could in one minute. If the ball hit the ground they picked it up and kept counting from where they left off.
I asked the players to practice their juggling all week and then record there attempt on Friday. The idea was to motivate them to spend more time juggling since that's a skill that not many of my players have been working on. Some argue that it's a waste of time have the players juggle. My view is that we want players to spend as much time with the ball as possible. Giving them different things to work on makes it more likely that this will happen.
Many of the players mentioned that having the limited time to juggle as many times as they could made it more enjoyable. Obviously, if it's more fun then they'll be more likely to do it more.
There were a couple of different fun activities that I used with my players this week. My younger teams played, 'Guess Who' on Zoom. The older teams completed a Kahoot! quiz where they tried to match a photo of the player's cleats with one of their teammates. The kids enjoyed both activities. I may switch this in coming weeks to allow both groups to experience both games.
Next week's Flipgrid Challenge is to have each of the players create and film a, 'Trick Shot' video. The idea came from CSW Team Member, Tim Wszalek. The only rules are that the players need to use a ball (any ball), their feet and they need to make sure it's safe. I don't want anyone hurting themselves doing a trick shot. If we get some good ones I'll share them on the Member's site next week.
In this Episode
The President of WORLD CLASS COACHING, Mike Saif, has been hosting some discussions on Facebook Live about various topics. I'll share a number of these over the coming weeks. This week's discussion includes Barry Walmsley and Alex Mason. They talk about one of the newest issues that we're dealing with in the modern game.
Future Episodes
Next week I'll share a conversation that I had with a fellow coach about the pros and cons of the Play – Practice – Play methodology vs. the progressive training session plan.