Podcast: Play in new window | Download
Subscribe: Apple Podcasts | RSS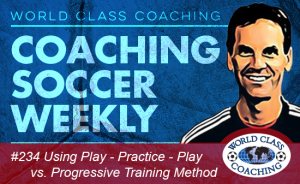 The discussion I'll share this week is pretty long, like last week, so I'll give you a quick update and then get right into the conversation.
I feel that my players are experiencing a lot of, 'At Home' training fatigue. It's only natural since they've been stuck at home for two month without a chance to play. Training without playing would get old pretty fast for anyone let alone youth players.
The trick shot videos that I asked the girls to create last week and post on Flipgrid gave some of them the fresh motivation that they needed. More than one parent told me that it took their daughter several hours to get it right. They enjoyed watching them work hard as something soccer related again.
Our fun activity during the Zoom team meetings was an individual scavenger hunt. I gave them one item to find and the first one back with that item won that round. We didn't keep score. It was just a fun way for them to do something with their teammates.
As you can see, most of my time on these Zoom meetings is to keep it fun. There are other coaches doing workouts with them or analyzing old games. I've provided them with the Techne App for individual training and set the expectation that they spend at least an hour per week on that. Hopefully the challenges also focus their training a bit.
Some of my players are spending hours doing online school through Zoom or other platforms everyday. I want our meetings to be fun and a chance to interact with friends; a break from the online school world.
In this Episode
It's only been two years since US Soccer introduced the Play – Practice – Play methodology in it's Grassroots Coaching Courses. There are some coaches who have really embraced it and others who are still skeptical. The conversation that I'll share today is with a coach who prefers a more progressive approach.
Future Episodes
Next week I'll share a debate with Rob Gale, former Canadian U20 National Team Coach and Stephen Constantine, former National Team Coach of India on the different styles of direct play or possession play. This is another Facebook Live conversation that I thought you would enjoy.