Podcast: Play in new window | Download
Subscribe: Apple Podcasts | RSS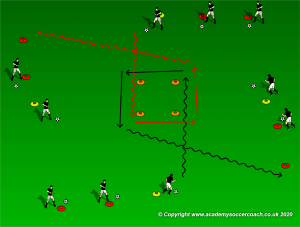 Well my voice is coming back slowly but it wasn't helped by having Pre-Tryout Camp this week. It's a four day camp that helps prepare new players to our club for tryouts and gives current players a chance to get together after not playing for a while.
Our tryouts are tomorrow. None of our current players are attending because we've already offered them places on teams for next year. Having only new players will allow us to focus on them but it will be difficult for them to see the quality of the teams we're offering them a place with. That's just a challenge that we'll have to do our best to overcome.
My teams are getting together for, 'kick arounds' on Saturday so that the new players can meet the current players and I can have a meeting with the parents. I'd like to get started with practices as soon as next week. Just once a week until the season starts but it'll give the players a chance to get together after months of not training. It would also give us a head start on preparations for next fall.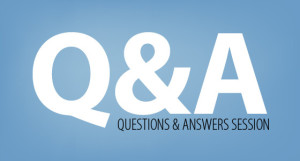 Today's question comes from Nick. He has a question about social distancing rules for training.
Nick says,
"I was wondering if you have any reference guides or material for drills and sessions in keeping with regulation social distancing rules.  We are due back to training in two weeks so I wanted to get planning done asap."
Thanks for your question Nick!
I'm not aware of any guides out there. I'm just using the six-foot rule when designing activities.
What to do in between activities is also something to consider. I plan to have cones set out 10 feet apart off of the field as a guide for players to put their bags and water bottles.
Here are some other guidelines we're using: Players are bring their game jerseys to use instead of pennies. Only the coaches touch the cones and goal. No tackles, only interceptions. Hand sanitizer after water breaks.
I haven't seen any guides for creating training sessions but I'll pass it along if I find one.
In this Episode
I've put together a Social Distancing Training Session that I'm going to use as the framework for my sessions during the summer. It includes a lot of technical work using activities that are designed to get the players working together while still staying apart.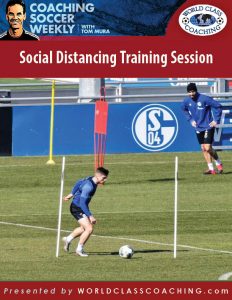 Future Episodes
Next week I'll share an interview that I did with Shaun Spencer. He came to coaching in a very interesting way. We talk about the importance of taking charge of your own education as a coach as well as the importance of creating your own training sessions rather than relying on what's worked for other coaches with other teams.