Podcast: Play in new window | Download
Subscribe: Apple Podcasts | RSS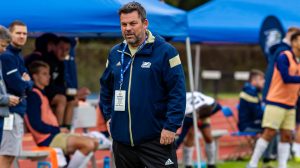 We had our first 11 v 11 games of the year. Two teams played in the preseason tournament. The first is a 2009 team that's playing up with the 2008's. These were their first games in the larger format. Luckily we were scheduled on one of the smaller full sized fields in the area. This gave the girls a chance to experience their first 11 v 11 games in a more controlled environment. It would be great if all of our games were on a 3/4 sized field but that's not going to happen. Hopefully starting out a little smaller will help them get their feet wet.
The other team was a 2005 team that I just took over this season. It's a very good team with some very talented players. It's the second team in our club and plays at a high level. When I'm starting with a new team like this I try to 'meet them where they are' rather than coming in and just imposing my will from day one. I've tried to get to know them and suggest little adjustments that will improve them quickly. If those go well then I'll gain their trust which is extremely important.
They started off a bit rusty in their first games but gradually played better and better. In the first half of the Final we played great but didn't find a way to turn our dominance into goals. We gave up a fairly soft goal midway through the second half after continuing to miss more chances. The second goal was very soft and the third sealed our fate. Not the way you want to start with a new team but I had to decide how I would approach this with the team; I could blow them up and point out everything they did wrong, I could simply let it go or I could find the teachable moment and try to maximize the opportunity. You'll have to listen to the episode to find out what I decided to do.
In this Episode
At the beginning of quarantine last March Mike Saif, the president of World Class Coaching talked a coach with a great deal of experience at every level of the game about how he was approaching the challenges with his current college team. They also talked about general coaching philosophy. It's an interesting conversation that I hope you'll enjoy.
Future Episodes
Next week I'll share an interview that I did for another podcast. It was nice to be on the other side of the mic for once. I really enjoyed it and thought you might as well.