Podcast: Play in new window | Download
Subscribe: Apple Podcasts | RSS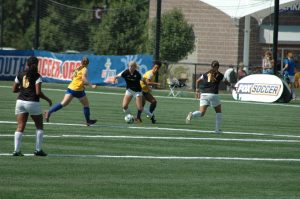 I've been focusing my teams on a few key areas at the beginning of this season. Our attacking focus has been on finding 1v1's, 2v1's and through balls. I think you can break down just about every attacking situation into one of these. I want the  players to have a plan BEFORE they have the ball. This is becomes more important the more challenging the game is. You just don't have time to think about what you want to do when you're on the ball; you have to have some idea of what you want to do before it arrives or you're in trouble.
If a player doesn't see an opportunity to play a through ball, combine with a teammate for a 2v1 or take a defender on 1v1 I want them to move the ball to a teammate who might be able to find one of these opportunities. As we circulate the ball and switch the point of attack we're bound to find openings that we can exploit.
Our defending focus has been on working together, closing openings and being 'Feisty'. The last one is more of an attitude that anything else. It means confident, assertive and energetic. I've used the work 'aggressive' before but I think it has too many negative connotations. Who doesn't like a 'Feisty' player?
I've also in the final stages of preparing for the fall recreational season. It's been a crazy few weeks but we're just about ready to get started. Now I just hope we can finish!
In this Episode
This week we have a role reversal. I was interviewed by Coleman Childers for a podcast produced by EXACT Sports and they agreed to allow me to post it here as well.
Future Episodes
I've been holding on to the interview I'll share next week for quite a while now. It's an interview I did Veo founder Henrik Teisbæk. Veo is the camera that records soccer games without the need for a camera operator. I love the camera and I think you'll enjoy hearing about how they got started and what the technology has to offer coaches at ever level.