Podcast: Play in new window | Download
Subscribe: Apple Podcasts | RSS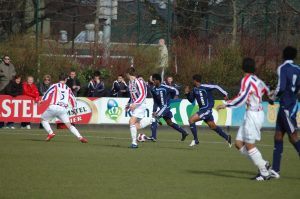 The season started quickly and we've packed a lot into the first six weeks. When I was planning the season I decided that Labor Day weekend would be a good one to take off for all of my teams. The break would be just as important for me as it for the players. Getting the teams up and running at the same time as working on the recreational league took a lot of time and energy so a chance to recharge my batteries over the long weekend seemed like a good idea.
So what does a soccer coach do on a weekend off? Watch some of the teams in the age groups I'm a director for, watch a soccer movie and catch up on the US Soccer Coaching Education webinars that I missed. Sounds exciting doesn't it? I describe this all in detail in this week's episode.
In this Episode
Playing with three central players in midfield is very common in the modern game but there are many factors to consider when playing this way. The conversation I'll share today looks at this idea from every angle. Mike Saif, Rob Podeyn and Mike Smith discuss the different ways that teams can play with three in the middle.
Future Episodes
Next week I'll do something that that I haven't done in quite a while: I'll discuss a training session that I've done with my teams! The focus is on helping young players understand how their teammates can help them on the field. It's one I've used a lot with my teams in their U10 or U11 year and it's been an effective way to help show them how being connected helps the team.