Podcast: Play in new window | Download
Subscribe: Apple Podcasts | RSS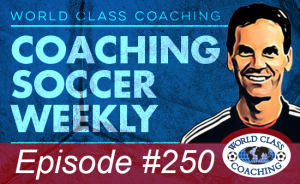 What is it about round numbers that make them more meaningful to us? Getting to 200 episodes was huge and now 250 seems like another milestone. I suppose it is but I'm looking at it as being halfway to 500. That's my goal at the moment.
I had two teams in a tournament over the weekend. Both teams are playing 11 v 11 so I didn't have any small-sided games over the weekend.
My 2005 group when 4-0 winning their games 1-0, 1-0, 1-0 and 1-0. They scored late in every game so we were always looking to adjustments that could help the team find that winning goal. I was impressed with the way the players stayed calm and eventually found a way to make it happen.
The 2009's played up in the 2008 division. They ended up going 0-1-2 on the weekend. They're still adjusting to the space they have on a full sized field. We often look like we're playing 9 v 9 on an 11 v 11 sized field. Our best spacing is on goal kicks because that's a situation where everyone knows their role. We spent a lot of time working on that during the beginning of the season. When we win the ball in open play we are having a tough time spreading out to create space. We're working on that this week. If what we do works well I may share it next week.
This week's question comes from Mike. He's asking about how to deal with a situation where the referee is not dealing with fouls and players are getting injured.
Mike says,
"My team has played against a few teams that are overly aggressive, in my opinion. One the opposing coaches was getting on her players "you aren't being physical enough." To boot, the referee seem to be here to start and stop the game only.
I've never been a coach to get on the referees.  In my experience in other sports (specifically basketball) the more coaches complain, the worse the referees get.
When is it appropriate to call out the referee?  At half would be appropriate, but I lost both players in the first half.
Have you ever called out the other coach?
Any tips on how to instruct my players to combat aggressive players/play?
Bottomline, I want to protect my players and any guidance would be appreciated."
Thanks for your question Mike!
In those situations I work to protect my players in two ways: I let my girls know that they need to play 'tough but fair' to protect themselves and be ready to move the ball quickly but I let the referee know that I'm not happy with the overly aggressive play and that I'm not going to be quiet about it.
This is a very different situation from one where coaches 'work' the referee to get calls in their favor. I'm working the referee to make sure that calls are made to keep the game safe. The safety of my players is more important to me than anything else and I'm going to do whatever I need to do to ensure that.
I have looked down the line at the other coach after a bad foul (or series of them) to see how they react. That's usually the extent that I engage with the other coach.
In this Episode
The training session that I'm sharing this week is related to last week's session on creating team awareness. It will train players to find and create 2 v 1 situations.
Future Episodes
I'm not sure what the topic will be for next week. Let me know if there's something you'd be interesting in hearing about. It could be to expand one something I've covered in the past or something new that I haven't addressed.