Podcast: Play in new window | Download
Subscribe: Apple Podcasts | RSS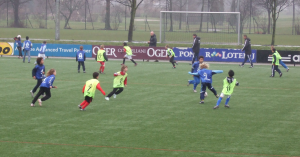 I find myself apologizing for missing an episode again last week. My hectic schedule got away from me again last week and I just didn't have the time I needed to put the episode together. I had to use that time to review D License assignments and provide feedback.
Our recreational league is also in the busy 'Organizational Phase'. That means I'm preparing rosters, chasing birth certificates and making sure that coaches have completed their background checks. Certainly not very sexy work but it has to be done so that the teams can start playing in a few short weeks.
We completed the last two weeks of our Futsal league season and this weekend is the Regional tournament. It was supposed to be Nationals but that was pushed back this year to July.
I describe my training focus with my teams for the last few weeks of indoor training in the episode. I won't detail that here but you can hear all about it on the podcast.
In this Episode
Over the last 50 to 60 years we have been through different phases of soccer development in the US. It started with isolated technical training where the focus was on repetition. Then it moved toward integrated training where at least two key elements were present (technical, tactical, physical or psychological). After that we began to focus on Position Specific Functional Training. The latest development has been a focus on creating the environment for learning. Today I'll discuss what must be present to create game-like environments.
Future Episodes
Next week I'm going to wrap up the Futsal season with the key takeaways I have from this winter and how we're going to continue building on them as we transfer to the outdoor spring season.
I'd like to record some more coaching conversations. They were a lot of fun to do last year and I heard from coaches who found them really and interesting and useful. If you'd be interested in joining me on the podcast to discuss anything coaching related please send me an email. It can be a specific topic that you're passionate about, questions that you'd like ask, something that you'd like to challenge me on or just about anything else in the world of soccer coaching.