Podcast: Play in new window | Download
Subscribe: Apple Podcasts | RSS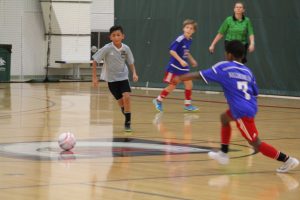 We finished up our Futsal season last weekend with the US Youth Futsal Regional Tournament. It was a patch-work event because teams dropped out last minute due to a winter storm coming through. Then some left early because they were afraid they wouldn't be able to get home on Sunday. We should have been playing Futsal Nationals but that was pushed back due to Covid. It was a bit of an anticlimax that's the kind of year it's been.
All but one day of practices where canceled this week due to the extreme cold and snow storms that swept across the Midwest. My 2005's were suppose to play in an outdoor showcase this weekend but that was another casualty of the cold weather.
That means that their club soccer year is over. Tryouts start the first week of March. I'm left with a free weekend so I'm scheduling one-on-one meetings with the players to discuss the year, plays for next year and their aspirations for playing after high school.
In this Episode
I've often said that the winter Futsal season provides my teams with a great start to the spring season. There are so many things that we do during the winter that help the players when we go back outdoors. Today I'll share the skills, tactics and concepts that my teams learned from this Futsal season and how we'll continue to build on them in the spring.
Future Episodes
I'm doing a couple of interviews over the weekend. One where I'm being interviewed for another podcast as well as a discussion with a coach who has my dream job. I'm not sure which one I'll share with you next week but you can expect to hear them both in the weeks to come.