Podcast: Play in new window | Download
Subscribe: Apple Podcasts | RSS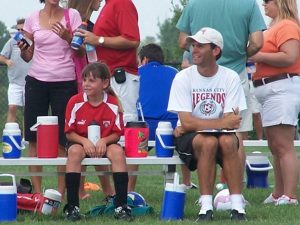 All of my teams played at least one game last weekend. It's great to get back to outdoor soccer on a regular basis now. After a couple of weeks of training the kids are back in the flow again as well. Our weekly training now consists of a Technical Training Day and a Team Training Day. I'm still using elements of Play – Practice – Play but also working in some isolated technical training during the middle of the session. The Team Training Days are sometimes are sometimes PPP sessions and other times we use other methodologies that help bring out the particular topic that we're focused on that day.
I'm back using my Veo soccer camera again to record my games. I didn't use it at all indoor. I'm not sure why. It was just too much of a hassle taking it from facility to facility in the winter. I'll have some videos to breakdown and share with Patreon members in the coming weeks. This weekend I'm going to review on of my U12 11v11 games and post that to the site. It includes one of the nasties challenges I've seen in a while. Fortunately, my player is ok but I'm not sure how the player escaped without at least a yellow.
As the D License course I'm working on wraps up I lead my last virtual meeting last Friday. It was focused on 11v11 stages of development. All we have left now are the field evaluations and the Personal Development Plan presentations. It's been a great experience but I'm looking forward to the extra time I'll have once it's over.
In this Episode
When I look back on all of my memories of coaching one day, the ones I'll cherish the most are the years I spent coaching my own daughter. Today my daughter, Alex, and I answer your questions about the often difficult but rewarding balancing act you go through when parents coach their own children.
Future Episodes
I'm going to be taking next week off from the podcast for spring break. That will give me some time to catch up on things around the house as well as posting training session notes and videos to the Patreon site.