Podcast: Play in new window | Download
Subscribe: Apple Podcasts | RSS
► Don't forget to subscribe: https://www.youtube.com/channel/UCJEbnehX2jFfYOmzEJkvwQw​
►Connect with me on Instagram https://www.instagram.com/segevrabinoviz/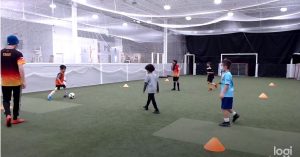 INTRO 
Entertaining educational and inspiring content to help make you a more effective player, coach, or soccer parent.
Hello, and welcome back to coaching soccer weekly presented by World Class coaching. I hope you liked the new intro song, it took me a while to find it. And I settled on this as the intro. So this is going to be our intro moving forward, and I'm super excited about it.
Well, things aren't getting much better in Ontario, we are in our third lockdown, and it's not looking like we're going to be back on the field anytime soon. Unfortunately, as you heard in last week's podcast, we are all online and we do our workouts and our ball mastery sessions all online. What I've added recently was a watch party session. And in Ontario, and in Canada, really the only way we can consume English Premier League content is through a streaming service called the zone. So what I like to do is, when there is a game on that I think would be interesting for players and a team that has similar playing style as us, I'll be able to stream that through zoom. And what's really great is I like to stop the game at certain points. And I can edit what I see for the players with the drawing tool on zoom. So we can pause the game, all circle, either a player with the ball or without the ball. And then I'll make three arrows, two arrows, whatever that is, and then I'll have the players take a poll on what they think that player should do. And then the players will be able to defend kind of their position on which one of the situations they think is the right one.
Hot Topics 
I think it's been really great for the players. And most importantly, the players actually really enjoy it. They enjoy putting themselves in the shoes of a professional player. And it's been a lot of fun.
I'm really excited to create a new segment here on coaching soccer weekly, and I'm going to call it hot topics. Now hot topics is going to be a short segment at the beginning of the show, usually after me kind of reviewing what went on last weekend. And what it is, it's going to be a quick way for me to get across some information that's going on in the Soccer World. Now, that could be something that's happening in the professional game, that could be new coaching methodologies, or trends, or even a new technology, just something that I think you'll find value in. And today, what I want to talk about from my hot topic is the Champions League. The start and fall of the European Super League isn't really worth mentioning. So I'm not going to talk about that. But what I will talk about is that through that whole situation, we found out that there is going to be a New Champions League format. So here are four quick points of things that you need to know about the New Champions League format. The first point is that the New Champions League format is only going to come into effect in the year 2024. So right now we're in 2021. So if you are listening in 2025, then these changes have already started.
The second point is that the 32 teams, which is what we currently have, are going to extend to 36 teams. And there's also with that point to important points about how that's going to work in that 36 team expansion. So the first part of that is that the group stages are going to be replaced by a league, but you only play 10 of the teams once. So you're only playing 10 teams, and you're just playing them once. Now, two teams who didn't qualify through their domestic league. So for example, let's talk about the English Premier League and have the highest UEFA coefficient, which is essentially UEFA is ranking system, they'll qualify and back to the English Premier League that would have been Arsenal and spurs. So to be honest, I'm not sure how the youwave coefficient works, but the two highest ranked will be moving into the Champions League as well. The next important point is that the top eight teams qualify for the last 16 and teams who finished ninth to 24th will play a two legged playoff tie to progress and the last point is that from the last 16 to the final, everything is going to be the same. So it's what we're used to seeing right now in the Champions League. So hopefully you like that hot topics segment. It's just another way that I can get you information about what's going on in the Soccer World. And I really think you'll enjoy it moving forward.
How to Master your session 
Today, I want to talk about something that has really had a big impact on me as a coach. And it's the way that I learn how to master my session. And the way I'm going to do this is I'm going to talk about an example that I had with one of my favorite games that I learned here on the podcast, and it's called stuck in the mud. I'm going to use this example, and talk you through my journey with the game that I thought just started out as something fun that my players would love. and ended up being something that I can run with top Academy players, top professional players, and get a lot more out of this session than I thought was originally possible. The game stuck in the mud for me, I've been using for about five years. One of my favorite times to use this is when I go to schools, and I want to assess the players that are on our after school program or on the school team. It's a great way for me to not have to worry about the rules not have to worry about anything, because I've run the session so many times. And we're going to go through exactly my process from the first day that I learned this game to where it is now, which is about, I would say I've run this session about at times. And with my younger kids from the ages of six to eight, they know that when we go into a session, we are going to play some form of stuck in the mud.
The first time I ran stuck in the mud.
I started by telling the players to grab a ball and get into a 20 by 20 square that I had made. And that was that. Once that happened, I asked one of the players to come off with the ball and told that player that he was going to be the mud monster. And that mud monster, when I said go would have to go tag a player, that player would then be stuck in the mud. And in order for that player to come back into the game and other player would have to put the ball through their legs. And that was pretty much it for my first explanation.
How, as soon as that happened, I could already tell the players didn't understand what I was saying. And it was mainly because the way I explained it was just not great. So I stopped it reset. I took the player out and I said okay, Johnny, can you go tag, Eric?
Then Eric, got tagged. And I said, Eric, now that you have been tagged by the mod monster, you are now stuck in the mud. And the way we know that you're stuck in the wild is because you pick up the ball, you put it on your head. And now Sophie Can you go and put the ball through Eric's legs. Once that happens, Eric is back in.
Then I took the mud monster told him to come off. And I said 321 Let's start game started. Great, everything's working. And then what happened? Well, another player kicked the ball out of balance. So then, after that stoppage, I had to stop and I would say, Okay, now that you've kicked the ball out of bounds, you are stuck in the mud as well. So we took me about two tries two sessions, right, or stopping in the middle of the session to get the rules, right. And then it took me two to three more times of running the session with players to get my explanation of the game right, to the point where the players understood it right away. And that was really important. So I'm three sessions in
and now everything is flowing doesn't really matter to me what the age group is, I can explain the game decent decently well.
And then I started to think about well, now I have players of different speeds are some some players are faster than others. How can I slow some players down? And I remembered Tom talking about being able to go on one foot and hopping on one foot as a way to slow down the defenders. So I tried that. And I also added a crab walk. And both of those worked really well. And I started saying okay, when you hear the whistle once, you can hop on one foot, and then when you hear me blow the whistle Then you can go back to sprinting. And that really allowed me to have the players work on coordination. And on top of that slows certain players down for a longer period of time. So now it's been seven, eight sessions. Things are going great. I love the game. But my team is really struggling on defense. So I wanted to add, one of the ways that we could work on defense. And I basically started by saying, from now on, instead of just tagging the players, you can now kick their ball. So we started on working on defense there. And that took again, three, four sessions to really make sure the players understood, okay, oh, just kicking that ball away. That's fine, perfect, fantastic. What happens when they kick the ball away? If the ball gets kicked out of bounds, and they're stuck in the mud, if it's not kicked out of bounds, then they're still in the game? Right? And then, after those three sessions, then we really started to work on the approach of the player. So can we slow down? Can we get on our surfboard, can we get our arm out to protect ourselves, and also to gain balance. And then three, four sessions later, once we had that perfectly down, I started to notice that because the defenders were getting better and better, the attackers were now finding ways to shield the ball really well, without me even saying anything.
And again, that was because I was able to just watch it, and not focus on the rules and focus on the players and what they were doing. So then we talked about, okay, what should we do when we're shielding the ball? Well, we got to get low, we got to get really low, we got to have our arm out to protect ourselves. And then that took about three, four sessions, until we mastered that. And then I thought to myself, Okay, fantastic. one v one battles, we got great defenders coming in. We've got attackers on the ball, who know how to keep and hold on to the ball, very important. But now I want to work on making it a little bit tougher for the attacker as well. The way to make it tougher for the attackers is to add another defender. So we added now two monsters in total. And I would tell the monsters I would say, Okay, can we focus on one ball at a time? Can we make sure we worry about one player with the ball and then worry about the next player? So then we were able to talk about, can we force the attacker to go towards the teammate? So because we have two monsters? Can we try and funnel that player to our other monster, so that we can use both monsters to attack. And it was at that moment, that things really started to click for the defenders. Okay, on to v1, we really have to work together, which was great. But now, I wanted to get back to the offense because we worked on defense defense, fantastic to be one. Well, how can I get two attackers? How can I get three attackers? How can I really give the advantage back to the attacking team. And the way to do that was to have the defenders kick the ball out. But that ball stay out of bounds. So if Johnny's ball got kicked out of bounds, his ball would be gone. And Johnny would have to help
the player who was getting attacked. So now we're able to really work on movement off the ball getting away from defenders were able to work on shape, creating triangles, diamonds, were able to talk about support, we were able to talk about communication. And it was at that moment, for me, after I've gone through a game that started out as just a fun game for players, to now a game that I could work on balance. I could work on coordination, I could work on defending, I could work on shielding, I could work on two v1 opportunities, I could work on shape, movement off the ball communication, everything really started to sink in that going from session to session. It was really important for me to master what I was running for my players.What I used to do when I first started out coaching was I would find a session maybe on YouTube or a session I would listen to on one of the podcasts, I would run that then I'd find a different one run that find a different one run that. And one It took up a lot of time explaining to the players to I would be focused on the rules way too much. And that always took away from what the players got out of the session.
OUTRO 
Mastering our session is so important to the development of our players. Imagine if a teacher ran one multiplication class and expected their students to fully understand multiplication after that. It just doesn't make sense. But I want to know your thoughts. How important do you think mastering each session should be and should more coaches make it a priority. You can share your thoughts in the comments section in Episode 272 coaching soccer weekly.com or share them with me through my Instagram which will be listed below in the show notes. And also you can check out my content on YouTube to see what I'm doing with my teams at Gladiator Soccer Academy, and that'll be in the show notes as well. Thanks again for listening and I hope to see you next week.