Podcast: Play in new window | Download
Subscribe: Apple Podcasts | RSS
I'm traveling with a team over Memorial Day weekend so there won't be a podcast this week but didn't want to leave you with nothing for this week so here's a game I used this week that my team really enjoyed.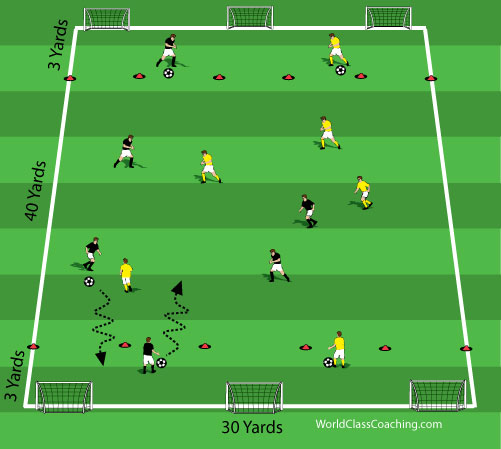 Bryan left a comment on the last episode asking if I could include dimensions on the diagrams. The dimensions of any exercise will vary depending on the age and ability level of your players but I'm going to include them from now on so that at least you have a starting point. You can always adjust the size to fit your team. Thanks for the feedback Bryan!
To begin with each team has a player with a ball in each endzone. One ball is in play in the middle. The player with the ball tries to run it into either endzone. When he does, his teammate who was waiting there dribbles out and works with the players in the middle to try and run the ball into the other endzone.
When the defending team wins the ball they can run it into either endzone and the pattern continues.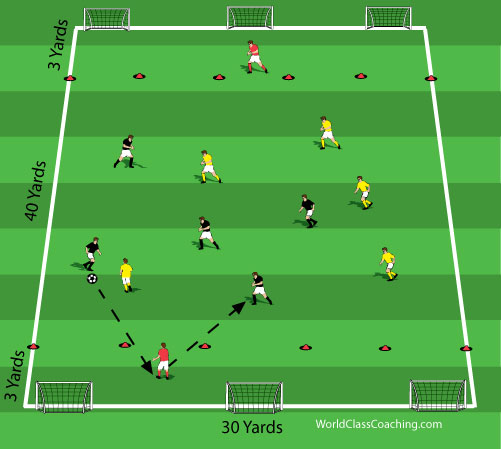 As a progression I make the players in the endzone neutral. Both teams in the middle are trying to pass the ball to either target and then work it through the middle to the other target. When one side gets crowded it's important that the players recognize this and move the ball to the open space on the other side of the field. The target can move anywhere in the endzone to be open for the pass.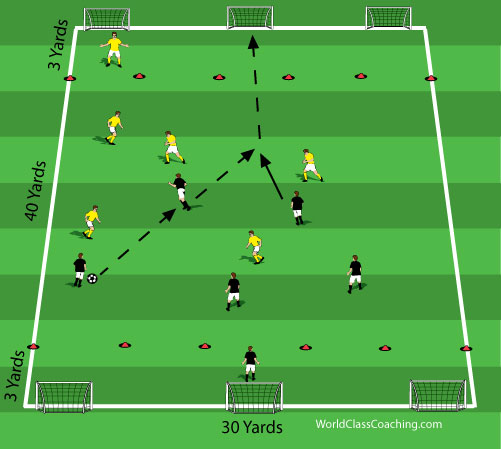 The final progression is to have each team defend one end and attack the other. A goalie is the only player allowed in the endzone and can move to prevent the ball from going into any of the three goals.
Encourage the players to see where the pressure is 'flowing' and look for opportunities to switch the ball away from the pressure and into the space.
Thank You!
The meaning of Memorial Day in the United States can get lost in a sea of barbeques and soccer tournaments. I'd like to take this opportunity to thank all of the men and women who have served in the military both past and present as well as their families for the sacrifices they have made.
Next Week
I'll be back with training ideas to teach your players how to move more effectively without the ball.